I have been wittering on about Lucky Chip since I first started The Londoner. I first discovered them at their burger van in Nettle Market. Since then they've launched their wildly popular Slider Bar in Soho & held a number of popups. Why am I banging on about them again? They've graduated from burgers into something far filthier. Burgers were the gateway drug, now they're onto the hard stuff. Fried chicken.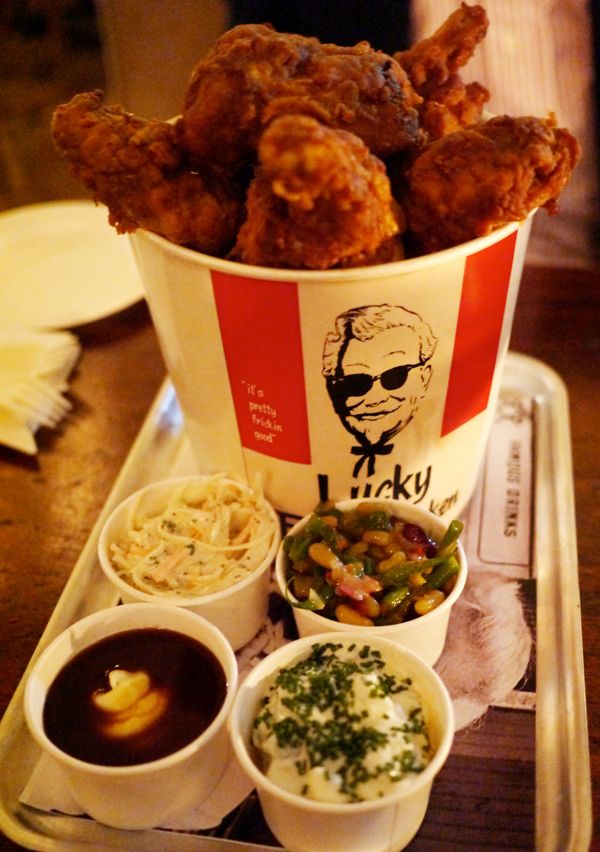 They've got a brand spanking new chicken shop above a pub in North London. I for one couldn't wait to get down & dirty so dragged my brother out of work and was first through the door at the launch last week. My mother despairs that my brothers, my dad & I are always the first with our snouts in the trough. I know I should be refined & hold back… but knowing & doing are two very different things. Sorry mum, not this time. When you arrive at The Grafton it looks just like a normal pub. I was greeted by a slurring builder who complimented my bottom, which is always a good start. You can order chicken downstairs, but upstairs is where the party really happens. Huge lit-up KFC style menus offer up combos, burgers, buckets & sides.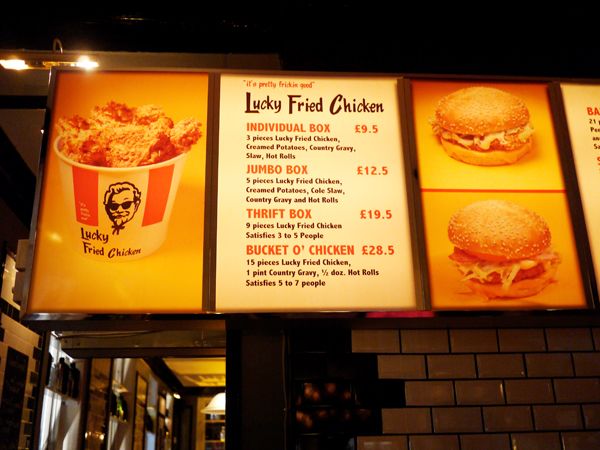 There's beer & cider on tap along with big jugs of iced cocktails.
We ordered our chicken & grabbed a booth.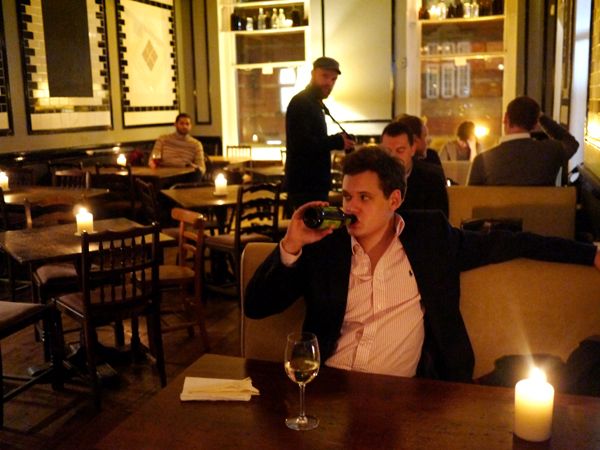 Within moments our huge bucket of steaming hot chicken arrived with a range of sides.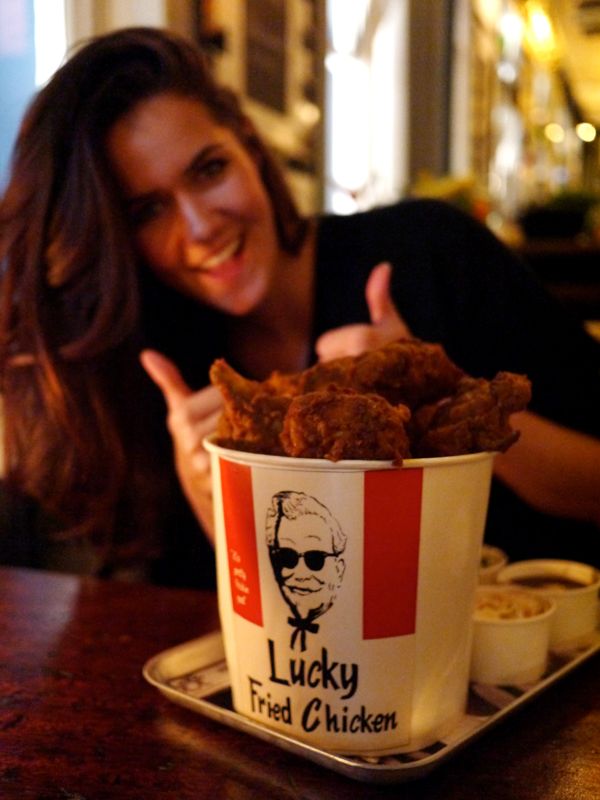 The coating was spicy, rich and the chicken was unbelievably juicy.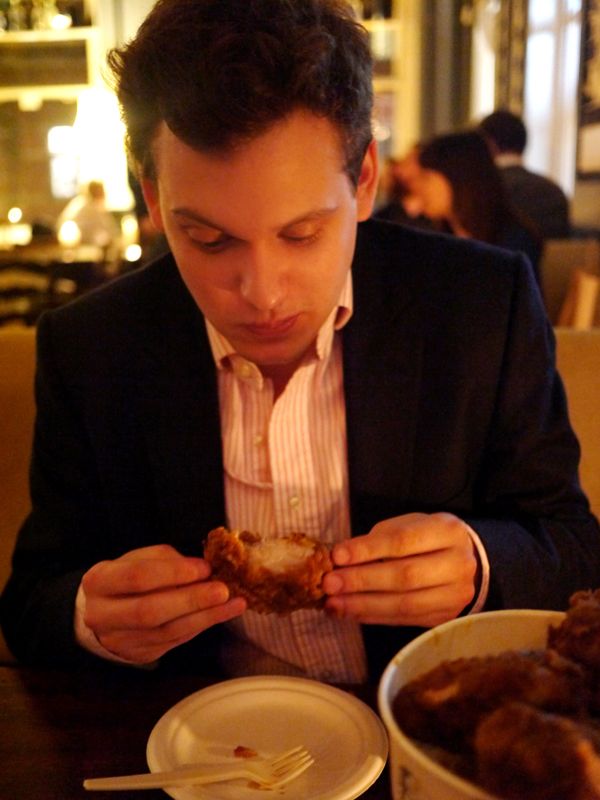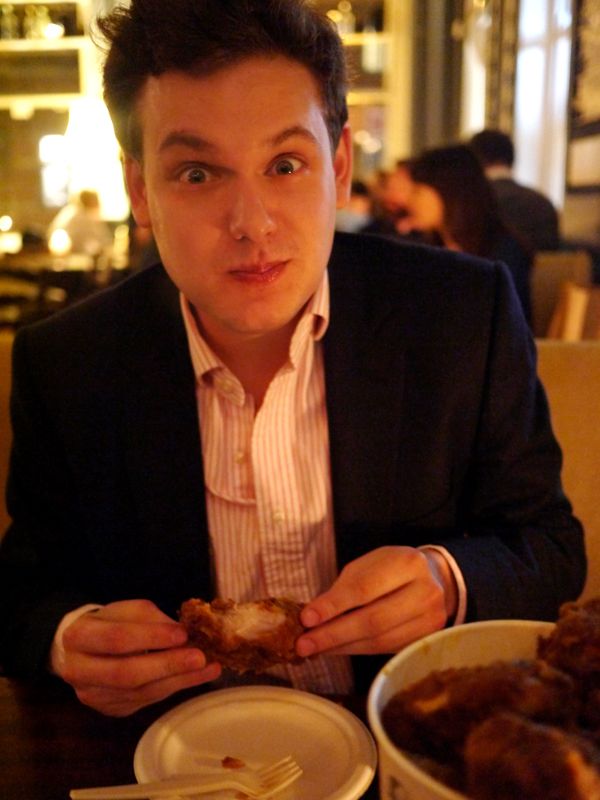 Drumsticks the size of my fist, enormous and perfectly cooked.
Absolutely nothing like their high street 'competition'. We tried liver & gizzards dunked in a spicy mayo. I really struggle with offal & tend to avoid it all costs… but these were excellent. Seriously, even if you think you won't like them, order a couple. You'll be converted. The room soon filled with foodies & friends oohing & aahing about the food. Eventually we drained our bucket & slipped home. I highly recommend a trip to Lucky Fried Chicken. It's not 'Finger Licking Good', its palm, wrist & elbow lickingly good. Find them @ The Grafton Arms in Kentish Town : Lunch: Tue-Sat 12-3pm Sun 12-6pm Dinner: Tue-Thur 5.30-10pm Fri-Sat 5.30-11pm Follow Lucky_Chip on Twitter for updates. Oh and if you've never tried licking your elbow, give it a go now. Let me know how you get on.