This is my all time favourite brunch.
A big, delicious pile of goodies, packed full-a-flavour, colour and everything you need to defeat the rest of the day/weekend.
Sweetcorn fritters are a great breakfast alternative to pancakes & much easier than you might imagine.
Make them for someone this Sunday, I promise it'll knock their socks off.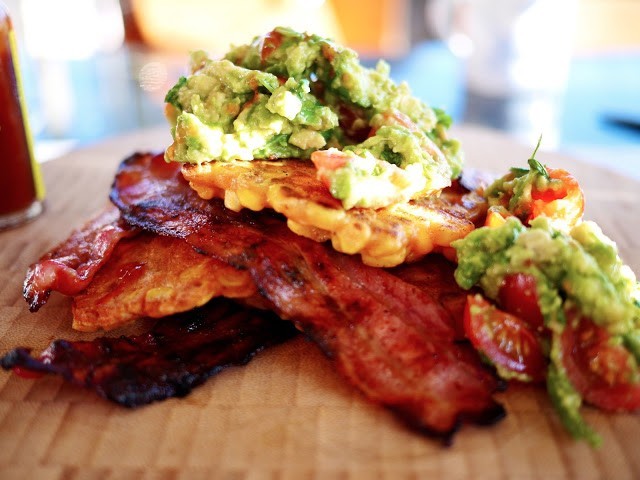 You could eat these with ketchup if you wanted… but if you're up for trying something a little bit different, a little bit wild, you can have what I have.
Tabasco & maple syrup.
Ok, so it's not for the faint hearted but I'm all about having salty/sweet/sour/hot all in one mouthful.
Trust me, it's epic.
To feed 2 (hungry) mouths you'll need:
100g / 3½oz plain flour 1tsp baking powder salt and freshly ground black pepper 1tsp smoked paprika 2 free-range eggs 75ml / 2½fl oz milk 350g / 12oz sweetcorn
1 avocado
Handfull cherry tomatoes
Small fist of fresh coriander (cilantro)
Juice of 1 small lime
Pinch of rock salt
6 pieces streaky bacon
Maple syrup
Hot sauce
Start by making your guacamole (not traditional guac, I call this breakfast guac).
Quarter your tomatoes, chop your coriander, scoop out your avocado, squeeze on your lime, sprinkle your salt & mash together using a fork. Keep it chunky & leave to one side.
In one bowl pop your flour, baking powder, salt, pepper & paprika.
In another beat your eggs & milk together.
Slowly pour your wet bowl into your dry bowl and stir until you get a smooth batter. Add your sweetcorn & mix it all in.
Put your bacon on to cook & heat up another frying pan with olive or groundnut oil to cook your fritters. When the oil's hot, add a big spoonful and try and keep it to a circular(ish) shape.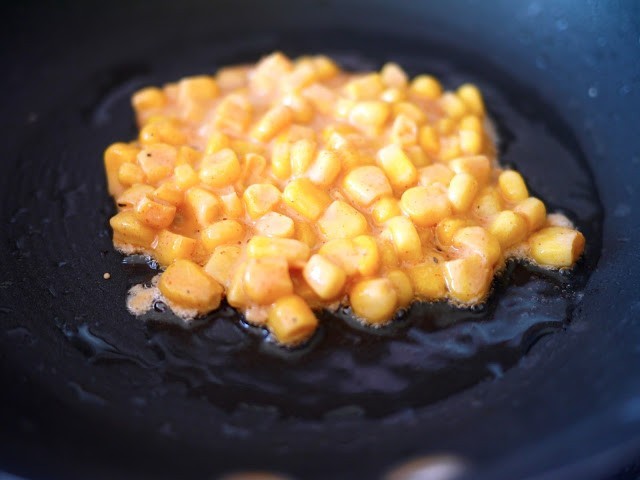 Cook for a couple mins before flipping.
Cook for another couple of mins, more if you think it needs it and put it on a plate with some kitchen roll somewhere warm while you make the rest. When you're ready, it's time to stack!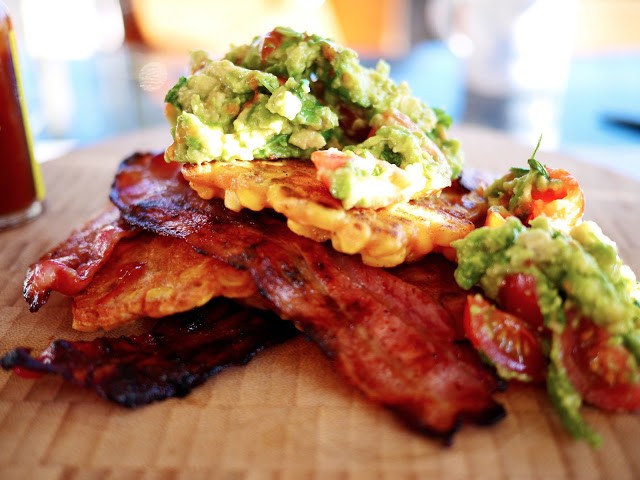 Enjoy with mimosas & a big hot cup of coffee.
Eyerolling & talking with your mouthful "ohmygoditssogoooood", absolutely compulsory.