Malmaison have just brought out a new burger. They heard I was something of a burger fan (understatement) so invited me along to give it a go. It is a monster .
A 28 day aged beef patty, smothered in gruyere with slaw & bacon in a toasted brioche bun, topped with towering onion rings and a fois gras slider.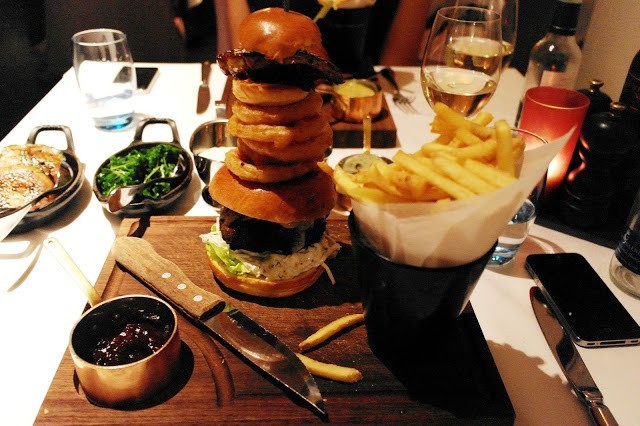 The fois gras was deliciously rich and sat a top a layer of sweet chutney. I sort of wished that they'd just popped it into the main burger though. It seemed a bit of a waste to enjoy on its own. The burger was a beast. The burgers I usually go for use much slimmer patties but this is a big brick of beef. Much manlier and something for the rough tough meat lovers among us.
Phoebe went for the lobster burger with mango salsa and lime hollandaise. Side wise, we plumped for garlic & chilli shrooms, buttered kale, stilton butter, garlic butter and blue cheese dressing.
(If you've never dipped a burger into blue cheese dressing you haven't lived! And don't even get me started on fries with garlic butter…)
All in all it's a good burger & a serious show stopper.
You can get your mitts on one in any of the Mal restaurants; Aberdeen, Belfast, Birmingham, Edinburgh, Glasgow, Leeds, Liverpool, London, Manchester, Newcastle, Oxford, Reading & Dundee. So you should never be too far from your very own towering heart attack! Visit the website here .