I've had a best friend called Freddie for as long as I can remember.
We met in pre-school and grew up with a sort of Katniss & Gail relationship. We'd play in the woods, camp under the stars and lived in his gypsy caravan for weeks at a time (he'd gather wood for the stove and I'd cook). I had wild curly hair, freckles and a constant swipe of mud across my nose. He had shiny blonde hair and big blue eyes.
He was my first proper boyfriend and despite breaking each other's hearts at one time or another, we remain thick as thieves.
When we cook together it inevitably involves a lot of giggling and experimentation. This recipe is one of our more successful experiments. The Nacho Burger. Gooey, crunchy, cheesy, spicy, creamy, rich and utterly filthy. It's everything you want in a burger.
To make yours you'll need:
250g (9oz) beef steak mince
1 medium egg, beaten
2 bread buns
2 slices of cheese (you're choice, I like Gouda because it melts well and I can say "It's all gouda, baby!")
1 avocado
1 lime
1/2 handful coriander (cilantro), chopped
2tbsp sour cream
Hot sauce
BBQ sauce
Jalapeños
Nachos (whatever flavour you want)
Salt + pepper
Fries
Stick your fries in the oven/fryer to cook. I'll leave this bit up to your imagination. Now, get started with your burgers!
Mix your mince and egg together with a good pinch of salt and pepper. Mash your avocado with your cilantro and the juice of one lime, add salt and put to one side. Mix your sour cream with as much hot sauce as you can handle and a squeeze of bbq. Slice your buns. Heat a skillet until really hot. Shape your mince into two patties using your hands and place them into the pan. You shouldn't need oil as the mince is fatty. Put your grill (broiler) on to warm up. Cook your burgers for a few mins on each side. Then place a piece of cheese on each and pop them under the grill to melt. Keep and eye on them so they don't burn and start constructing your burgers. Put a handful of nachos on the bottom buns (this'll stop you getting a soggy bottom), burgers on next, then guac, then spicy sour cream, then jalapeños, then crush a few extra nachos on top. Serve with fries, frosty drinks and extra hot sauce.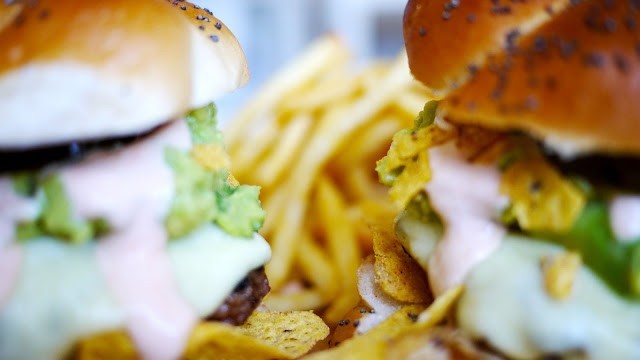 Remember, it's nacho burger, it's mine!