Andaz Liverpool Street is an awesome 5* hotel in Shoreditch.
I used to walk past it on my way to work. Business men and well dressed women would spill out onto the street into taxis and I'd peer into the lobby at the receptionists milling around with their iPads.
Well, last week I finally got a little peek inside and oh boy was it a good one!
To celebrate London Design Week, Andaz hosted a "Scrap Labs" dinner. The idea was to highlight all the delicious, totally edible food wasted in hotels around the world and encourage chefs to think outside the box a little.
We had 8 courses, all held in different rooms around the hotel, starting with a table in the kitchen.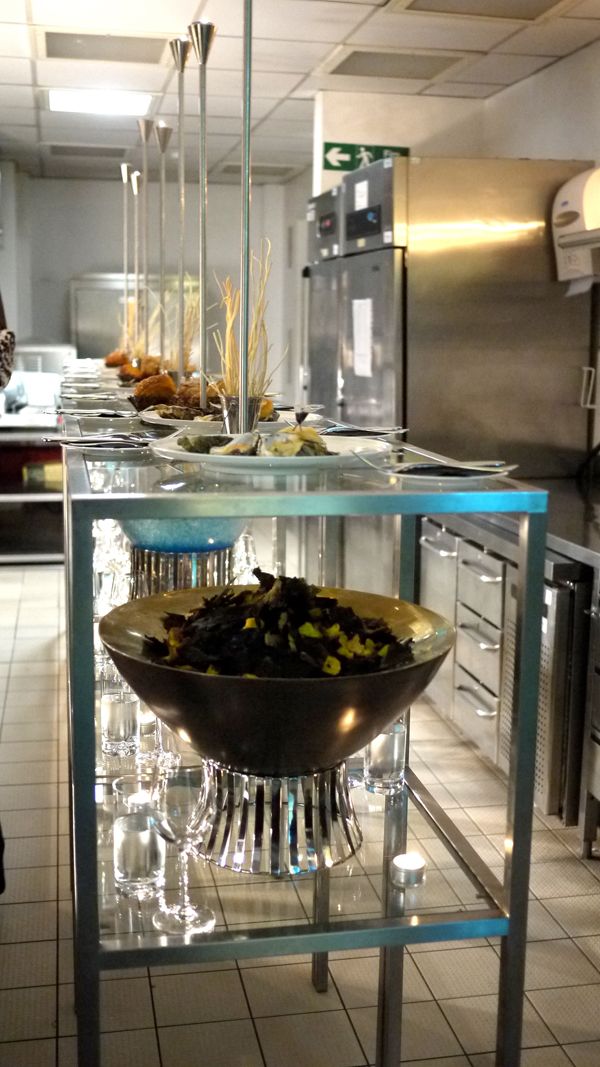 We began with oysters… which was a little confusing because I don't know anyone who throws out oysters. But apparently they were sustainable British oysters, so we'll let them off.
Next we were treated to seabass cheeks and tartar with caviar.
I found the cheeks a little tough but the tartar was excellent. After a couple more cocktails we were whisked away for a tour of the hotel before being led into the masonic temple. A dark, ominous chamber which lay undiscovered for decades having been blocked up for its own protection during WWII. In the 90s a wall was destroyed during refurbishment and builders emerged into the temple. We were greeted with a huge dining table groaning with food and silverware Candle light danced around the room as guests gasped and stood dumbfounded by their surroundings.
Our first course in the temple was tongue, which I really, really wanted to like…but didn't. I'm fine with the idea of tongue, I just don't enjoy the taste. Never the less, it was beautifully presented and served with wonderful wine (which makes up for almost anything in my books).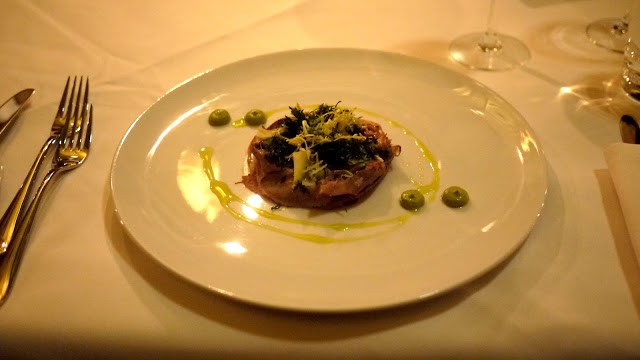 Next we had a delicious beef consomme, served in glistening copper saucepans.
Followed by braised jacob's ladder and lightly seared fillet.
Then another soup.
Next we were led through more of the victorian part of the hotel to the bar for pudding.
A palet cleanser of basil sorbet was just what we needed after so many rich courses.
It was a little like eating iced pesto… in the best possible way.
But pudding was where the chefs had really gone to town. A club sandwich with a twist. The bread was made of light sponge cake, filled with strawberry, cherry and mint goodies. The chips were made of doughnut and the ketchup and mayonaise were actually raspberry and white chocolate. The fried egg (which was 'fried' infront of us) was marshmallow with a lemon curd yolk. I'm not yolking, it was delicious! Sorry, couldn't resist.
Sadly the magical diner's tour wont be open to the public as it was meant more as an inspiration to chefs visiting London during design week. However, should you want to try your own little Alice in Wonderland club sandwich pudding, you can. Andaz have added it to their menu, so pop in and confuse your tastebuds one afternoon. You'll find them here . I love this idea of turning something savoury into something sweet… what else would work? .