As I was wistfully scrolling through my May photo clusters, reminiscing about our blink of a Summer, I stumbled across these and realised I'd totally forgotten to upload them! So, better late than never, here's my Tea at Aubaine with the wildly talented Marina.
Marina & I went to school together but sadly never really knew each other. We were both art room dwellers.We'd walk around barefoot with paint on the tips of our noses, or in my case, stumble out of the dark room with arm fulls of oversized prints. The art rooms were somewhat of a sanctuary to the 'creatives' at school, somewhere to avoid the jocks & beauty queens. The walls were covered in people's creations, teachers would sit cross legged with us on the tables discussing fine art & the merits of experimenting with new materials. Most of us headed off to art schools in London (I went to Camberwell & Marina to St Martins). Here she honed her skills and has emerged as the most wonderful fashion designer. Take a peek at her current collection here.
Anyway, flash forward a few years and here we are. Lost in London. Skipping our way through Mayfair in the sunshine & stopping off at our new favourite Tea spot, Aubaine on Dover St.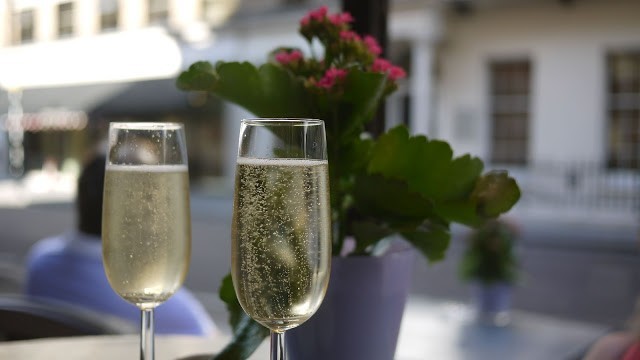 Tea in London is no longer just about scones & little cucumber sandwiches. They've gone all 2012 on us. "T" as it's called at Aubaine, comprises of a selection of mouth watering canapĂŠs & mini patisserie. And champagne, of course.
This handsome little beast was my personal favourite. A shot glass layered with foie Gras, maple syrup, praline, roast almond and sugar. The perfect mixture of salty, sweet decadence.
The old spanish staple, melon & ham topped with a sliver of gurkin & balsamic glaze.
Just as you think you've died and gone to heaven, they bring out your second tray. The puddings.
Pistachio profiterole, chocolate profiterole, tiny passion fruit tart, a scone with vanilla chanilly cream & a tiny vanilla ice cream pop, smothered in chocolate & almonds.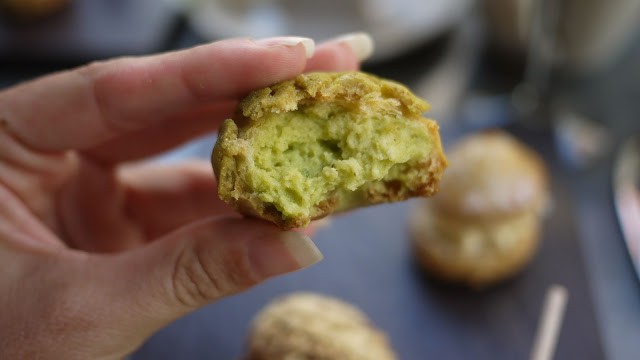 The perfect end to a long morning shopping in the sunshine.
Oh summer… when are you coming back to us?
If you fancy your own little tea for two (or more), you can find Aubaines scattered all over London. There's even one in Selfridges.
I'll add it to my ever growing list of things to do (eat) in London so you can pop back to it whenever you please.
.