This really doesn't deserve to be called a recipe. It's so ridiculously easy, you could whip up a bowl in your sleep.
I stumbled upon the dish one hungry, busy lunchtime. No time to go out, no time to order in. It was cupboard hunting time.Having gathered my strange looking pile of ingredients, I flung them into a saucepan & thought "what the hell, it'll taste fine, and then I can get back to work!"
Oh how wrong I was. This modest little bowl has become my go-to lunchtime treat. It's one of my favourite new dishes and the best possible thing you can eat if you're trying to slim down for Summer.
(Despite being delicious & pretty darn filling, 2 small bowls contain less than 150calories!)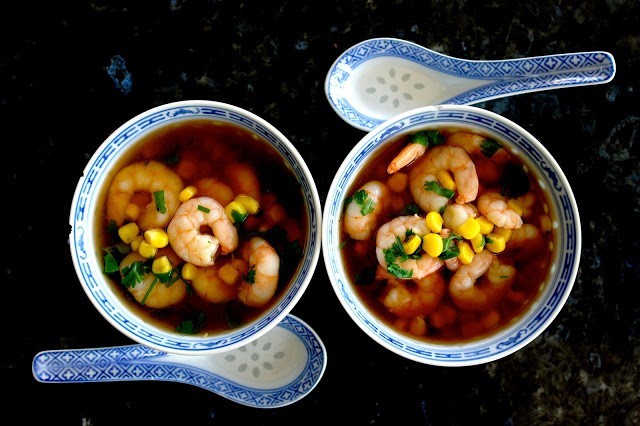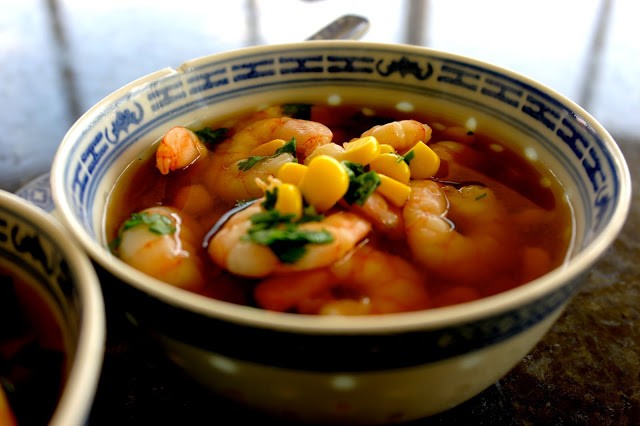 This recipe serves 2 people (you get 2 small bowls each, so you get to enjoy having seconds with none of the guilt!) You'll need: 1 tin beef consommé (I use this one, but any good one without nasties added will do.) *Don't feel bad about getting it out of a tin, 'real' consommé is a total hassle to make & we both know you have far more important things to do. 1 small tin sweetcorn 1tbsp fish sauce Handfull chopped chives Handfull chopped coriander (cilantro) 200gr raw, peeled prawns 1 chopped fresh chilli (or tabasco if you prefer) Heat your consommé, prawns, fish sauce, chilli & sweetcorn in a saucepan until the prawns have turned pink and are cooked through. Add your chives & coriander (cilantro) & serve. See? I told you it was easy!
I love spice, so I add an extra squeeze of Sriracha hot sauce to mine, once served.
The prawns are an excellent source of protein, there's no added salt, sugar or fat & the sweetcorn is packed with fibre. Scientists say that soup stays in your stomach much longer than solid food, meaning you feel full for longer. This little bowl really couldn't be any better for anyone trying to cut back. It also just happens to be delicious. .