If you've ever dreamed of finishing a glorious meal in Mayfair, sitting back with your champagne & asking the waiter to bring another round of lobsters, I know just the place.
Forget the lottery tickets, you wont have to marry a rich old man (let's face it, no amount of money is worth rubbing suncream into someone's bald patch).
Mayfair has a new kid on the block.
No menus or specials boards, two dishes, the lobster or the burger. £20 each, take your pick.
I'm not talking a skinny little half lobster either, I mean a big, stonking beast of a lobster, dripping with lemon butter and big juicy bacon cheeseburgers in bricoche buns, bursting with flavour. All washed down with spectacular cocktails & reasonably priced, proper champagne. The imaginatively named 'Burger & Lobster' on Clarges street feels like a pop up, but fingers crossed, is here to stay.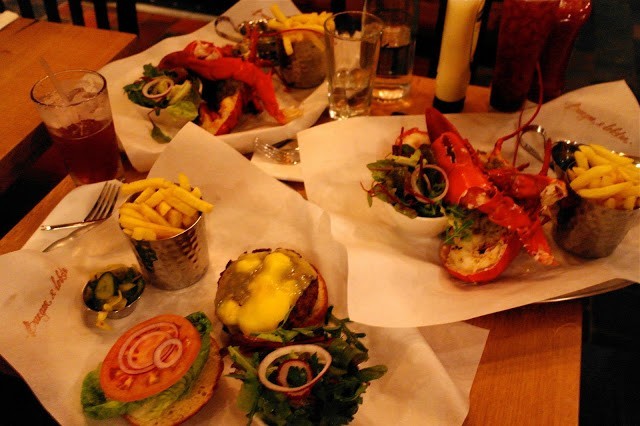 The decor is… different. Let's just say, if a Swiss chalet & an American diner had a baby & it grew up in Mayfair… it would look like this. They opened quietly over the weekend & there are no reservations.
My advice? Get down there sharpish! Go for the grilled lobster & try the cocktails.
It's a great place for a date, dinner with friends or a huge birthday party. You really can't go wrong.
You'll find B&L at: 29 Clarges street, Mayfair W1J 7EF & on Twitter .
Ps… if you do go, tweet me a picture in your bib! This winter's must have accessory, darling.