Last night I cooked the most delicious healthy chicken wraps.Â
They're spicy, sticky, moist, gooey, crunchy and only around 400cals per serving.Â
The guacamole add most of the calories, but avocados are full of good fats which are great for your heart, skin, hair, joints… they're just good for you, ok?
You see that gloopy, melting cream oozing from the top of your spicy chicken wrap?Â
It's not sour cream, it's creme freche.Â
This is a great tip for anyone just trying to cut back a little, creme freche has less than a third of calories of sour cream, and tastes even fresher!
Your thighs will thank me later.Â
Anywho… these are really easy to make and I threw them together for a little alfresco supper on the terrace.Â
If you fancy making your own, you will need:Â
3 chicken breasts, sliced
2 handfulls cherry tomatoes
1 lemon
1 tsp chilli flakes
2 tsp paprikaÂ
6 tbsp hot sauce of your choice (you can see mine bellow)Â
2 tbsp honey
5 tbsp olive oil
1 big pinch of salt
3 ripe avocadosÂ
2 tbsp of Waitrose garlic sauce (or 1 clove of roasted garlic, squeezed)
1 big pinch of rock salt
1 squeeze of lemon
creme frecheÂ
tortilla wraps
water cressÂ
This will serve 4 people, or two hungry ones, with left overs to spare.Â
Let's get started!
First you'll need to marinate your chicken.
Put your chicken in a bowl and add your lemon, chilli flakes, paprika, hot sauce, honey, salt and olive oil.
Give it a good stir and if possible, cover with cling film and leave to stew for a couple of hours, in the fridge.
While you're waiting, you can make your guac.Â
This is the easiest stuff to make and is possibly my favorite thing in the world.Â
Roughly crush your avocados with a fork, add your garlic sauce (trust me when I say this sauce is ah-mazing), salt and a little squeeze of lemon. Mix it all together and pop into a nice bowl.
If you leave the pip in the guacamole, it wont go brown. This is an awesome little tip I learnt at a burrito shack in Soho.Â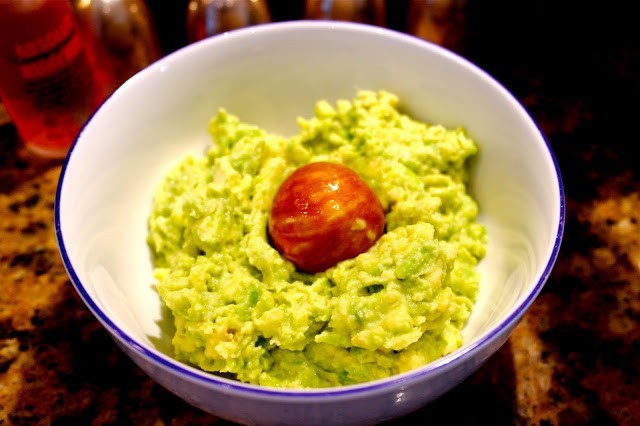 Once your chicken has combined nicely with it's tasty little marinade, it's time to griddle it.Â
Get your pan really nice and hot before adding your chicken breast.Â
Give it a few mins on each side.
Once it's starting to brown nicely, you have to do something that will feel a little unnatural at first.
Go with me, it'll be worth it.Â
Add about 4 tablespoons of water to your chicken.Â
This should start to bubble up nicely and give the chicken an amazing colour and moistness.Â
Turn it a couple a times to ensure an even colour and once it looks pretty much done, take it out and place on a serving plate.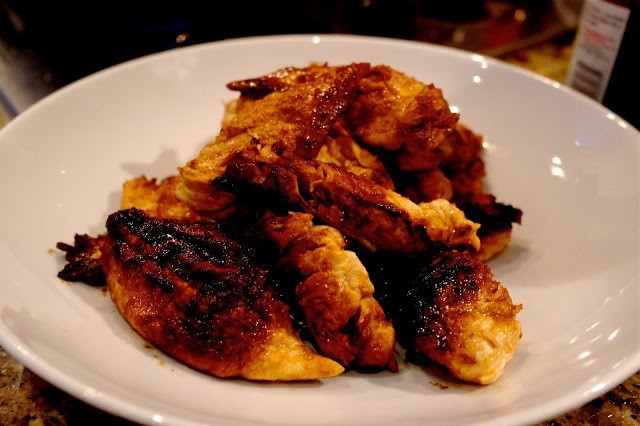 Take your cherry tomatoes off the vine, so that they're ready to jump in the pan.
Add half a cup of water and wait for it to boil.
This will lift some of the flavour from the pan and make a really delicious sauce.
Pop your cherry tomatoes in and move them around until they start to burst and split.
When they look like they're about to become mooshy, pour the whole mixture out, over your chicken.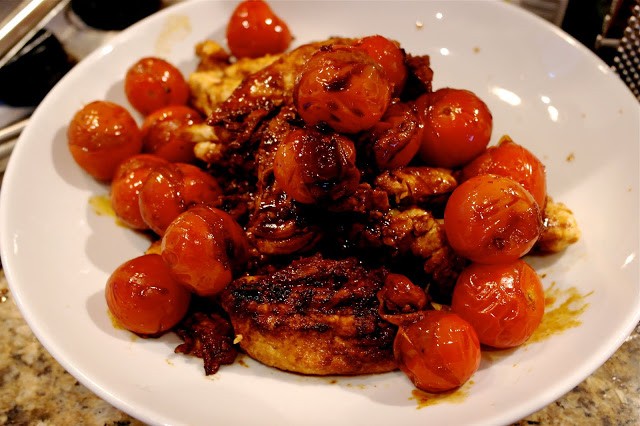 Serve with your tortillas, creme freche, water cress, home made guacamole and lap up the praise.Â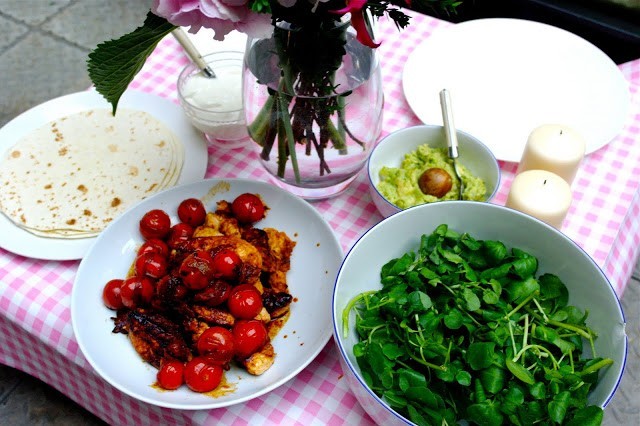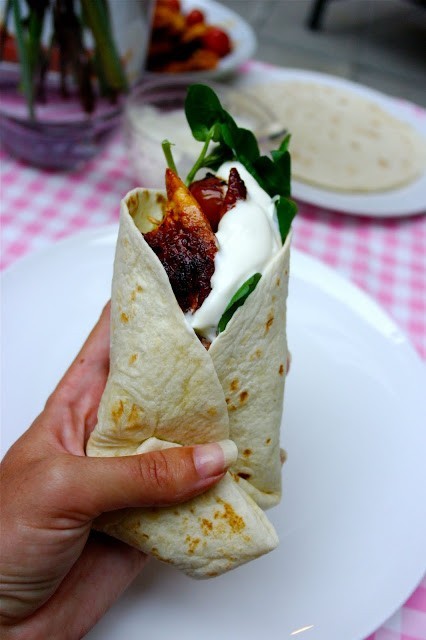 We ate until we groaned and dozed under the stars until the candles finally went out.Â
The perfect midweek treat, minus the calorie guilt.Â
.