On Friday night, the girls and I went to the Yohji Yamamoto show.
It was absolutely beautiful, held in one of the enormous halls of the V&A museum.
'Real life' models (rather than emaciated agency girls) wriggled down the runway in beautifully structured dresses, over the top hats & pastel, tailored suits.Â
The music was an eclectic mix of modern and classical, with Ave Maria slipping, seamlessly into old school rock and roll.Â
It was a spectacle to say the least, and we were very grateful to have been invited.Â
I wore my favourite white dress, my little Zara number.Â
The beautiful Annabel T.
Front row darlings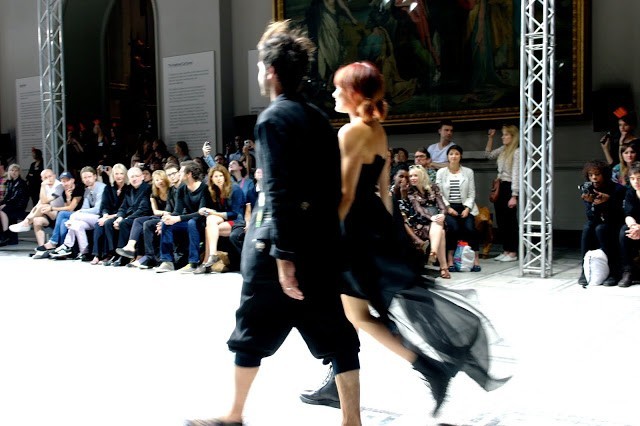 After the show, and a little too much champagne, we headed across the road to Cassis, for dinner.
Cleo's Roast Landes duck breast, chickpea galette & Niรงoise olive sauce
Annabel's Artichoke and ricotta ravioli, with sage emulsion.
My far less attractive- steak tartar… and chips.
I really should have chosen something prettier, shouldn't I?
The cocktails were to die for, and I'm pretty sure we made our way through the entire menu.
It was a beautiful restaurant & a lovely night with beautiful girls.Â
You can read more about the Yohji Yamamoto show at the V&A here, and I would certainly recommend Cassis as a restaurant.Â
On the warm summer evenings they throw open the doors and you feel you could be in St Tropez, Monaco or Barcelona at the very least.Â
.