It's finally here!
The hotly requested, world famous, *drum roll*… annual Londoner Christmas Gift Guide.
And it may just be my biggest yet!
There's something for all sorts of people, for all sorts of budgets. Happy shopping!
For The Frequent Flyer
1. Sleek and stylish luggage – just marbleous! 2. Airbnb gift card
3. Personalised makeup case – for all those inflight essentials
4. Bobbi Brown travel empties kit – never get pulled over by airport security again!
5. Cashmere knit travel set 6. Cashmere travel scarf 7. Silk eye mask 
8. Phone and camera tripod – get those Instagram Husband pics, with none of the complaining!
9. Mini phrase books – adorable and handy! 10. Noise cancelling wireless headphones – my secret weapon
11. Mini portable charger 12. Kiehl's 'First Class Essentials' travel set
For The House Proud
1. Coffee table photo album – do something with all those gorgeous photos!
2. Sonos voice controlled smart speaker – the gift of music
3. Kate Blegvad measuring pitcher4. Christmas crackers
5. Sausage dog Christmas mug – dachshund through the snow!
6. Samsung 'The Frame' TV – The TV that looks like a work of art. Want want want!
7. Kitchenaid mixer8. Penguin Classics book set – instant classics
9. Diptyque Christmas candles set10. Sleeping cat trinket dish11. Cut crystal bar set
12. Copper mug – for all those festive cocktails13. Ceramic bee bowl– beeautiful in any home
14. Jane Austen book set 15. World maps print set16. Leather photo frame – filled with a snap of you both
17. Italian porcelain vase18. Apple TV – The gift of a million box sets
19. Blue and white embroidered napkins20. 'Wifi Sweet Wifi' cross stitch
For Littles
2. Range Rover ride-in electric car – for little ballers
3. Bashful bunny hamper 4. Lego Creator Big Ben
5. Unicorn dress up kit – does this come in my size?
6. Personalised astronomical adventure kit – Who knows, by the time they grow up we might be up there!
7. Christmas jumper 8. Star LED lights 9. Wooden play kitchen 10. Cosy winter gift set
12. Race car – Retro cool
13. furReal Makers Proto Max – build and code your own robot dog, just beyond awesome
15. LEGO Chain Reactions craft kit -teach your old bricks new tricks 16. Hatchimals Surprise
For the Magpie
1. Silver May Sparkler – The ultimate for any magpie 2. Wishing Star Pendant – wish upon a star
3. Love spinning charm 4. Chanel pearl drops – utterly timeless
5. Constellation earrings – sparkle all the way
6. Portofino watch – strictly for someone who's been very, very good
7. Cluster earrings 8. Tiny sapphire stacking rings
9. Oscar de la Renta choker – spectacular (and a great site for bargains)
10. Classic gold watch 12. Kew crystal collar – for everything from dresses to cosy jumpers
14 & 15. Her's 'n' her's pea pod necklaces – for two peas in a pod
For your Fashionista
1. Quilted rain boots (UK/US) – Toasty warm toes all year round
2. Tassel fringe earrings – impactful+inexpensive
3. Butterfly wings sandals – fit for a Greek goddess 4. Diamante clutch – the most heavenly party clutch
5. Shearling ankle boots – toasty 6. Gucci velvet quilted shoulder bag
7. Diet Coke jumper – We all know someone who needs one of these! 8. Statement crystal collar
9. Striped floral embroidered pjs – As seen on?
10. Velvet mini shoulder bag – Champagne on a lemonade budget
11. Gucci Dionysus suede shoulder bag12. Silk monogrammed scarf – As individual as they are
13. Crystal slingbacks – Slip on glamour 14. Lit jumper – Happy Chrismukkah
15. Prada velvet shoulder bag – Santa, are you listening?
For the Silver Fox
Once you reach a certain age only the best will do. No gardening shears or socks this year.
1. Special Edition Scrabble – It's time for an upgrade. They deserve one. 2. Moisturising Balm – The ultimate cream for cold, dry hands.
3. When Life Gives You Lemons Deck Chair – Maybe His'n'Hers for the garden?
4. Jo Malone Perfume Selection 5. Silver Salt & Pepper Shakers
6. Leather Portfolio – The new briefcase  7. Silk Scarf – A forever gift
8. Polka Dot Pocket Square – For the refined gent
9. Oversized Knit Blanket – A big, snuggly, heavy knit blanket for snuggling under. I have this, it's the dream!
10. Personalised Mug  11. Rose & Violet Creams Chocolates
12. Smart Leather Gloves 13. Chicken Apron – For all that clucking cooking they do!
14. Leather & Tartan Gloves 15. Words Game – Something they can beat you at all afternoon
16. Royal Collection Tea – The priceless gift of a good cuppa (in a lovely box to go on the kitchen shelf)
For Techies
1. Camera drone (UK/US) – The one I use, the very best.
2.  Virtual reality headset – Fun for them, hysterical for anyone watching!
3. Portable photo printer – For the snap happy
4. Nebula portable cinema – Top of my Christmas list. Set up a cinema anywhere, even the garden!
5. Sony Cyber-Shot camera – The camera I recommend at least once a week. A true pocket rocket
6. Portable, splash-resistant Bluetooth speaker
7. iPhone X – The best thing I bought all year
8. Nintendo Switch – Cannot get enough of this! Zelda, Mario, the gang's all here! Play at home or take it on travels. Finally a Nintendo to live upto the 64! A great gift for all ages.
For a Foodie
1. Charbonnel et Walker hamper – Just drown me in seasalted caramel and I'd die a happy girl
2. Spiced coffee 3. Black truffle mustard 
4. Elderflower Liqueur – Beautiful in cocktails or sipped over ice
5. 3-piece saucepan set 6. Spice rack 
7. Mallow tree flying saucers – Old school cool
8. Harrods brandy butter9. Farah's Original Harrogate Toffee
10. Whisky rocks – For those who like it cold, not watery
11. Copper cafetiere – For the style conscious coffee lover (all coffee lovers!)
12. Salt with white truffles – Sprinkle it on everything a la salt bae 13. Fondue set 
14. Portable gourmet pizza oven – Turn the BBQ into your very own pizza oven. The gift that keeps on giving!
15. Luxury wicker hamper for two
For the Outdoorsy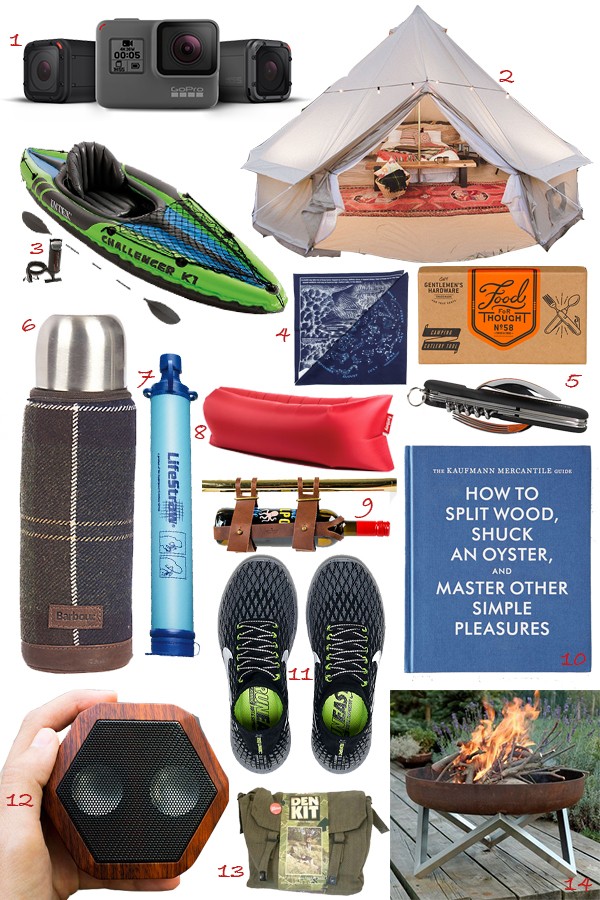 Gifts for the adventurer in your life!
1.GoPro – to capture the adventures and relive them for a lifetime
2. Glamping Tent – For the "I'm outdoorsy in that I like to drink wine on terraces" sort of loved one.
3. Inflatable Kayak – You never know when this'll come in handy!
4.Sky Bandanas – Map the stars and keep warm in style 5. Spork Camping Tool
6. Flask Cosy flask to keep your tea/mulled wine warm. Particularly good for the hunting/fishing/shooting type.
7. LifeStraw Water Filter – For the wannabe Bear Grylls. 8.Air-Filled Couch – Great for camping, concerts, pools, the first genuine innovation in the inflatable world! Very cool.
10. How to Split Wood, Shuck an Oyster and Master Simple Pleasures
11. FlyKnit Shield Trainers – Waterproof trainers. Need I say more?! 12. Wood Water Resistant Speakers
13. Adventure Kit – For young adventurers
14.Steel Fire Pit – For when you want to feel outdoorsy from the comfort of your own garden. Marshmallows not included.
Cheap & Chic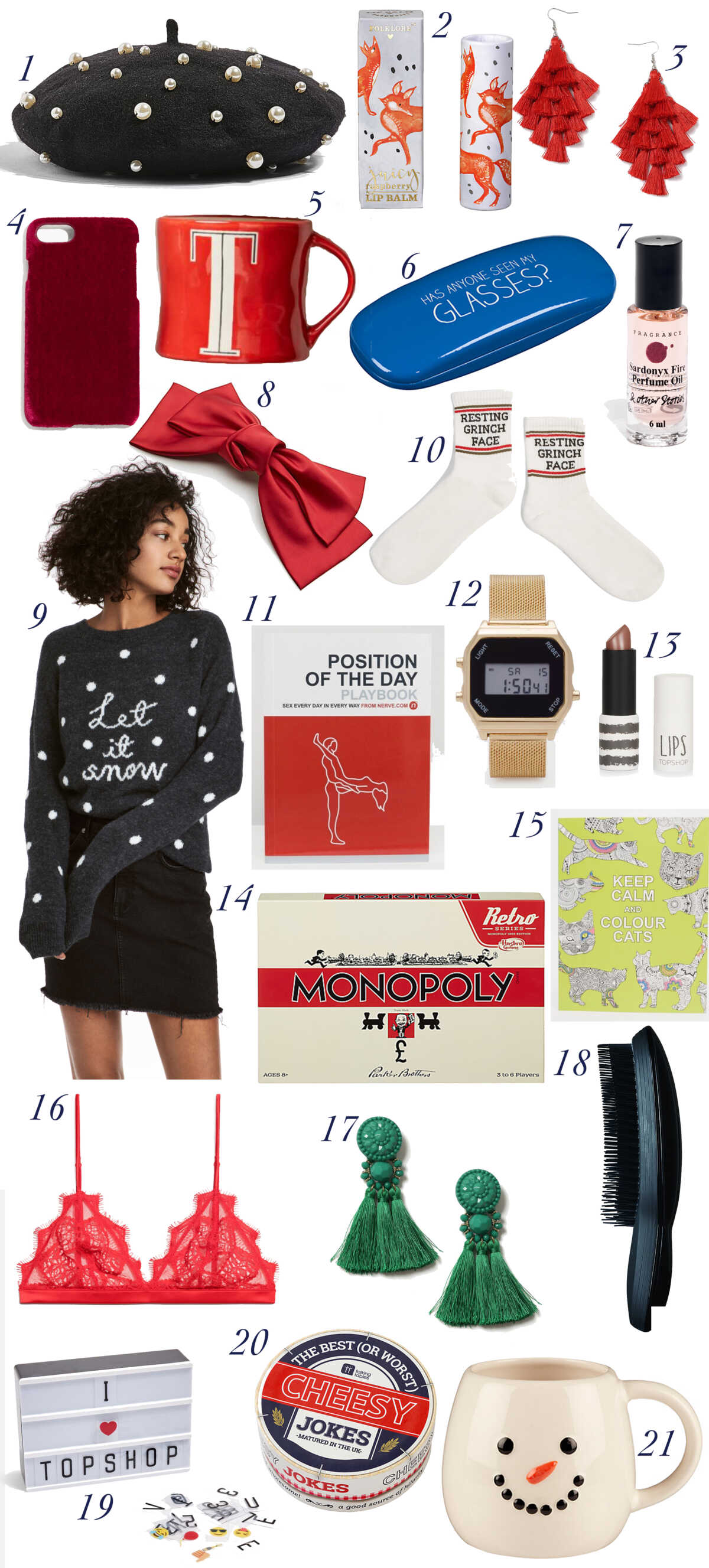 1. Black pearl beret – Beret nice indeed
2. Folklore raspberry lip balm
3. Tasselled earrings 4. Velvet iPhone case
5. Monogrammed mug6. Glasses case7. Roll-on perfume oil
8. Silk bow barrette9. Let it Snow jumper10. Christmas socks
11. Position Playbook12. Gold watch 13. Nude lipstick14. Retro Monopoly
15. Cats colouring book16. Soft lace bra
17. Tassel earrings18. Tangle airbrush
19. A6 light box20. Talking Tables Cheesy Jokes21. Snowman mug
 And as always –
For The Others
Put yourself firmly at the top of Father Christmas' nice list.
With all of the excitement and sparkle around Christmas it's easy to get wrapped up and swept away with it all.
This is the time of year when even the smallest gesture can have the biggest impact.
Please consider just buying one or two pressies for people you'll never meet. Those who are struggling, without loved ones, alone, out in the cold or fleeing their own personal hell.
Give a home to a family without one (£5 – £80)
Give a gift to women and children fleeing domestic violence (£5 – 3100)
Give warm clothing to a child in Syria (£34)
Teach someone to read (£10)
Immunize a child (and more) (£10)
Fuel a lifeboat (£10 – £100)
Give granny or grandad some company (£20 – £75) – or donate time for free!
New Yorkers – Adopt a letter to Santa (just such an epic campaign!)
Do whatever speaks to you. And put at least one on your Christmas list for others to buy you too.
If we all chipped in just a little we could make one hell of a difference!