"Real cooks" who are never too busy to whip up some incredible creation from scratch, those who don't suffer from end of long day can't be bothered syndrome, and snooty foodies can look away now.
For the rest of us!
A cheat's recipe to whip something tasty up when perhaps you're a little hungover and just want to chill out followed by a marathon session of Netflix where it asks you "are you still watching" one too many times, yes I'm still watching. Stop judging me, Netflix!
More of an idea than a recipe, this is one idea that will save you from having to leave the house in search of a taste of Mehhiicccooo, satisfy all of your urges and leave you in something of a happy haze (with or without accompanying margaritas).
Ladies and gentlemen, I give you… lazy fish tacos!
All of the goodness, none of the hassle of deep frying anything.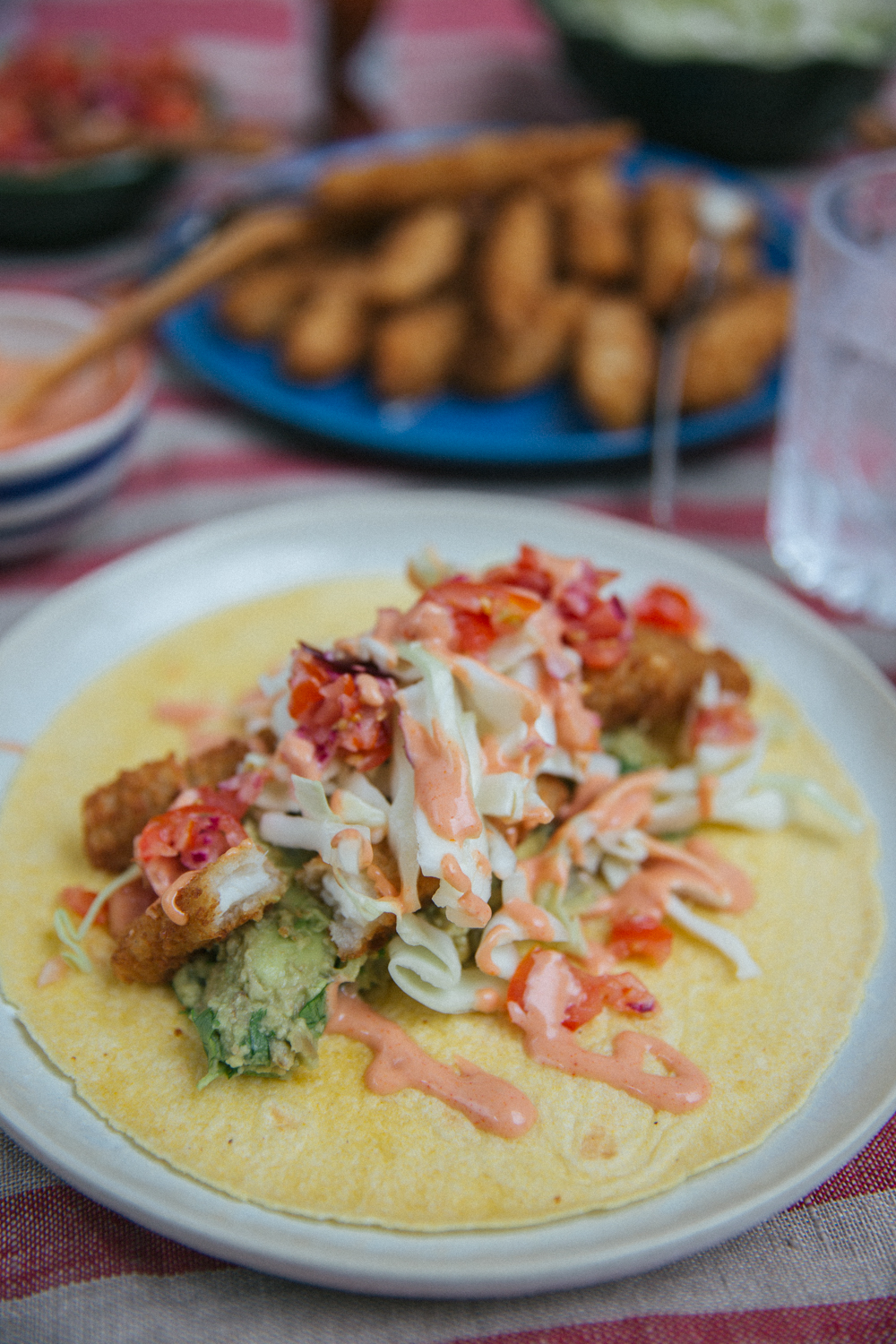 Rich, zingy, crunchy, fresh flavours, all ready to be wrapped into that soft, warm corn taco and be devoured.
What makes them so easy, you ask?
Fish. Fingers. Baby.
Ideally the posh "supermarket's own" "fish goujons" if possible, if not Cap'n's will do fine.
To serve two you'll need: 
10 fish fingers
Quarter of a cabbage, shredded or finely sliced
Tacos
Guacamole*: 
2 avocados
Juice of 2 limes
Corriander, chopped
Rock salt
Salsa*: 
2 handfuls of cherry tomatoes
Half a red onion
2tbsp vinegar
10 jalapeño slices
Juice of 1 lime
Salt
Spicy mayo*: 
Quarter cup of mayo
Quarter cup of ketchup
Few splashes of hot sauce
Juice of 1 lime
1tsp Smoked paprika
*It goes without saying that to make the recipe truly lazy, you could buy these ready made. 
To get started, pop your fish fingers into cook. Meanwhile slice up your cabbage and prep your toppings.
For the salsa- Add all the ingredients into a food processor and pulse a couple times until chopped. Don't puree.
Immediately tip into a sieve or colander to drain.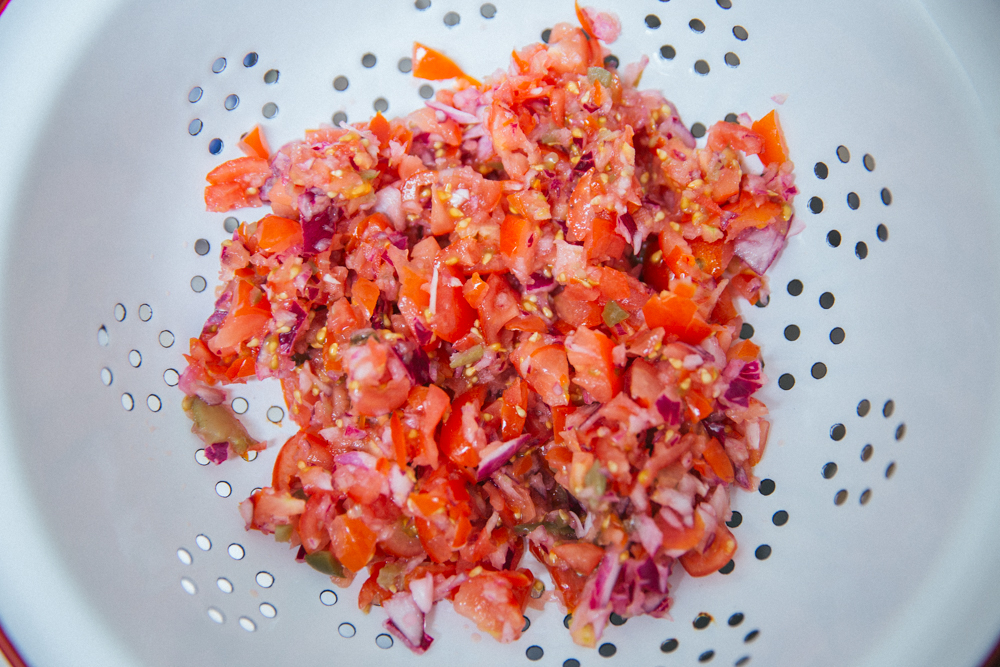 Place into a bowl and put on one side.
Next mash your avocado together with your lime juice, a big pinch of salt and mix with the chopped coriander leaves. Place to one side, with the avocado pip in the middle to keep it from going brown.
Mix your spicy mayo ingredients together in a little bowl.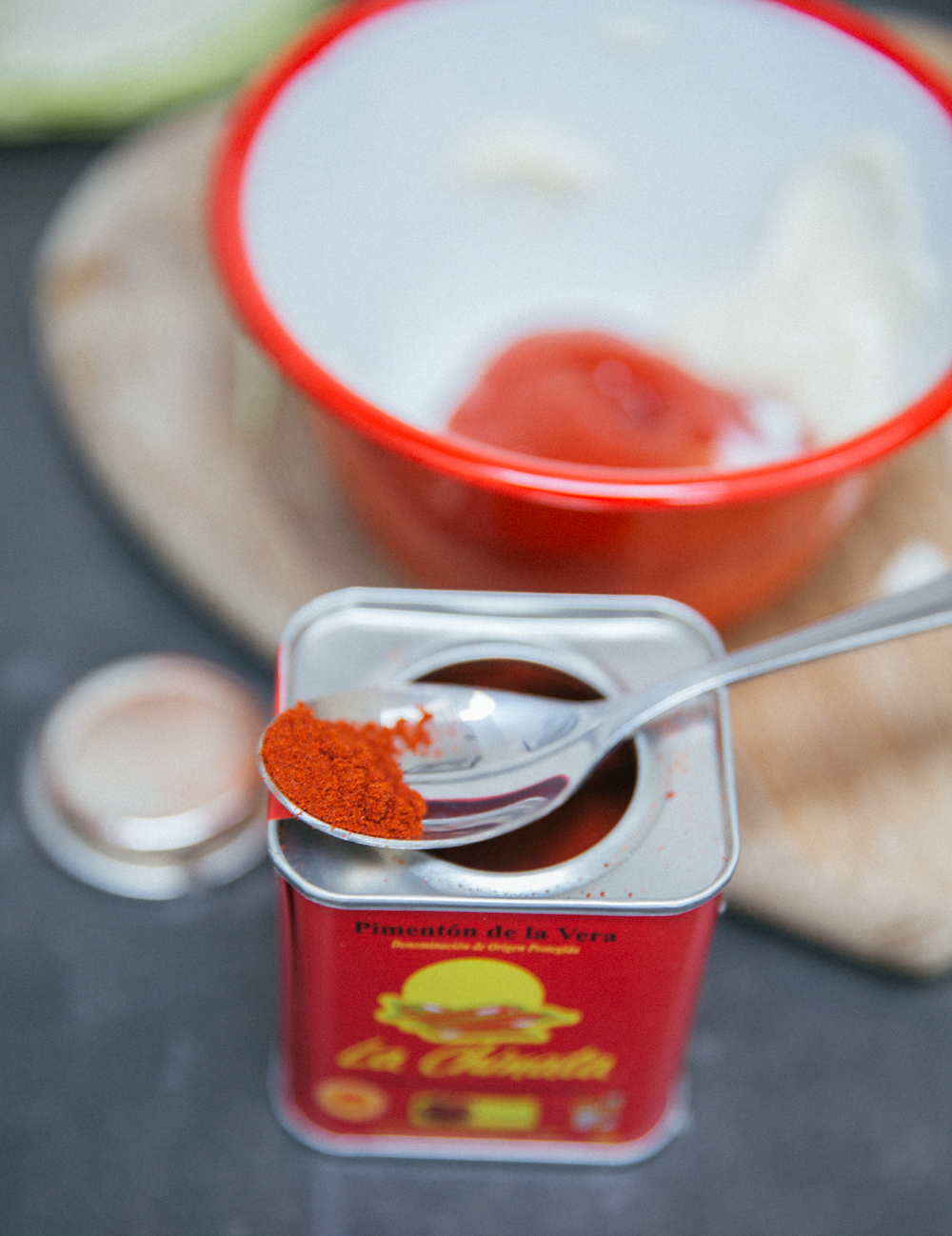 Heat your tacos one by one in a hot, dry saucepan (no oil) and place onto a teatowel or napkin covered plate, then cover them up with another napkin.
Serve and let people build their own tacos.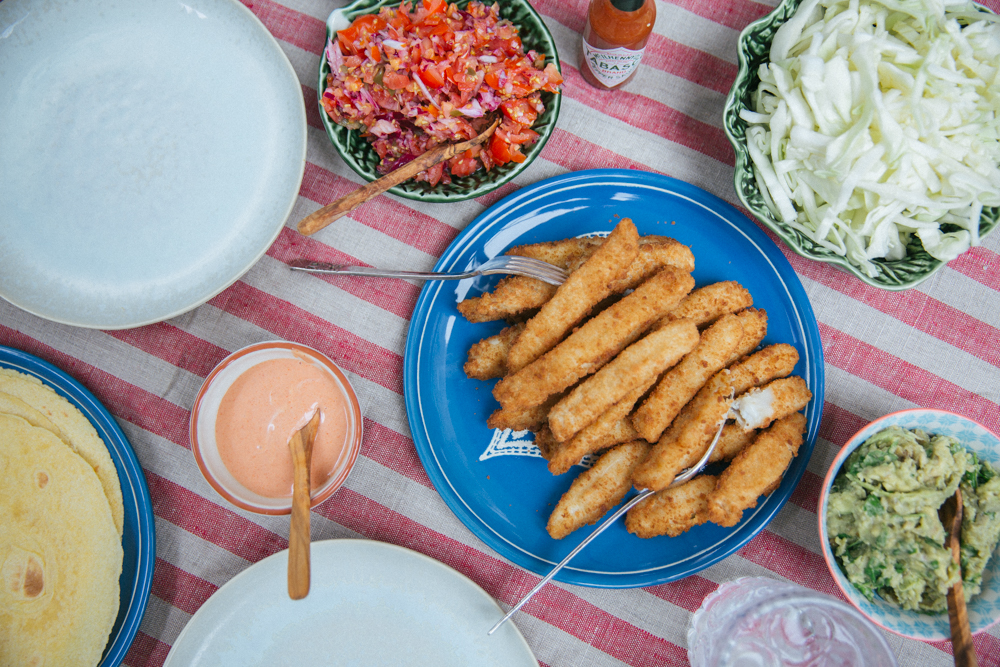 Tower all that goodness together!
Tuck in.
And that's a wrap, everyone!