I get so excited about sharing new little restaurants with you!
You'd think after all these years that the novelty might have worn off, but it hasn't so today's my lucky day.
Yours too actually, you're going to love this one.
A new little Italian in Borough Market.
Welcome to Padella.
No reservations, as is the trend.
Try and arrive just before they open (12) and you'll only have to wait a few moments before being whisked inside.
It's exceptionally rare for me to find somewhere I consider worthy of a queue, but this place really is.
Mostly centred around a big marble bar on the ground floor, it's not a place to linger. Just somewhere to pop in for a quick bite. (So the queue moves pretty swiftly.)
The menu's short, sweet and changes frequently.
The places buzzes with a happy vibe, lots of chatter, lots of noise from the kitchen – which is what the bar focuses around.
Perfect theatre for those who enjoy watching gorgeous men at work (who doesn't!)
Still smitten with my "Success Sparkler".
The starters on offer are simple and spectacular.
The spinach with chilli, garlic and anchovies comes cold and will blow you away. The perfect blend and balance of flavours, I could eat bowls of the stuff!
Cracking buratta in a rich olive oil with cracked black pepper.
So much more than the sum of its parts.
Classic olives and bread still warm from the oven.
We shared a few of the pastas on offer, as is the Italian way. (That's a totally valid excuse you're more than welcome to borrow when you visit.)
There are far too many to choose from to just have one!
Tagliatelle with nduja, marscapone & parsley. 
Packs a serious kick, not for the faint hearted!
Pappardelle with 8hr Dexter beef shin ragu. 
Rich and utterly comforting.
Ravioli of ricotta with sage butter. 
My favourite.
Pici cacio & pepe. 
A classic!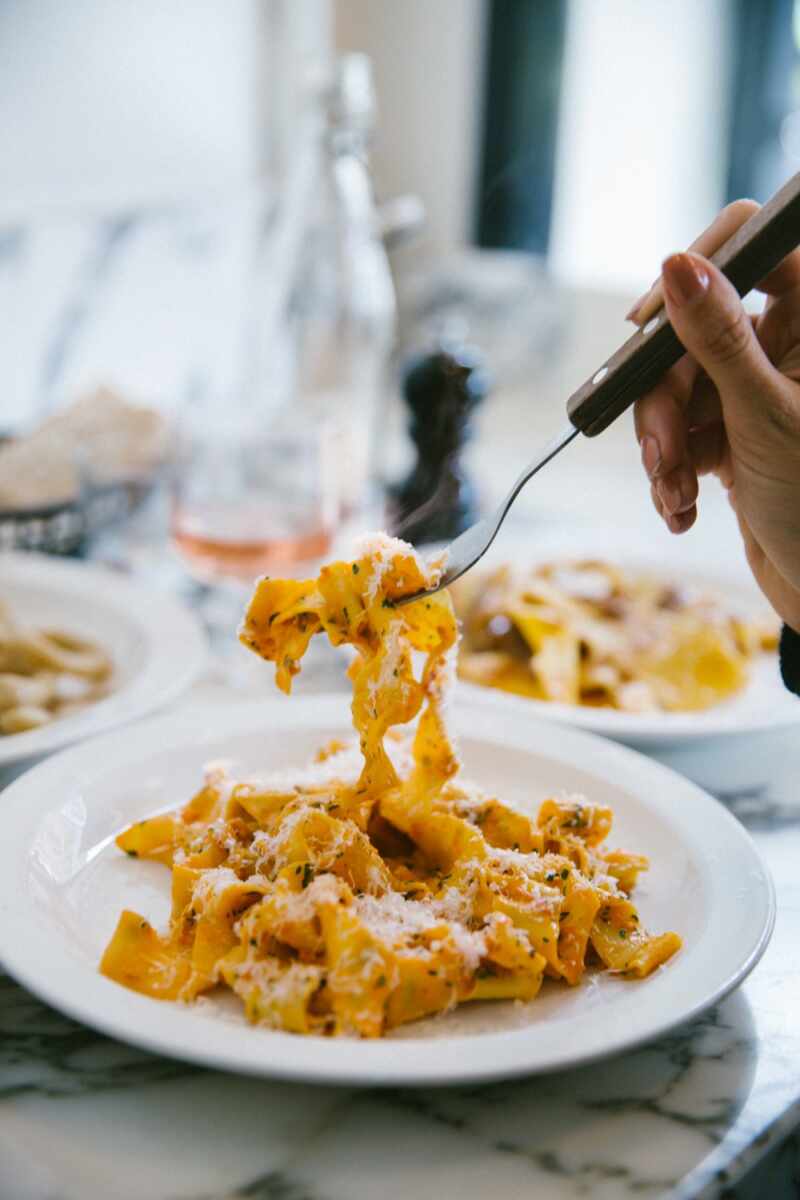 You need to try Padella, don't you dare walk pasta-gain without popping in.
Take a friend and sit at the bar, or take a group and pull up a table downstairs.
Open Mon-Sat 12-4pm 5-10pm and Sunday for lunch.
Find them here and if the weather's good treat yourself to a stroll along the river afterwards.
London's blossoming restaurant scene seems to be getting more exciting by the minute!
Looking forward to sharing a few more this season, let me know if you have any for me to sniff out…