After what felt like a lifetime of travelling, we finally landed in The Maldives.
The doors opened and *whap* we were hit by the incredible heat. Hot, damp heat that clings to your skin and sinks down into your lungs. Quite the contrast to the freezing London we'd left behind!
We wound our way through customs, baggage claim, found the grinning man holding a sign with our names across it, and made our way outside.
We took in our first view of palm trees as we were shepherded onto a speedboat and handed a frosty coconut water.
The bags were loaded on, the captain whipped the boat around and we sped off into the blue.
We revelled in the breeze, stretching our hands out to catch the salty spray.
Island after island past us by, but eventually we slowed and chugged towards our very own patch of sand and jungle; Huvafen Fushi.
What seemed to be the entire staff were out on the jetty waving and welcoming us home.
Cold, jasmine scented towels were pressed into our sticky hands, and quickly replaced with lemongrass iced tea.
We left the jetty in a golf cart and made our way to the room.
Rattling along the wooden promenade, I don't think either of us could possibly have been more excited!
Clutching each other's arms and hissing "look, look!" as we went.
The "rooms" are positively palatial!
A sitting room with a glass bottom
leads into the bedroom
through a wardrobe area and into the spectacular bathroom.
In the centre you'll find the deck, your own pool and steps into the Indian Ocean.
After a dip and a lounge, we headed off to explore more of the island.
We found a shady spot under some palms for lunch, with just the right amount of breeze.
There are five restaurants on the tiny island.
Fogliani's specialises in pizzas.
Which we enjoyed watching the chef make, but went for lighter options.
Green melon gazpacho.
Tuna tartar with feta and watermelon.
And a whole reef fish.
We ate, chatted, decompressed and generally eased into our new home.
Later we walked and watched as a tropical storm rolled in across the horizon.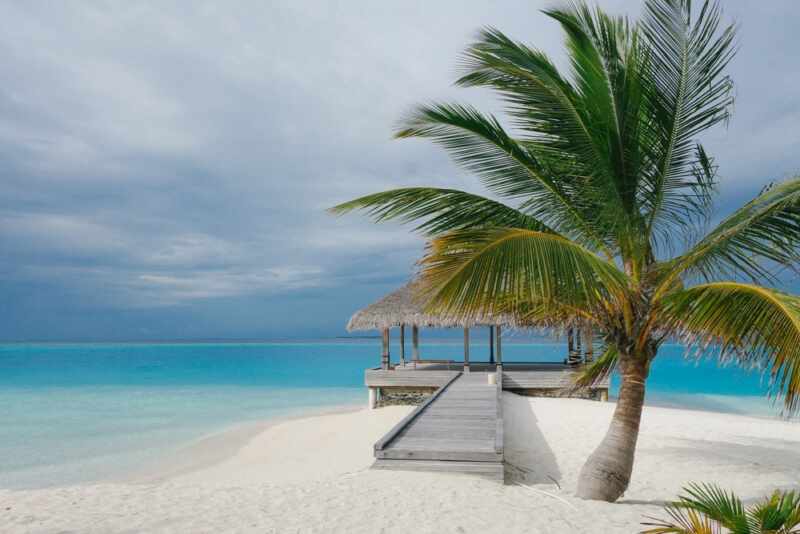 We swam as the warm rain came down.
We melted feeling the raindrops patter against our skin and lay with mouths open to catch them on our tongues.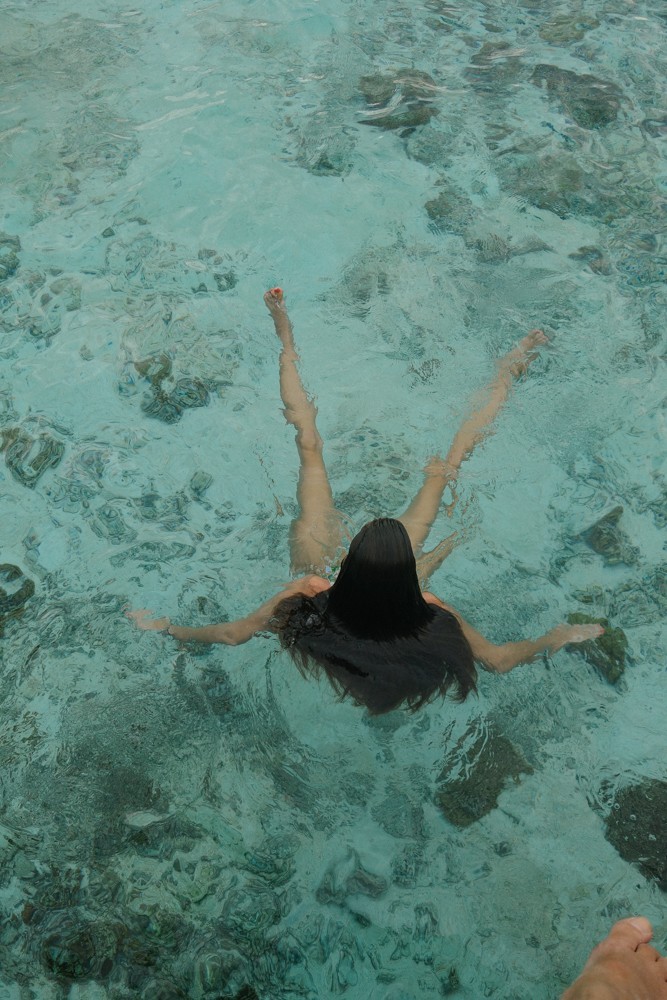 As the sun set, the rays came in to send it off with us.
Palm leaf swimmer // Blue striped dress
– Upto 40% off Boden + free deliv/returns with code "6W2C" for next couple of days –
We fed them sashimi and stroked their silky smooth wings.
They really raysed my expectations for future holidays! Life's all downhill from heron out!
We saw off the last of the sun with a bottle of bubbles.
Toasted to our eternal friendship and promised to go on many more adventures together.
When we got hungry, we padded bare-foot over to SALT for supper.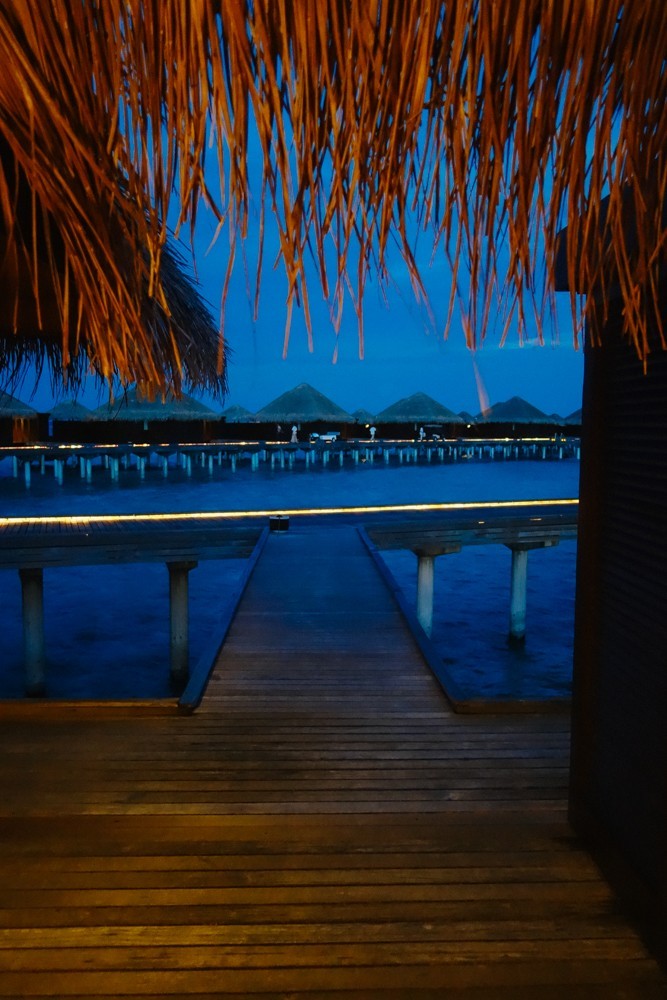 Letting the newly illuminated pathway guide us there.
We took up seats on the terrace and slurped on tropical cocktails as we watched sharks circle below.
I felt just like a Bond villain and thoroughly wished I had Custard to sit on my knee and hatch evil plans with!
But made do with a gargantuan pile of seafood instead.
Don't worry, we shared.
I'm not that shellfish!
Ad - Shop this post