Friday morning was jam packed with meetings.
I had to go to my agent in Soho's offices and there we had back-to-back introductions, planning sessions & brainstorming huddles.
It's all (hopefully) leading somewhere very exciting and I can't wait to share it with you, when I get the go-ahead.
Bursting with nervous, excited, and really rather hungry energy we headed off into Soho for a bite to eat.
Lapping up the glorious sunshine as we went!
Wearing my new dream of a dress. It's made of stretchy cotton, making it cool, breezy, unimaginably comfy and stays flattering… even after a big ol' Pizza Pilgrims pizza!
After lunch (and a little Oxford Street snooping) I ventured south of the river to meet Bella.
We'd been planning an attack on The Tate for a while.
She spotted me first…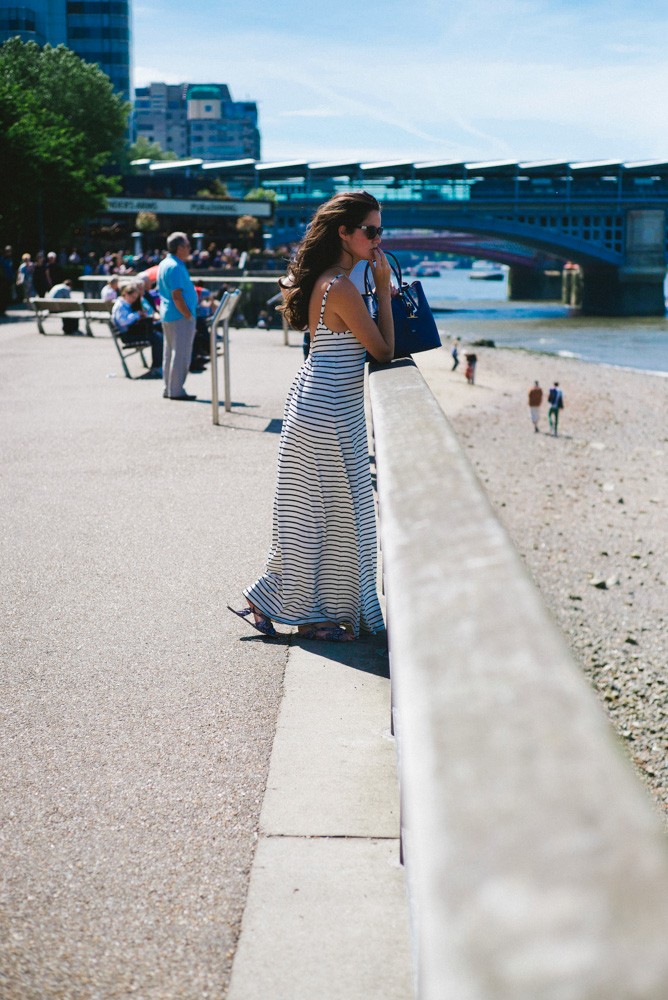 I think I can safely say that B is one of my most artistic friends.
She teaches wonderful life-drawing classes, aspires to learn how to sculpt, loves nothing more than a live music gig (or a musician!).
Just check some of these out:
[iframe allowtransparency="true" frameborder="0″ height="710″ scrolling="no" src="//instagram.com/p/oJjSLKEqkL/embed/" width="612″]
[iframe allowtransparency="true" frameborder="0″ height="710″ scrolling="no" src="//instagram.com/p/ntPGcGEqlv/embed/" width="612″]
[iframe allowtransparency="true" frameborder="0″ height="710″ scrolling="no" src="//instagram.com/p/oeQanhkqth/embed/" width="612″]
I've promised to strip off for her soon and have her draw me.
Anyway, she's wonderfully arty and by far my favourite person to gallery with. She gets so much out of the experience that it doubles my pleasure too.
Plus she's a member of The Tate, so we get free tickets!
The Henri Matisse show is on until 7th September and is well worth a trip.
"This landmark show explores the final chapter in his career in which he began 'carving into colour' and his series of spectacular cut-outs was born.
The exhibition represents a once-in-a-lifetime chance to see so many of the artist's works in one place and discover Matisse's final artistic triumph."
I had hoped to take lots of photos, but was told off very quickly and told to put my snapper away.
Perhaps it's for the best, I don't think I could really do the pieces justice.
The Chapel room, showing Matisse's designs and process of creating the famous Chapelle du Rosaire de Vence, is worth a trip in itself.
If you can't make it, the show will be moving on to New York at the Museum of Modern Art, before being returned to private owners & collectors around the world. Try and catch it before it all disperses once again!
[iframe frameborder="0″ height="120px" scrolling="no" src="http://currentlyobsessed.me/api/v1/get_widget?wid=29&blog=The%2BLondoner&product_ids=n_9869938,n_10193143,n_10216854,n_9989340,n_10035438,n_9626558,n_8924136,n_8951478,n_848063,n_4413949&rows=1&cols=5&brand=1&price=0&hover=1″ width="600px"]
Having taken in as much of the show as possible, we headed out into the sinking sunshine to enjoy the last of it.
We're both headed off to Glasto at the end of the month so poured over the lineup, excitedly planning who we wanted to see most (Dolly Parton for me, Arcade Fire for B!).
Don't judge me too harshly! I just LOVE country music.
I think I should have been born Southern.