I'm not much of a gambler but lots of my friends love it. The only time I tend to end up at a casino is after a night out for a quick game of Blackjack and a cocktail or two. This time however, I was persuaded to go for dinner and try my luck on the tables afterwards.
We went to The Hippodrome in Leicester Square and I couldn't have been more surprised by the food. A huge menu of goodies had us umming and ahhing for a while, thankfully there were enough of us to try a selection of treats. Like all good stories, this one starts with cocktails.
Steak tartar with fried duck egg, watercress & mustard dressing and melba toast.
Chilli salt squid with smoked haddock brandade & pickled radish.
Maple caramel twice cooked pork belly with baked apples & ginger sauce.
Steak.
Steak.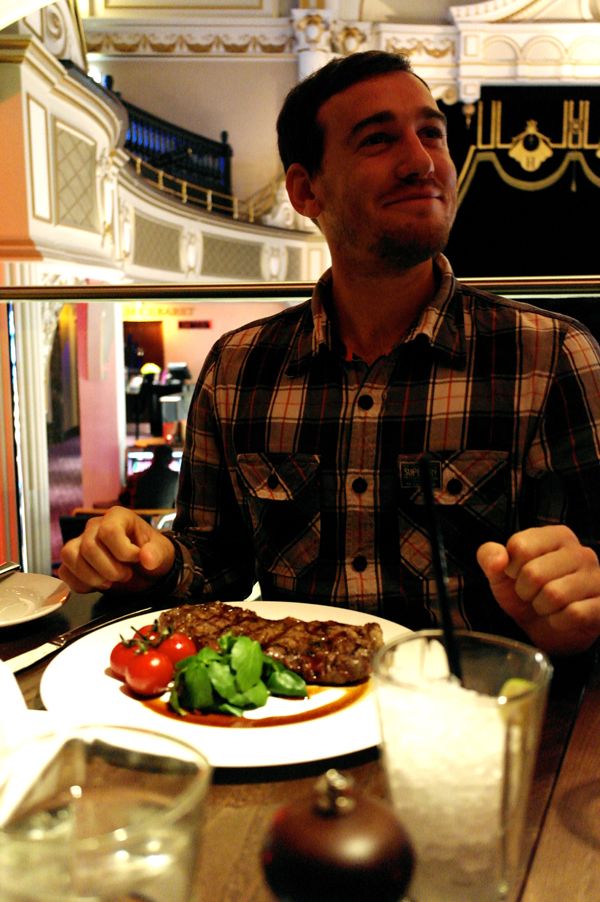 Happy J and his steak!
This was insane. Millionaires mac & cheese. Baked macaroni & gruyere, topped with black truffle & poached pheasant egg. Ordering this to share might be the best decision I've made all year.
Lobster fish fingers, triple cooked chips & wasabi mayonnaise.
Chocolate mousse, chocolate brownie & blackberry jam.
Exceptionally good Eton mess.
Caramelised banana split.
Lemon meringue pie.
Knickerbocker glory.
M & A getting a little merry after one too many espresso martinis.
Time for a wee flutter!
"A" won an absolute fortune in the space of about 12 minutes and then retired for the evening. I won a hundred pounds playing roulette and then ran away before I lost it again! A really lovely evening with friends at a very unexpected venue. I would definitely go back, even if it was just to live on that millionaire's mac & cheese! If you fancy a trip, visit the website here . You'll probably only need to book if it's a weekend or you're a big group. Would be a great place for a raucous birthday party.