I was the first to wake up in camp, so pulled on a pair of shorts & tiptoed out of my tent.
There were still a couple of people curled up by the embers of last night's fire, but most were zipped carefully inside their sequinned cocoons.
I climbed to the top of the dunes and watched the sun rise over the desert.
Watching the sunset I'd thought I'd discovered the quietest place on earth, but it was nothing compared to sunrise.
The silence was deafening.
No singing crickets, no bird calls, no hint of a breeze in the trees.
Just me, the sand & the rising sun.
The sand is like nothing I've felt before. As soft & fine as talcum powder, you only have to wriggle your toes to sink into it's warm embrace. The top layer had cooled over night, but as your feet slip deeper, you feel the sun warmed sand from yesterday. Like slippers toasting by the fire.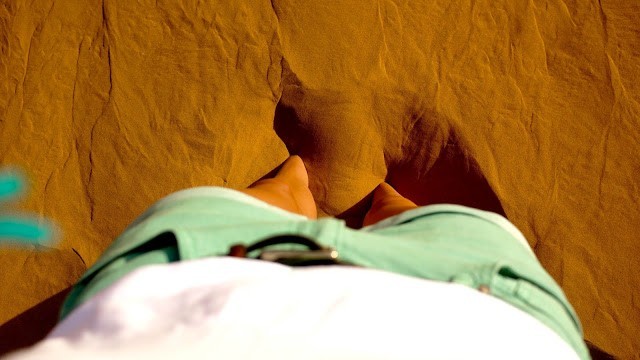 Soon people began to emerge from their tents & I could hear the rhythmic tones of the locals praying. By the time I'd made it back to camp, breakfast had been laid out for us. While the other girls fussed with their makeup & worried about their hair, I tucked into hot soft-boiled eggs, fresh croisants & pancakes drizzled in local honey.
Once everyone had eaten their fill, we said our goodbyes & piled into our blacked out convoy. Quick as a hiccup, we found ourselves back in town. The more adventurous among us decided we fancied a quad-bike tour of the desert so we saddled up & left the other journalists to prop up the bar.
Kate, Angel & I made our way into the desert. We followed our guide through towns built entirely of sand & dried earth, past farmers working in the fields & children playing in the dappled shade of the palm trees. I left my camera in the safety of the hotel bar & took my iPhone along to quench my snap-happy thirst!
One of our blacked out convoy cars had been following us on our sanddune adventures, as a saftey measure. Amusingly, it would turn out to be our downfall. He got stuck.
We lept from our bikes to help & were shooed away like flies. This is a man's job and we were unnecessary distractions. I sat back and watched the driver spin his wheels deeper & deeper into the soft sand. As the belly of the car hit the desert, I buried my head in my hands. It was going to be a long morning.
Slowly locals made their way over to help so Kate & I resigned ourselves to a few hours of sunbathing.
After two hours we were getting a little anxious. None of us had had the foresight to bring water with us, thinking it would be a quick spin around the sand dunes. A car arrived to pull the first one out, only to get stuck. By this time the wind had picked up and was battering sand into us. Every inch of my skin was coated in a thick layer of… desert. Our lips were begining to crack and our sense of humor was starting to flag. Another hour sailed by and finaly, a third car arrived (we'll call this one Hercules). It rescued the first and second car with ease & we were sent on our way.
Hercules was driven by a man in a particularly fetching pink get-up. Proof, if ever it was needed, that real men wear pink.
Upon arrival back at the hotel, we slipped into the bar and groaned as we were passed cold bottles of Coke. I don't even drink Coke and I can safely say that this was the best freaking coca-cola I've ever tasted! Tired, hot & grubby we were piled back into the cars and sent on our way. I buried my head in my book and didn't surface until we pulled up at a beaten up ol' truck stop.
This was where we were eating lunch?! I grumbled, kicked a pebble and made my way inside. Tagines filled to bursting with lamb, chicken, dates, olives & apricots started arriving. We dug in hungrily and all my preconceptions melted away. "Don't judge a book by it's cover" is an overused cliché, but absolutely fitting. The food is some of the best I've ever had, particularly the lamb with its' melting fat & bone marrow to be mopped up with freshly baked bread.
Humbled by the experience, I sought out the chef in her battered, tiny kitchen to thank her. I was greeted by a wizened old woman with bare feet who's wrinkled face cracked into a toothless grin at my thanks. My pigeon French wasn't much help, but with a few smiles, "mmmmhhh"s and rubbing of my belly, I think she got the idea. The girls on the trip had been looking forward to this next bit since we left London… Le spa.
After a three hour drive, we arrived back at Ouzazate and were thrown out on the doorstep of The Berbere Palace (not actually a Palace, but a fancy five star hotel). I have never been so happy to see a swimming pool in my entire life. I felt like a bedraggled prison-escapee dragging myself towards an oasis in the desert. As I stripped off and dipped into the pool, I just couldn't stop the words from escaping my lips as I moaned… Oh… my…god.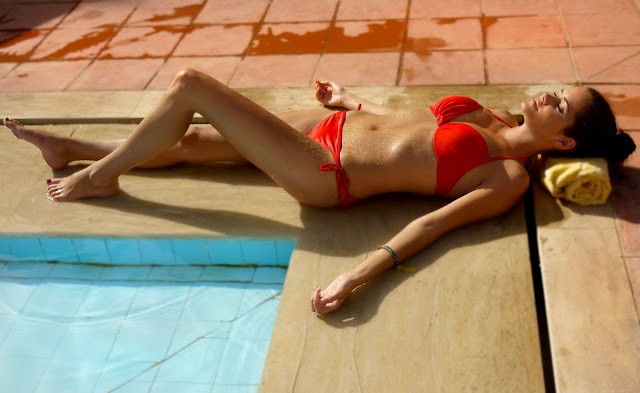 We read, lounged by the pool and checked out the glamazons snoozing on the white dreambeds.
Just as I was about to order my weight in cocktails, a matron-like spa attendant in a strict white uniform appeared at my side (we'll call her Helga).
"It's time to go." she barked with worrying authority.
Oh no, go where? Honestly I could just die here and be happy with the situation. Please don't make me leave!
Helga took me by the hand and I followed, resigned to whatever fate awaited me.
I was forcibly shoved into a steam filled room, filled with the sound of sloshing water.
As the steam cleared, I could see my fellow travellers, Kate, Lauren & Jess.
We sat on benches surrounding our no-nonsense matron.
She pulled her dress over her head and stood, topless glaring at us in the most enormous pair of white knickers I have ever seen.
No-one blinked.
She motioned for us to do the same & we slowly removed our bikini tops.
Helga handed us huge globs of a brown clay-like substance and told to coat ourselves in it. Now and then she came to help, with all the delicacy of a hunter skinning his prey.
Just as I'd reclined enough to enjoy the steam and breath in the glorious incense… SLOSH… a huge bucket of water was thrown over my head.
I spluttered and tried to blink away the water… SLOSH… another one.
I steadied myself, squinted my eyes closed and readied myself for the next one. I waited… nothing.
Slowly, I opened one eye and allowed myself a breath… SLOSH.
I stifled a laugh as she moved on to the other girls, sloshing her way around the room.
When she came back, she motioned for me to lie down, slipped on a very sinister looking black glove and wriggled her fingers at me.
What came next was the most intense rub down I have ever experienced.
Every inch of me was buffed to within an inch of its' life, and I mean every inch.
Feeling pink, raw but very, very soft, I was grateful for another huge bucket of water being tipped over the top of me, before being smothered in an oily soap.
As I delicately massaged the soap into my skin, Helga squeezed shampoo into my hair and washed it with all the care and attention with which you'd wash a dog who's smothered himself in something dead & disgusting.
A few more sloshes later, I was free to leave.
I stumbled my way out of Helga's lair like a new born fawn, blinked towards the daylight only to be grabbed and dragged into an even darker, massage room.
Four rooms later, I was free to go.
I can safely say that I have never felt cleaner or more deliciously edible in my entire life. Honestly, if you dipped me in butter you would have gobbled me up.
A stark contrast to how I felt leaving the desert that morning.
That evening, we dressed for dinner (those of you who follow me on Instagram will already know that I opted for a simple Diane Von Furstenburg, Daisy dress and wild hair.
We supped on a rooftop in the middle of the old town, with lanterns & lashings of Moroccan wine (which is surprisingly good, I didn't even know they made wine).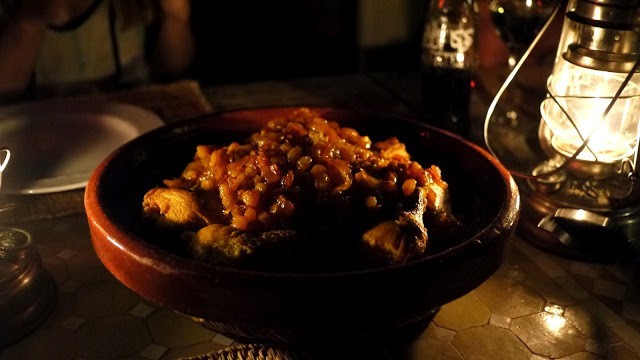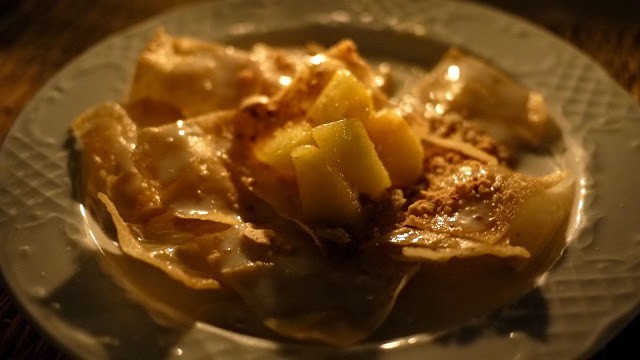 As the final Call to Prayer sung out, we finished our tea and made our way to bed.
I never imagined that Morocco could be as dreamy as it has been for me.
Despite breaking down in the desert and driving miles & miles in oversized cars, I would still list it as one of the best things I've ever done.
Flying home turned out to be a bit of a pain, thanks to transfers and stop overs, door to door it took me 16 hours to get home. For me that's just too much for a weekend away.
If you want to explore Morocco for yourself, my advice is this:
Fly to Marrakech. Spend a week exploring the markets & the towns, lounge by the pool and eat bowls of dates in the sunshine.
Then make the treck to Ouzazate, I think it's about a 5 hour drive.
Spend a few days here & in the surrounding towns visiting some of the places I saw, chatting to the locals & discovering the incredible silence of the place.
If I had to recommend a hotel it would be the Berber Palace. That pool really is incredible.
Eat in local restaurants, even the ones that look down & out.
Only drink bottled water and never order ice.
This is a personal thing, but I also avoid rice on trips like this. Rice is one of the main causes of food poising around the world. It usually sits out and is frequently reheated. It's a wonderful, soft, delicious pillow for bugs to thrive in… so give it a miss.
Try and respect local customs & don't show a lot of skin. Maxi dresses are ideal.
It was about 37ºC (99ºF) most days, but a very dry heat so easy for most people to handle.
You'll need a little (very) basic French, and it's worth learning Hello, Please, Thankyou etc in Arabic.
I highly recommend a trip and next time I go I'd like to take a boy because it is just so bloody romantic!