On my quest to find the ultimate picnic pudding, I stumbled upon a recipe for a sort of apple samosa.
After a teensy bit of tweaking, I give you my deliciously decadent apple pie-letts.
They're easy to wrap-up and sling in your picnic hamper, but equally impressive if you fancied whipping them out at a dinner party.
Best of all?
They're only about 200calories each (sans ice-cream).
They taste, look and smell deliciously naughty, but in fact, they're secretly saintly!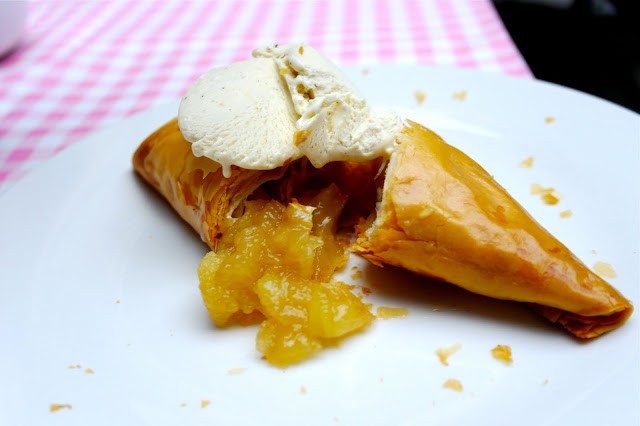 You'll need:-
2 cooking apples
2 oz caster sugar
1tsp ground mixed spice
1 pack filo pastry
2 tbsp melted low fat spread (lurpack light)
Preheat your oven to 180
째C
 or 350
째F
.
Peel, chop & core your apples & then pop them in a saucepan.
Add your sugar, spice and all things nice.
Add 2 table spoons of water, cover and leave to cook for a few mins.
Stir now and then, until it looks like slightly chunky baby food.
Leave to cool a little.
While you wait, tackle your ever so delicate fill pastry.
Take just 4 sheets of the pastry and lay it flat on a board. Cut into thirds and brush with your melted butter.
Add a little more than a tablespoon of your apple mixture and fold over to make a triangle. Keep folding it over until you get the end of the sheet.
In a cup mix a little sugar with warm water, this will be your glaze.
Paint over the top of your parcels and pop them in a baking tray.
Leave them in the oven for 30-35mins, or until they look brown and crispy.
When they're done, leave them to cool a little, before serving with good quality ice cream.
Sumptuous.
(You can also add sultanas to your pieletts, but as far as I'm concerned, sultanas are the devil's fruit and I would rather not pick them out of my pudding.)
.