I've received so many kind, thoughtful messages and comments this week asking how I'm doing, how Bump is coming along and if I'm feeling any better now I'm in the second trimester.
I thought it was probably about time I updated you on how it's all going!
So here I am, snuggled into a oversized pink velvet arm chair in my hotel room, wrapped in a large robe, watching the leaves fall outside my window and thinking about how different life will be this time next year.
I mentioned my earlier fears in this post and am happy to say that they've all but evaporated leaving nothing but excitement. Part of me can't wait to meet this little person, while the more sensible part is telling me to calm down and enjoy every day as it comes. I want to try and enjoy every bit of our life together as a couple before we become a family, not because I think life is better now, but just because it's a chapter we can never revisit. I'm not sad about it, but I'm trying to be as present as possible, rather than wishing it away thinking about how excited I am!
The extreme sickness of my first trimester has eased (if you're suffering from HG at the mo, just know that it will get better). It's now mostly just nausea that comes in waves, which I'm sure if you're not pregnant sounds like hell… but trust me, compared to the first couple of months – it's heaven!
I have to eat before I get out of bed or the sickness comes back with a vengeance, thankfully my generous husband has become a real pro at buttering toast half asleep and bringing it back to bed. A couple of hours later we then have a bigger breakfast together, I have elevenses, followed by lunch, then tea, then supper then midnight snacks. Essentially I am a bottomless pit of hunger! And the hanger is real!
Oh and the baby has become just as demanding as I am. Kicking away like a can-can dancer every-time they consider it a meal time! What started out feeling like butterflies quickly turned into army boots, but it's fun to finally be able to share something so special with loved ones who grin with sheer delight as they feel a foot pressing into the palm of their waiting palm.
We had a scan and finally have a face to put to the wriggling…
Mummy's nose and Daddy's lips. How can I already love someone so much when I've never even met them?
I've bought a few more books on pregnancy, birth and beyond but haven't actually cracked any of them open yet. As soon as I do I'll share my recommendations!
For now I'm just trying to take it easy. Spoiling myself and May with a bit of pampering (and eating!) in the countryside. I'm going to spend a couple of days floating in the pool, reading and ordering room service.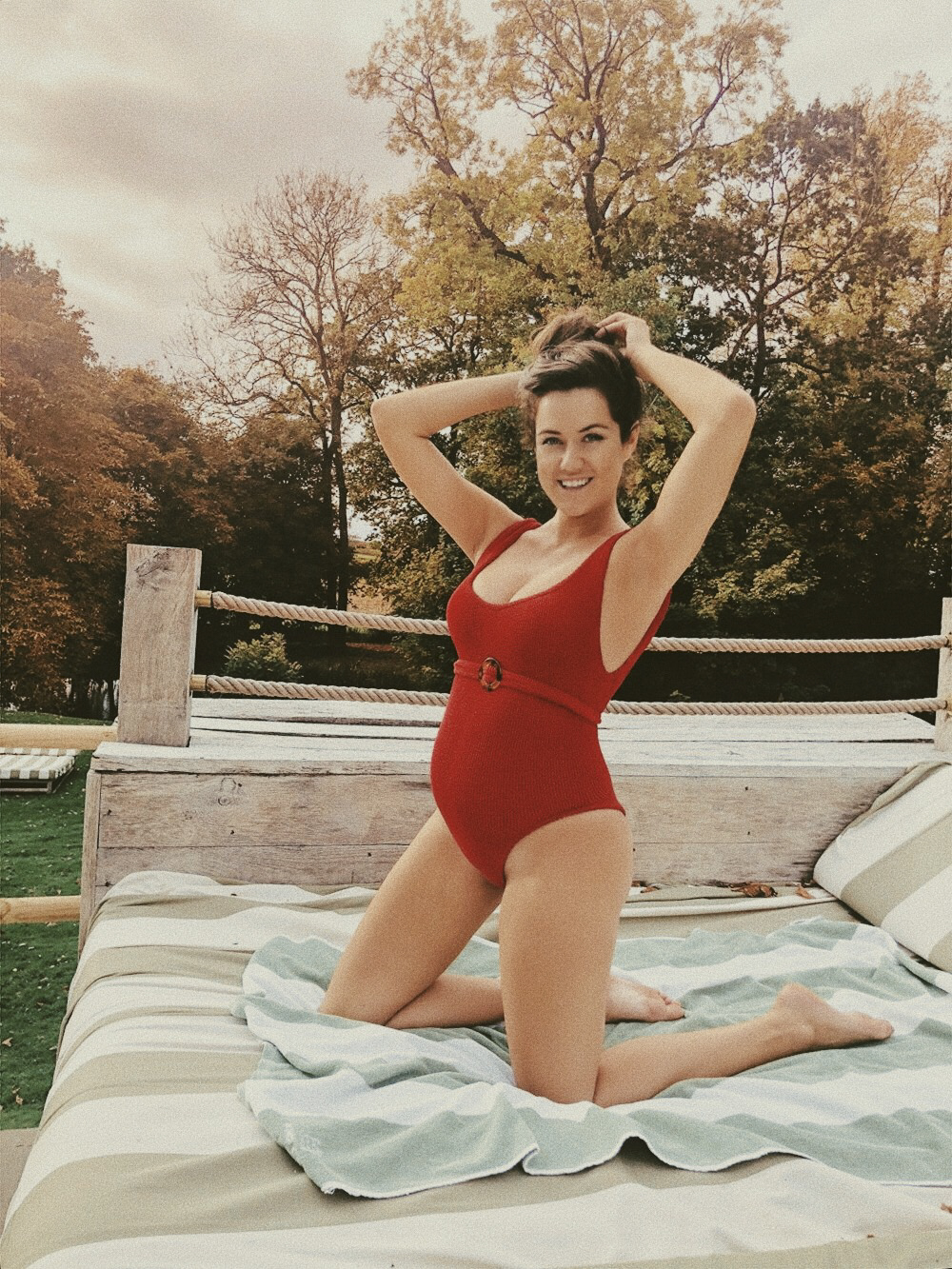 Very grateful for my extremely stretchy old "one size fits all" swimsuit!
Ad - Shop this post