Now, you should know that taking a water taxi into Venice is not the cheapest way to arrive.
In fact it's bloody expensive.
But you also need to know that it is worth every penny!
Never will you feel more like James Bond than the moment you emerge onto the glittering Grand Canal in your glossy, mahogany speed boat.
Slicing through the water like a hot knife through butter, sailing past palaces, houses and monuments.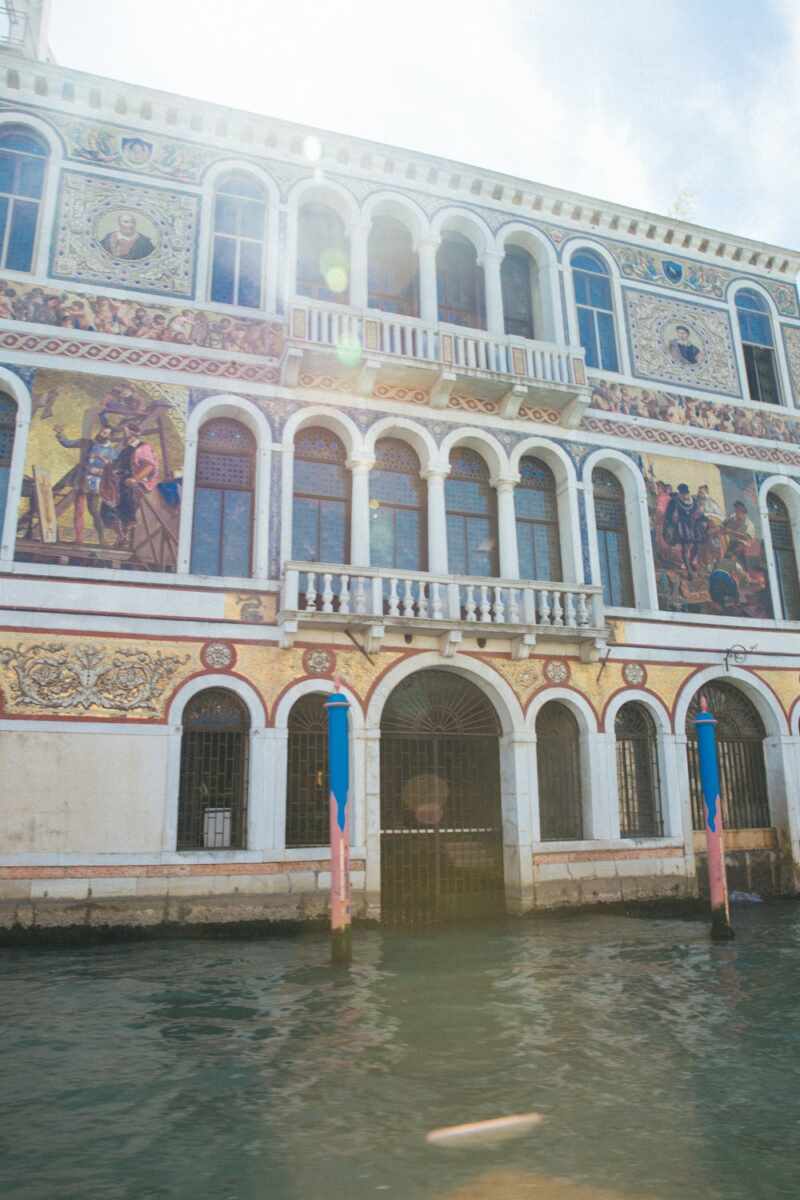 Prepare yourself for gasps, squeels of "oh, look!" and "oh wow!" as you rush to drink it all in at once.
You'll pass gondolas bobbing on the waves, gondoliers in striped jumpers and many a wide eyed tourist.
All too soon we found ourselves pulling into a side street canal, as our hotel loomed above.
We had arrived at The Bauer Palazzo.
I jumped off before the suitcases and made a beeline for our room. Keen to check out our new digs!
Enrobed in blue silk with pink velvet pops, they certainly did not disappoint.
Though the view really stole the show.
Our own little Venetian paradise, away from the hustle and bustle below.
After a quick freshen up we popped down to the terrace for lunch, where we were greeted by another jaw-dropper of a view.
Our friends joined us and we could barely contain our excitement!
Julia is a friend from the states, if you've been following for a while then you'll have met her before.
She's the blogger behind Gal Meets Glam, and is one half of one of my favourite couples. Her husband Thomas traveled with us, but much like my chap, he prefers to stay behind the camera!
Thomas and my fella are as close as Julia and I are, so we make quite the travel companions.
As the famous saying goes, When in Rome do as the Romans do.
When in Venice, order squid ink pasta! (Slightly lesser known, but still very good advice.)
We all shared an array of pasta dishes, starting a theme of over ordering that would last throughout our trip!
After lunch we strolled out to take in the Venetian sights, streets and canals.
Stopping off at the oldest cafe in the world; Cafe Florian.
It opened on Piazza San Marco on 29th December 1720 and soon became a favorite haunt for many a playwright, artist and author.
The only cafe to allow women, it was famously popular with Casanova too.
We like it for… other reasons…
High on sugar and giddy with excitement, we wound our way through alleys and streets.
Soon becoming overwhelmed by the sheer number of tourists, the noise and the intensity of the mid-day crowds, we made our way back to the main river.
Where you can breathe easy and luxuriate in open space.
Here we hopped on a boat and made our way over to Giudecca Island.
Here you can gain a unique perspective on the magical city of Venice.
It seems more beautiful from afar, the light dances on the stone and with a light breeze whipping along the canal, it all seems rather dreamlike.
It's also much easier to relax and enjoy yourselves away from the hustle and bustle of cruiseship tours and school trips.
White denim skirt // Navy slippers
White handbag // Silver May necklace
Red dress (sold out – similar)  // Straw hat
There are lots of places along the waterfront to grab a drink, an ice-cream or a bite to eat.
All with some of the best views in town.
We snuck into the gardens of The Bauer Palladio gardens to enjoy a little afternoon patch of sunshine.
And meet the ever so charming Roger.
We relaxed with the place to ourselves and unwound in the warmth of the afternoon.
Eventually making our way back to the river and waving down a shuttle boat back to the mainland.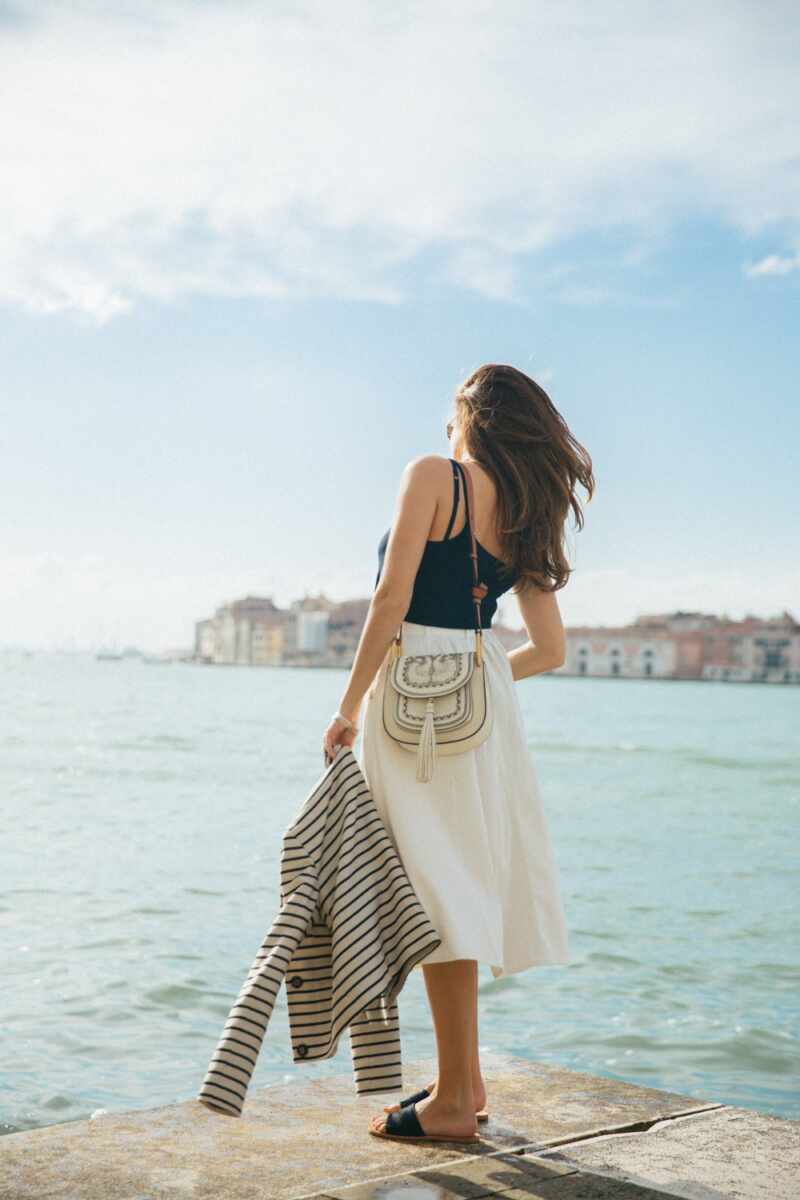 White + tan handbag // Chain version
Quite the start to our Italian adventure!