While I'm on the subject of Chelsea, I've got another new restaurant for you.
I know, I know 2 Chelsea restaurants in 2 days… I'm spoiling you.
This one is more than a little bit special.
It's a painfully cool pop-up from ex-Nobu head-chef, Scott Hallsworth. Yes, "cool". In West London! We don't generally get cool stuff, that all tends to stay East. But nonetheless, here it is. A shimmering beacon on the Kings Road.
The food is Japo-Asian with a hint of rock n roll.
On a tiny, hastily drawn up menu they have everything from sushi, to kimchee to "BBQ Pork Belly in Steamed Buns with Spicy Peanut Soy" which were quite simply mind blowing…

But I'm getting ahead of myself.
We turned up on a Saturday lunch time with our fingers & toes crossed, hoping they could squeeze us in.
The place was packed.
Old school rock n roll engulfed the happy, chattering, perfectly groomed crowd. A bouncy waitress with wonderfully pink hair said we could have her last two seats by the door.
We took our places and were quickly abandoned to look at the drinks menu.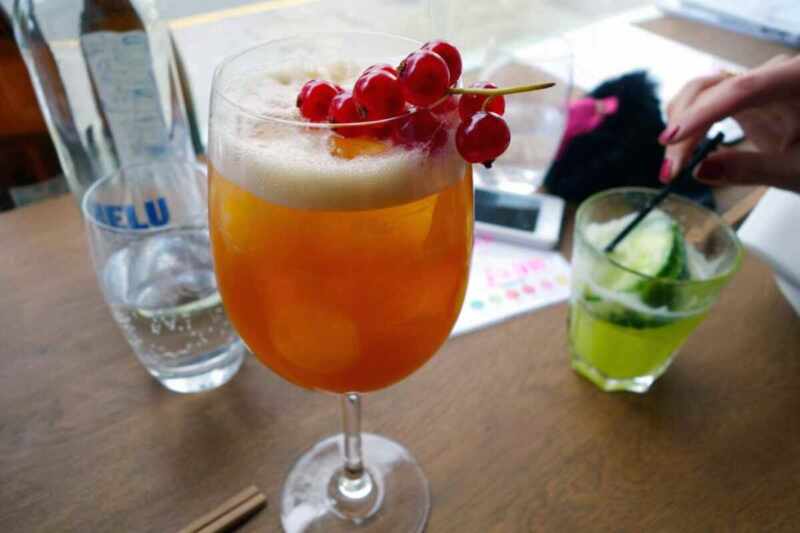 Kim went for "The Green Bastard" (possibly an indicator of her past love life) with Hendricks gin, Midori and fresh cucumber.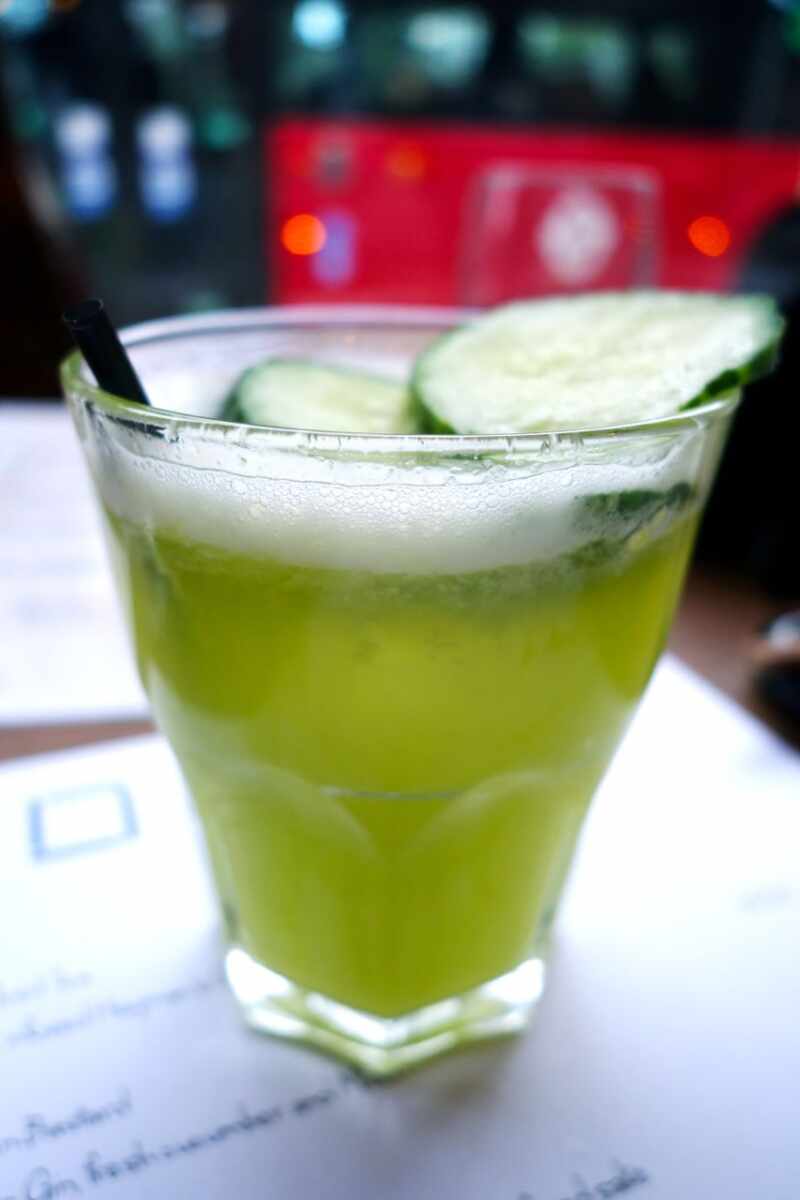 It tasted like a melted ice-lolly, in a good way.
Mine was even better… I can't remember the name, but I will find out & update for you. I promise.
We started our feast with Yellowtail Sashimi with Kizami Wasabi Salsa and Yuzu-Soy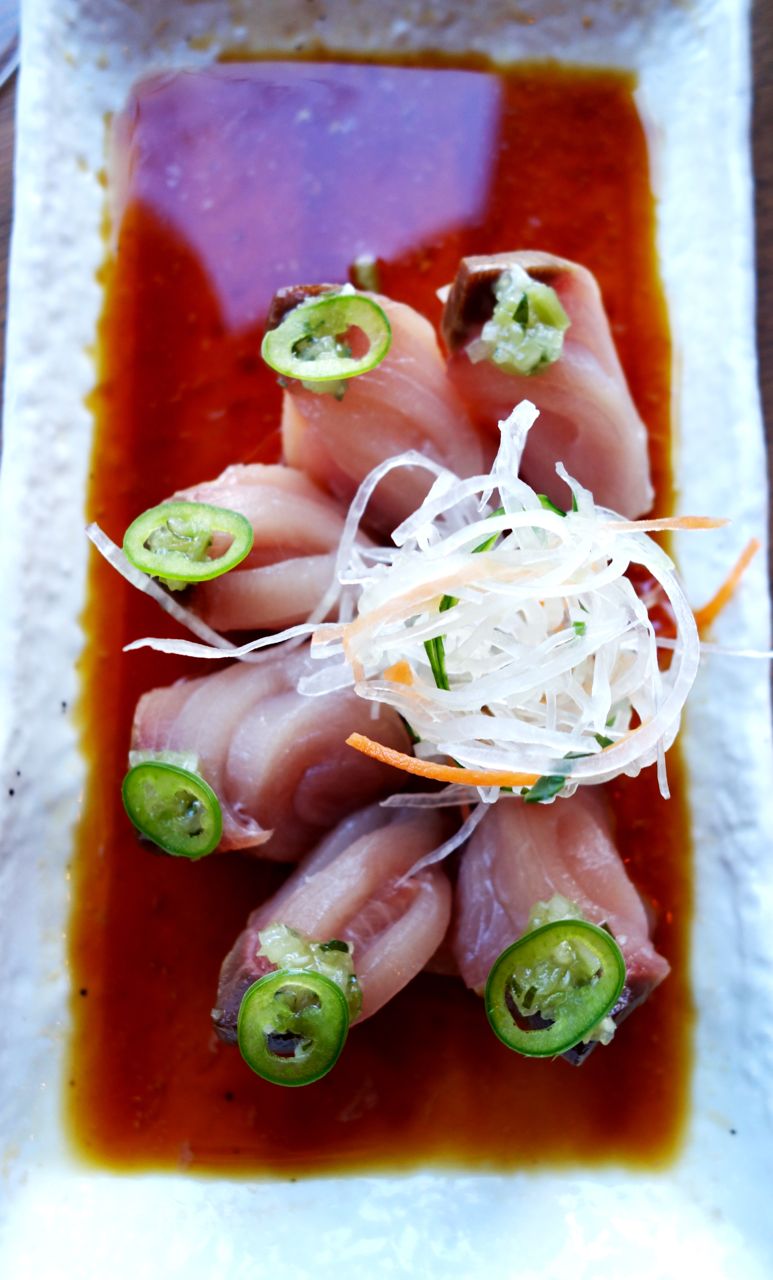 Expertly cut sashimi in a delicately moreish, fresh sauce.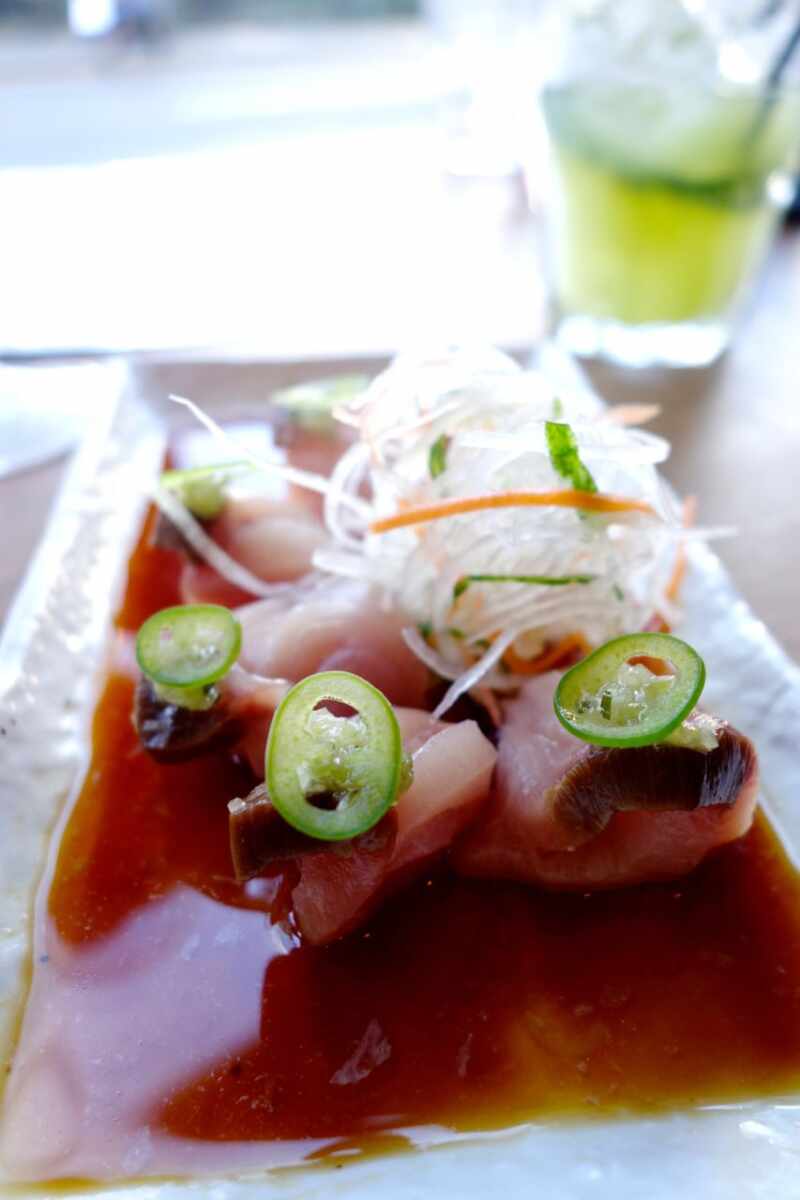 Followed by spicy tuna rolls, coated in panko crumbs.
Hands down better than any maki I've had of late.
Pretty, too.
Next up, a Nordic kiss in the form of Salmon Gravadlax and Avocado Tartare with Dill Mayo, Rice Crunchies and Fresh Yuzu Zest.
Beautiful, but a little too creamy for me.
Kimberley loved it.
Baby Shrimp Tempura with Spicy Mayo was just as decadently epic as you'd imagine fried shrimp & hot sauce to be… but also a little lighter with some killer "zing" going on.
The real crowning glory however. was the plate of pork belly buns.
Just look at these beauties…
All ready to have that sticky, salty peanut sauce scooped all over their bellies…
And get right into ours!
*Crunch*
A symphony of textures, flavours and pure, unadulterated badness.
Now, I don't want to freak you out.
I'm about to say something controversial and probably quite shocking…
Ready?
I like Kurobuta more than Zuma… or Nobu.
There, I said it.
A big statement, I know. But honestly Hallsworth knows what he's doing. It's (sadly) not cheap but the restaurant is laid back & very cool.
They're open for a couple more months until they set up a permanent home in Marble Arch later in the year. Find them online here, Tweet at them here, or just go to 251 King's Road.