I gave in, I made the 'flower pizza you all recommended and I tell you what… you were absolutely right. This stuff is life changing!
Mum isn't allowed carbs because she's pre-diabetic. The other day I spotted her looking longingly at my slice of homemade pizza and decided I was going to give in and give carb-free pizza a go, for her.
If you're carb free, paleolithic, gluten free or just trying to cut back a bit then this is a total winner.
Just look at this!
I based my recipe on one from Lucky Penny.
To make one pizza you'll need:
1 small cauliflower
1/4 cup freshly grated parmesan
1/4 cup grated mozzarella
1tsp dried oregano
1 big clove crushed garlic
1 egg
Pinch of salt & pepper
Toppings:
Tomato pizza sauce (homemade or from a jar if you like)
About a cup of grated mozzarella
1 big pinch dried oregano
Any goodies you fancy! Spicy meatballs? Ham? Pineapple? Go wild.
Pre-heat your oven to 220C/430F and pop a large, flat baking tray in there to get hot too.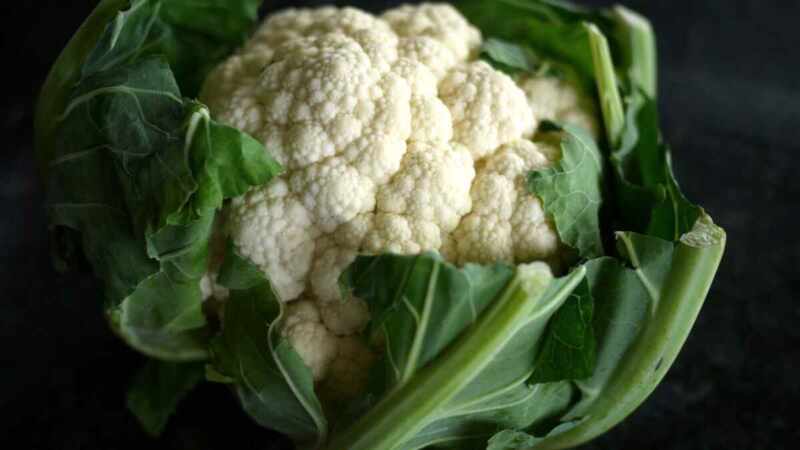 Grate your cauliflower until you're left with 'rice' (about 2 or 3 cups).
Cover with a plate and put it into the microwave for four mins.
When it pings bring it out and tip onto a clean, dry tea-towel to cool down.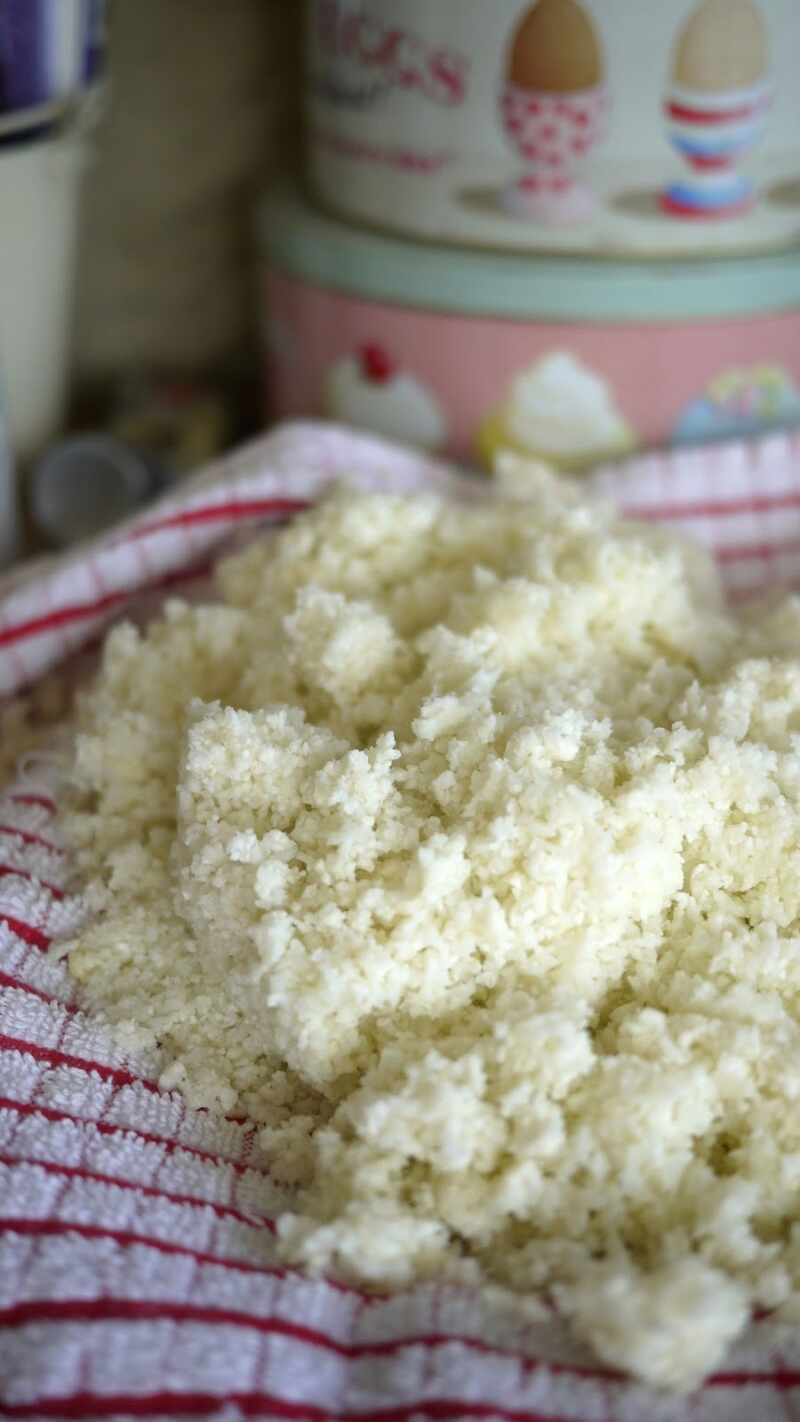 While it cools grate your cheese and put it in a large mixing bowl.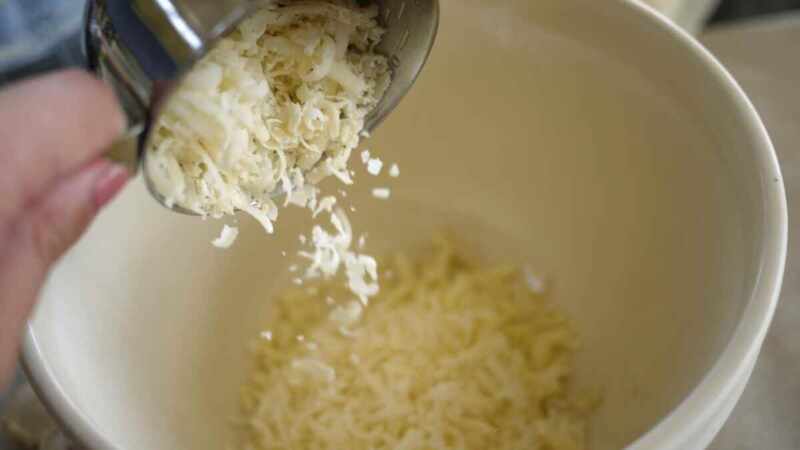 Once the cauliflower is cool enough to to handle, pull up the edges of your towel and wring all the moisture out of the rice.
Really squeeze it all out!
Throw it into the bowl with your cheeses.
Add your oregano, garlic & egg.
(Don't panic, I've got two eggs because I made two pizzas!)
Stir it all together.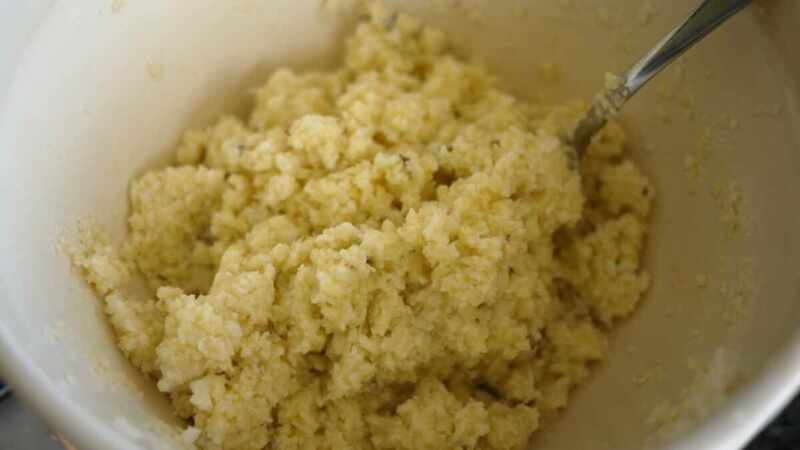 Lay a piece of grease-proof paper onto a chopping board and rub it with a bit of olive oil.
Squidge your 'dough' into a pizza shape on the paper.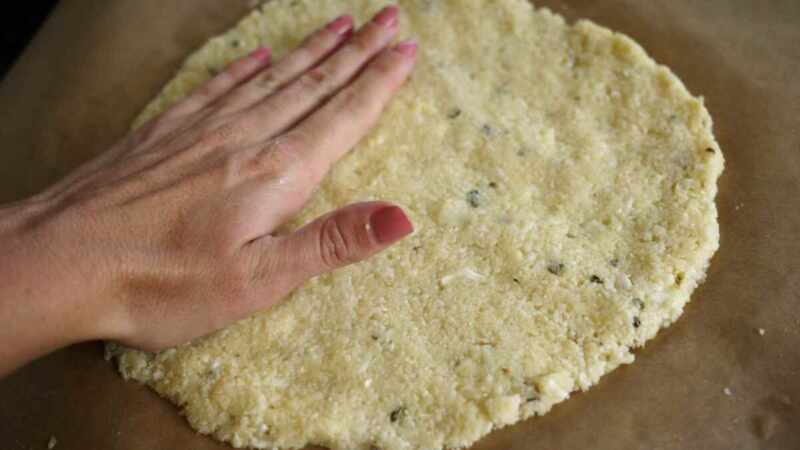 Give it some nice round, pizza-ry edges.
Carefully remove your hot baking tray from the oven. Slide the paper and the base across onto the pan (carefully!) and put it back into the oven for about 10mins.
Pull it out when it looks all gloriously bronzed like this:
Smooth on your sauce, cheese, oregano & toppings (I went for prosciutto and sliced chillies.)
Pop the whole thing back into the oven for about 5 mins or until it's all melted and bubbly.
I then threw on a few basil leaves.
Leave it to cool for a good 5mins and you're ready to roll!
Slice it up!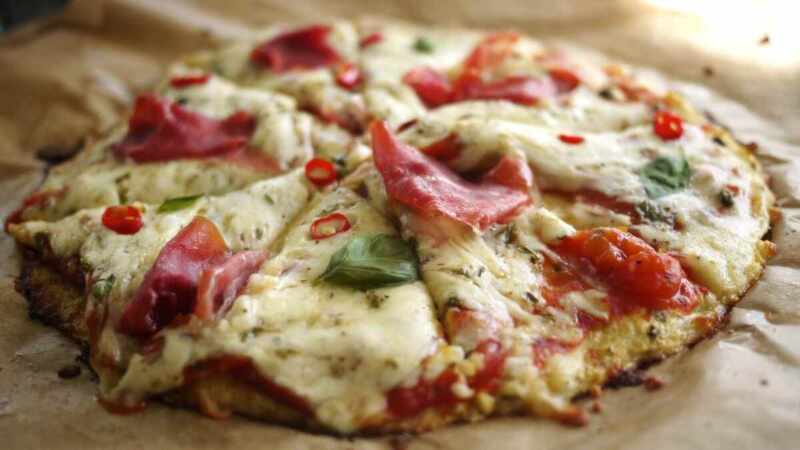 Take a slice (or two)…
And with your very best pseudo Italian accent exclaim "Maaammmaaa mia, thassa good pizza!"