Yesterday was blazingly hot in England. Well, my bit of England was anyway.
So hot in fact I was forced to cook in nothing but an apron (Emily Bond Dachshund print) & bikini bottoms.
Dancing away to Pavarotti in my pants while slicing & sprinkling. Mum laughed, took a picture (which I begged her not to Instagram) and suggested I start a cooking show… but then conceded that I was probably a bit too odd for all of that, and joined me in singing along.
Inspired by our latest adventure, I whipped up a bit of a Greek feast for friends & family and we ate it in the garden.
The main event were these two glorious roast chickens…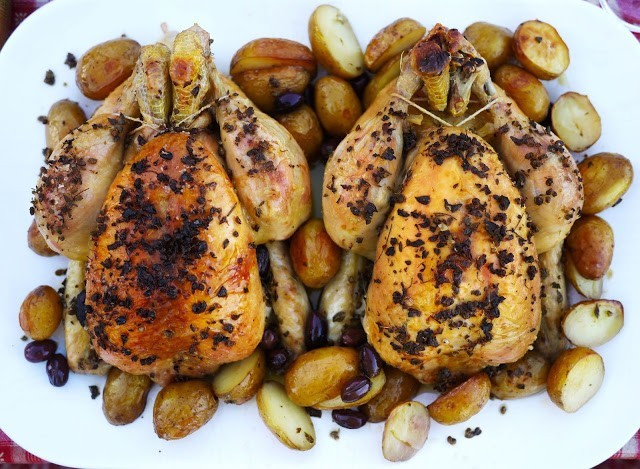 But we started with Kalispera dip.
With fruity toast & veg dippers.
Meats & feta stuffed olives.
Then moved lazily on to Greek roast chicken with roasted baby potatoes & kalamata olives.
Courgette, feta & pomegranate salad.
Tomato, avocado & caper salad.
And buckets of wine.
If you fancy your own Greek chicken & potatoes for supper tonight you'll need:
1 free range roast chicken,
2 preserved lemons,
2 cloves of garlic,
1 big handful kalamata olives,
1 small handful of dried oregano,
1 tsp of honey,
Big pinch of flaked sea salt or rock salt,
Olive oil,
A couple handfuls of new potatoes.
Pre-heat your oven to 190째C/375째 and unwrap your chicken.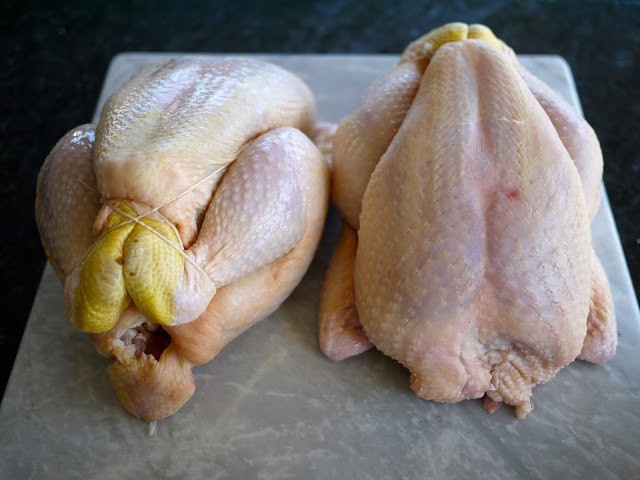 Grab your preserved lemons.
Olives.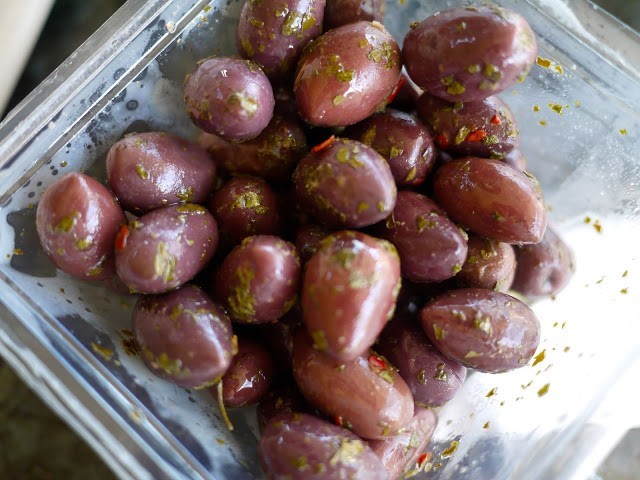 Slice your lemons into halves.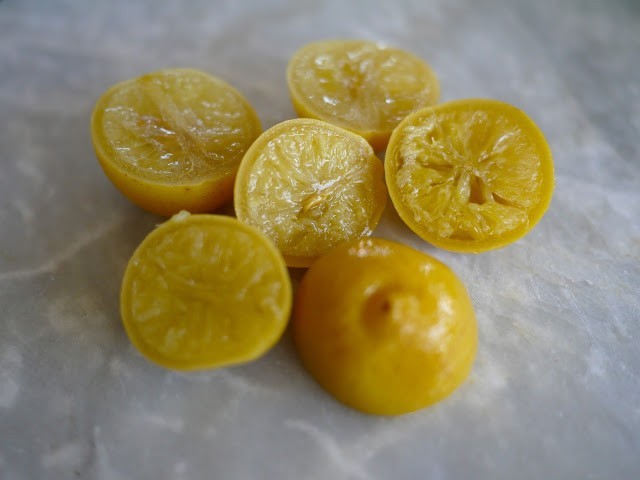 Pop the lemons, half of your olives, honey & garlic into the chicken & place it in a baking tray. Surround with potatoes (chop any that are especially large) sprinkle around the rest of the olives. Smother your chicken in olive oil & drizzle a little over the potatoes. Dust liberally with your oregano.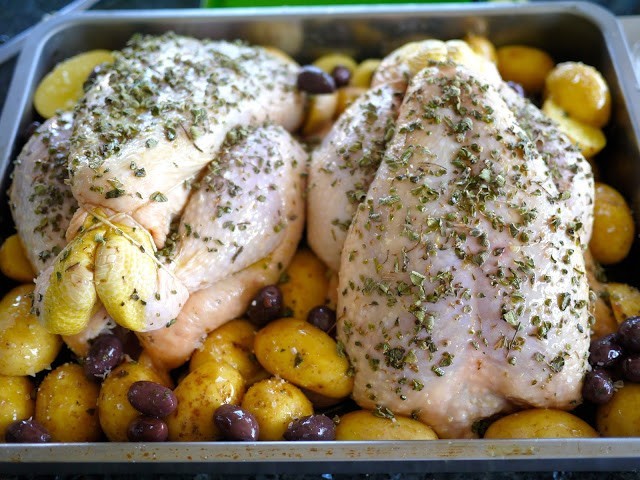 Put it into your nice hot oven. Cooking time will vary based on the size of your bird. You need 20mins per pound and then an extra 10-20 mins for luck. My standard chickens generally take around 2 hours. While it's cooking, why not whip up a little courgette salad to go with it? Slice a couple courgettes (or zucchinis if you're across the pond) & lay them out on a plate, all fancy like.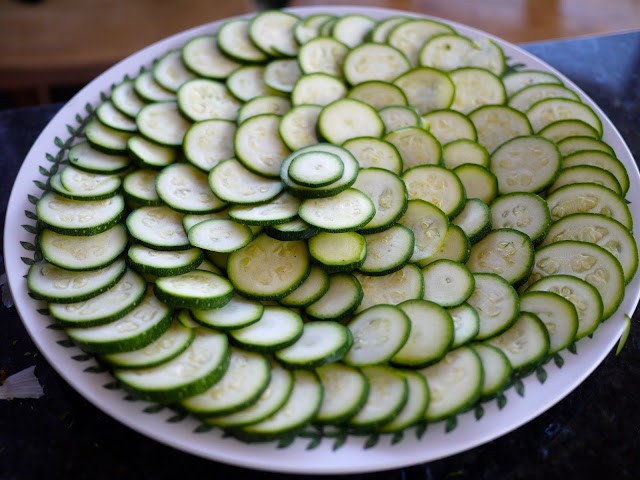 Crumble feta over the top.
Then a few pomegranate seeds.
In a mug mix up a splash of olive oil, a glug of balsamic vinegar, the juice of half a lemon and some salt. Mix it up well & drizzle over the top.
Put to one side until you're ready to rock. If you like the look of my tomato salad, chop up some baby toms & an avocado. Throw in a handful of capers & drizzle over a little oil, balsamic & salt.
When your chicken's done it should look all deliciously golden like this…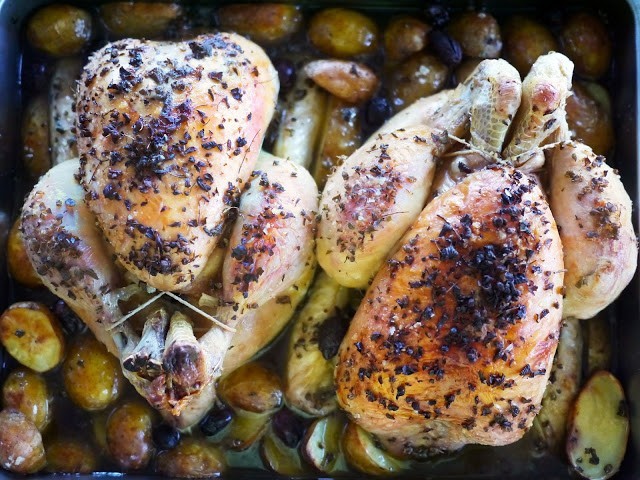 Plonk it onto a serving plate with a few potatoes nestled in around it.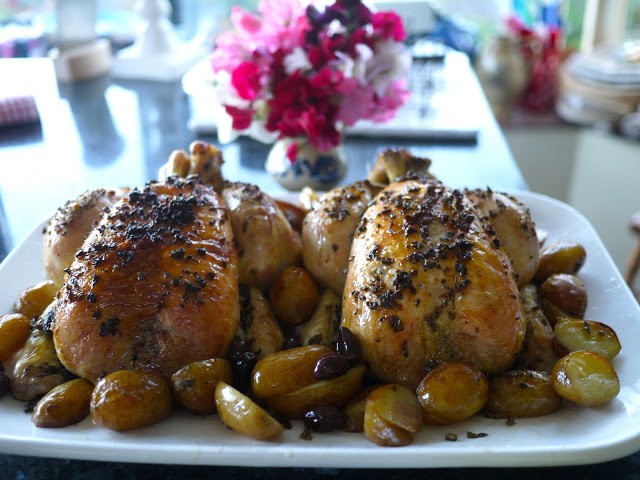 Spoon over a little of the juice from the pan.
And serve.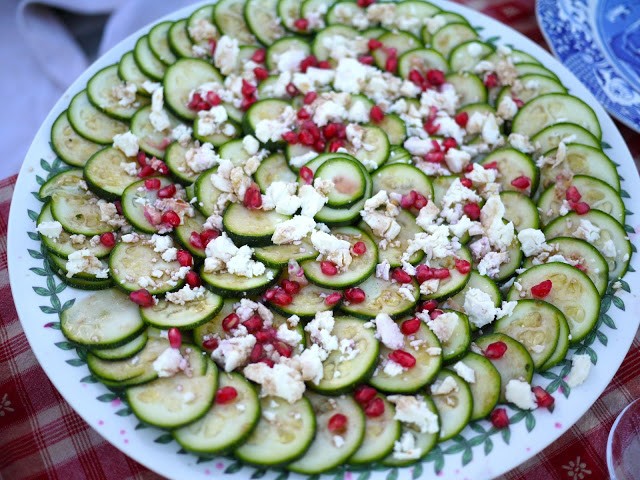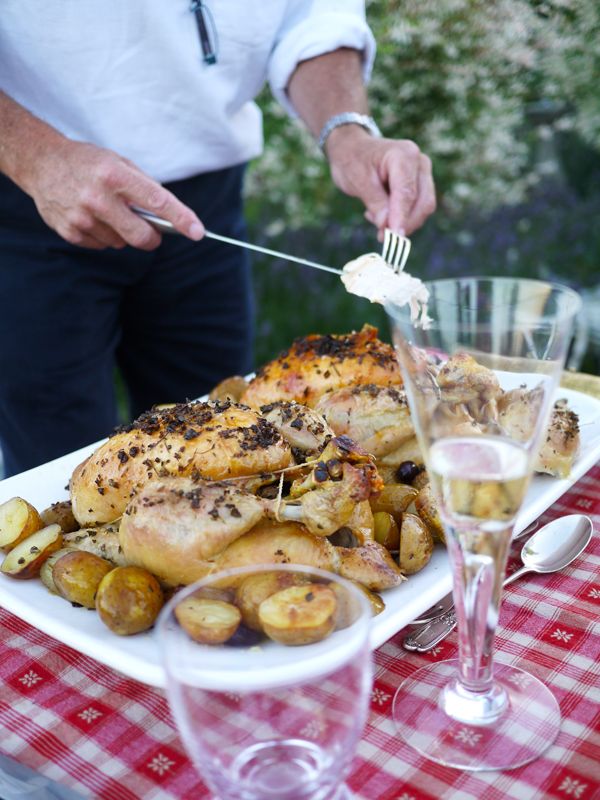 I'm afraid my camera ran out of juice here… but I did snap a little Instagram of mum & Monty over pudding.