Yesterday was a bit of a nightmare.
I was drowning in emails & no matter how many I responded to more just kept flooding in.
My To Do list resembled resembles some sort of elaborate treasure map.
In an effort to clear my head I headed out to run a few errands… and managed to complete absolutely none of them. It was just one of those days!
On my way home I got a text from Tom suggesting a picnic in the park.
I sighed, smiled & ran through a list of ingredients in my head. A quick hop, skip & a jump through the supermarket & I was headed home with my arms stacked with shopping bags.
I wrapped my red polkadot apron over my dress, turned the radio up loud & got down to cookin'.
Half an hour later I packed up the food, the rug, a big ol' candle, a cold bottle of bubbly & headed out into the evening sun with Tom.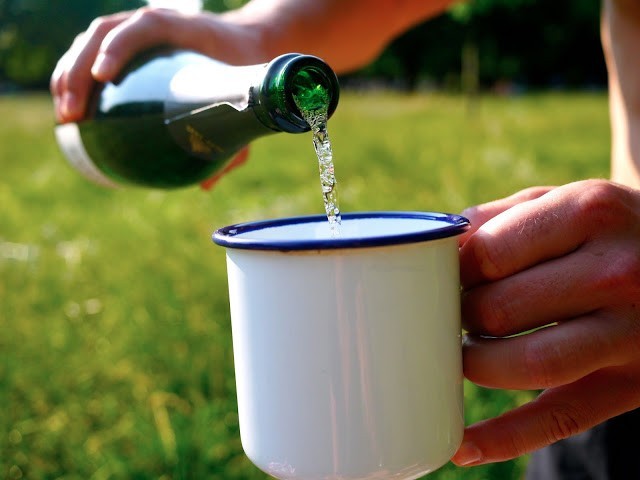 If you follow me on Instagram then you'll already have seen this next snap…
You naughty little sneak peaker, you.
I know you wanted a few foodie closeups & details so here we go…
Spicy, sticky bbq chicken.
Get a non stick frying pan nice & hot. Toss chicken thighs in some soy sauce with a sprinkling of chilli flakes. Put the thighs skinside down with no oil & let them sizzle away for a little while, until the skin goes all dark brown & delicious. Flip them over & pour in a glass of white wine (make sure you pour yourself one too). Add a few glugs of your favourite bbq sauce, tabasco, splash of vinegar & sprinkle with a little brown sugar. Cook until the sauce goes all syrupy & the chicken is cooked through. Transfer to a take-away tray & pour the sauce over the top. Seal & leave somewhere to keep warm. Next up, prawns in garlic & parsley butter.
I grabbed 6 great big prawns from the fishmonger. Popped them into a hot pan with chopped parsley, crushed garlic, juice of one lemon & lots of butter. Cooked until they curled up and went pink all over. Then added a little more parsley & an extra pat of butter before turning out into the tray. This way you get lots of sauce for mopping up with bread later. I cheated with the vegetables & just bought a few salads. This one was pea, watercress & goats cheese.
The pork & apple sausages I simply roasted for half an hour, then tossed them in wholegrain mustard before sealing up the tin (so I wouldn't have to carry a jar of mustard around the park!). I cut the baguettes before leaving home so the sausages could just slip in, ready to become the park's most delicious, massive hot dog!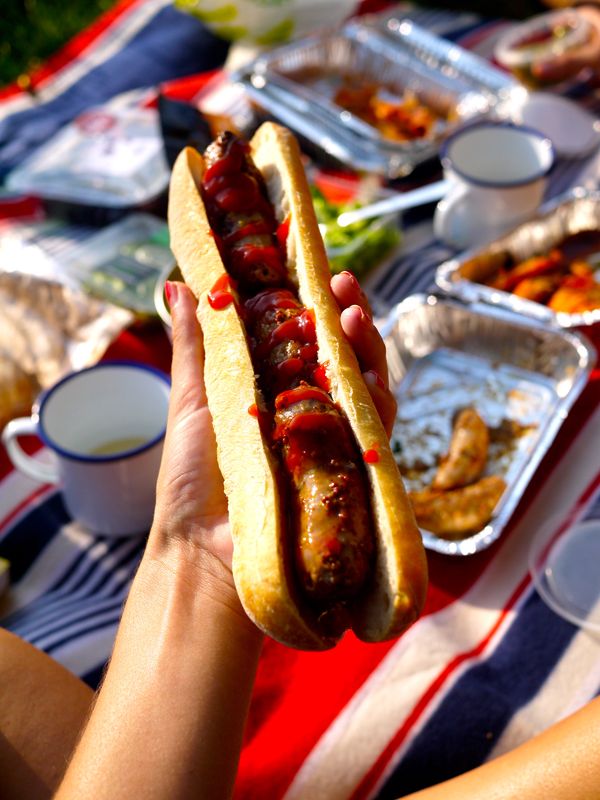 We took a citronella candle to scare away any bugs (I'm not big on sharing) & to add a little romance…
Not that this place really needs the help!
We drank our bubbly from my favourite tin mugs. They always make me feel like an adventurer, even if I'm just drinking tea from them in bed!
I wore my swishy, button up dress. Perfect for playing in the long grass & stretching out in the slowly dwindling sunshine.
For pudding we shared a huge box of cherries & a flask of my salted caramel hot chocolate while the tinkling carousel quietly serenaded us & emerald green parakeets swooped & played over head.
Once the sun dipped behind the trees it wasn't long until the park started to empty so we surrendered to the evening and slowly wandered home.
A dreamy mid-week treat & just what I needed.
If you can, grab your picnic buddy & get out there! The summer wont last forever…