This recipe is almost too good to share… but seeing as it's you, I'll spill.
This is the only pizza base recipe you'll ever need. Once you've made it, you'll soon know it by heart and be able to whip it up in a flash.
Soon you'll be so used to your delicious, thin, crispy, chewy pizzas that you wont be able to look at a Dominos in the same way again!
I kept mine simple with a tomato sauce, a swirl of homemade pesto and buffalo mozzarella, but you can use anything that takes your fancy. Four cheeses? Peperoni? Black olive, anchovy & fried egg pizza anyone?
This dough recipe makes enough for about 4 medium pizzas. It can be stored in the refrigerator for up to a week… if you can resist it for that long.
You'll need:
500g bread flour (plus more for kneading)
1tbsp salt
1 7g sachet of dried yeast
1tbsp golden sugar
2 tbsp olive oil
330ml tepid water (when you put your hand in the water, it shouldn't feel hot or cold)
Sift your flour & salt into a large mixing bowl, then make a well in the middle.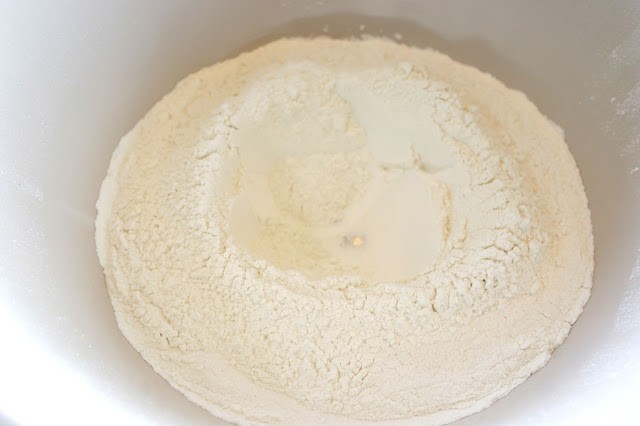 In a jug mix together your water, sugar, yeast & oil. Stir and leave to one side for a few mins before pouring into the hollow.
Use a metal spoon to slowly stir the flour into the liquid. Keep going until it's all mixed in. You should be left with a very sticky dough.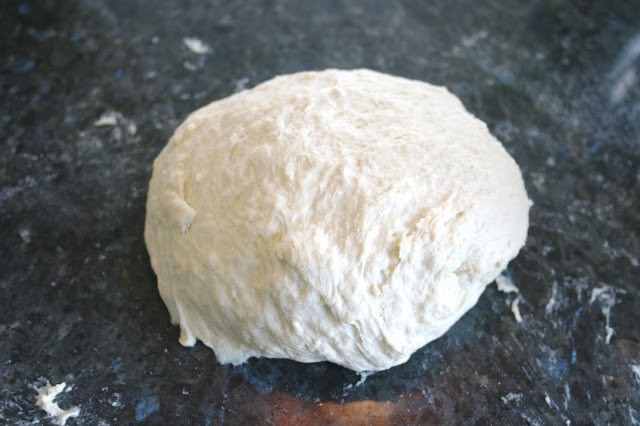 Now, flour your work surface & hands, pick up your dough and knead until you have a fairly smooth, springy dough.
Flour a large mixing bowl & place your dough inside.
Lightly dust with flour. Cover the bowl with a damp cloth/tea towel & leave somewhere warm.
Now the dough needs about an hour to prove, so leave it well alone.
(Alternatively you can cover the bowl in clingfilm and pop it in the fridge over night. Just take it out of the fridge half an hour before you want to use it.)
After an hour it should have doubled in size.
Pre-heat your oven to 220째C/430째F and place a large baking tray on a medium shelf, upside down. (This is going to give you a great crispy base, without needing a pizza stone or fancy pants pizza oven.)
Now rip off a piece of dough a little bigger than your fist. Pop it onto a floured surface and knead the hell out of it for a few mins. If it's still very sticky, keep adding flour until it starts to behave.
Ideally you want a very elastic, smooth ball of dough that can be stretched.
I found I had to use about a cup and a half of flour until it stopped being sticky.
Use a rolling pin (or bottle of wine) to smooth your dough into a pizza shape (don't worry about making it too round, we don't want it to look shop bought!). Get it as thin as you possibly can and then transfer to a lightly floured piece of aluminium foil.
Smear with a thin layer of tomato sauce.
To make this, grab 1 can of tomatoes, drain the liquid out of it and keep the plump little toms. Throw these into a processor/blender with a tsp of oregano, a clove of garlic & a tsp of salt. Blend. Done.
Next you'll want to spoon your pesto on top.
Homemade pesto is a completely different animal to the stuff you buy in a jar. It's punchy, fresh & just oozes summer! The colour alone makes it worth whipping up your own batch.
Grab one large basil plant, and roughly tear all of the leaves off. Throw some of the stems in too. Put them into a food processor with 50g of raw pine nuts, a cup of grated parmesan, two smallish cloves of garlic, half a cup of olive oil and a large pinch of salt.
Blend until smooth.
Now, just before you pop any on your pizza, cut a little sliver of buffalo mozzarella and scoop up a little of your pesto. This is just a little treat for the chef. Pop it in your mouth, close your eyes & pretend you're relaxing on the Italian rivera. Blissful.
If you can bring yourself back to reality, put a couple tablespoons onto your pizza.
Having swirled your pesto onto your tomato, top with slices of fresh buffalo mozzarella.
Remove your baking tray from the oven and carefully lift your foil & pizza onto the underside of your baking tray.
Place the whole thing back in the oven and close the door.
Timings will depend on your oven but it should take about 10-12 mins to cook.
Serve with salad & a simple dressing. Cold white wine & friends.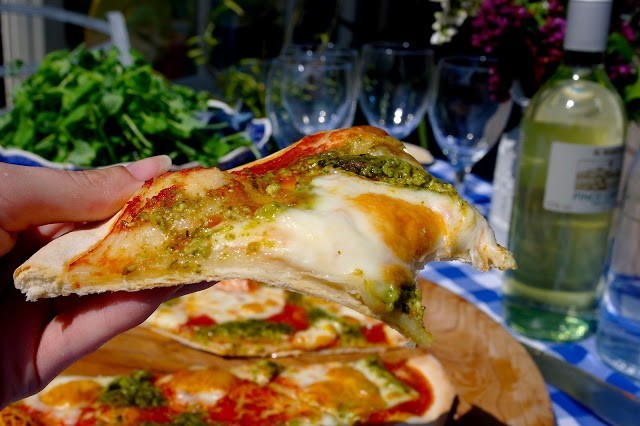 Ps. This has around half the calories of most take away pizzas and costs next to nothing to whip up.
Deliciously guilt free!
Although, if you're a low carb monster… give this a go instead.