Last night my Valentine took me to The Ledbury for dinner.
The food was utterly spectacular!
Hang on & I'll walk you through the menu.
We started with a couple of canapes & ice cold champagne, before moving on to our amuse bouche.
A quails egg in batter with the runniest yolk, perched on puree with truffle shavings.
Next we had Cornish oyster chantilly & tartare with horse radish & dill.
The crispy, rich oyster was offset perfectly by the fresh, delicate tartar. It was paired with a 2008 Sauvignon Blanc called Ignaz Niedrist. I know very little about wine, but I know what I like & this was just superb. Dry with hints of melon, pear, mint, sage and apricot . Unbelievably fresh.
Roast scallops with grilled leek & seaweed puree (his favorite course of all). Paired with a 2008 Riesling Smaragd, Ried Loibenberg from Austria.
Followed by roast turbot with blood orange, pinenuts, cauliflower & crab. The wine was a white 2008 A.A. Badenhorst from S.A.
Next up was the hand rolled macaroni stuffed with rabbit & chanterelles with a veloute of toasted hay & thyme. My favourite dish, really gamey & rich. Just delicious. The wine was a 2009 French Santanay, Vieilles Vignes.
Our last savoury dish was an aged fillet of cumbrian beef with smoked onions & perigord truffle, which we had with a 2005 Cote-Rotie, Domaine de Bonserine.
Our pre-desert was meringue with clementine crush & ice cream. Fresh, sour & exactly what we needed after our mains.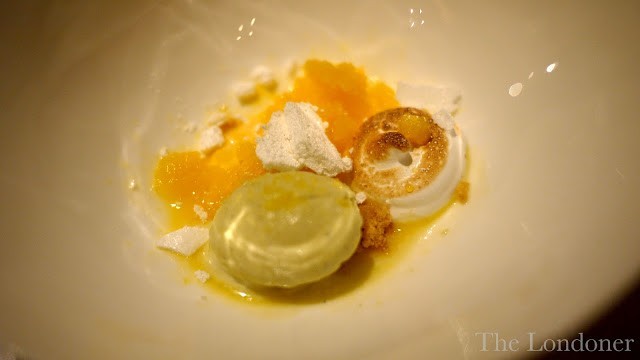 Then we had a banana gallette…
Ginger mouse…
… and an incredible passion fruit soufflé. All washed down with champagne.
It was one of the most romantic evenings of my life & today I'm feeling like a very lucky lady!
My delicately opened card revealed the best pressie I could have hoped for… A new blog! I've been meaning to make the jump to WordPress for a long time now, but just had no idea where to start. So my gift is a designer & a developer to help me get to grips with it! Who needs roses when you can have html coding?! He knows me too well. I highly recommend The Ledbury, the food was just fantastic. It has 2 Michelin stars and is widely regarded as the best restaurant in London. The tasting menu is around £195 per person (with wine). Call +44 (0) 20 7792 9090 to book & knock a loved one's socks off! .