On our last day in Paris, we lapped up a last drop of sun in the park & shared brioche with the ducks, for breakfast.
Then… onto my favourite pastime.. antique hunting in the flea market!
Paris's biggest flea market is
Les Puces de Saint-Ouen
.
Open every Saturday & Sunday from 9am – 6pm (with a very civilised little break for lunch).
It spans a full 7 hectares and has everything you could ever dream of; furniture, clothes, accessories, toys, cameras, suits of armour, weapons, beads & motorbikes.
You name it, you can buy it here.
Of course, if fake Nike trainers are more your thing, you can pick those up too.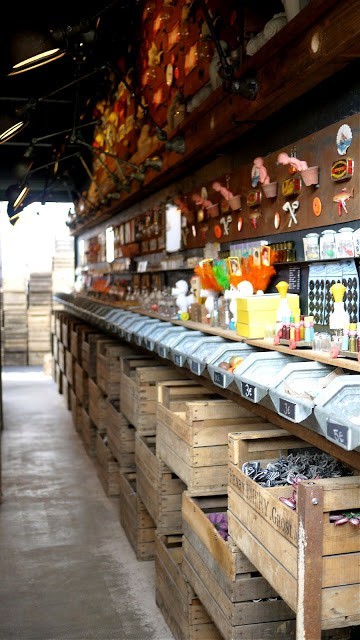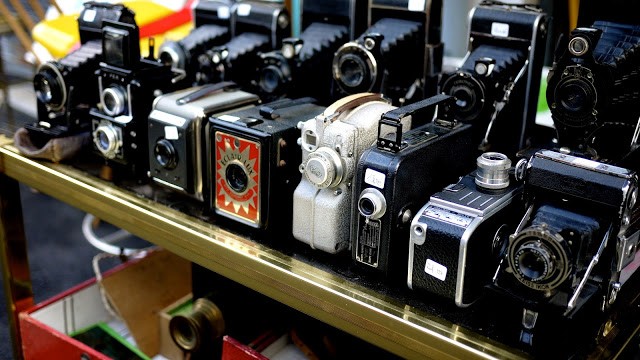 We left with a vintage fur collar for me & a removals company card for him. We want to come back with a huge van later in the year and stock up on tables, chairs & old roman busts!
The only question is whether I can manage a 10 ton truck in the winding streets of Paris.
…Probably not, but I'm more than wiling to give it a go!
Get me a trucker cap, a vest & some chewin' tobacco & I'm set!
A few tips if you do plan on going to Les Puces:
Arrive at about 10-11am. Have breakfast first, technically there are cafes in the market… but take my word on this one.
All prices are negotiable. If your French is weak, take a calculator or a pen & paper. Punch in your number and hand it to the dealer. He'll shake his head and mutter, put a new number in & thrust it back at you. Don't be intimidated, it's all a game.Â
Everyone has their own haggling secrets but I pretty much take off a third of the price and start there. Go up to his level a little & if he really wont budge, walk away. If you don't find anything similar, you can always go back later.Â
Try and go with your husband/wife/partner/concubine. Decide which one of you will be 'The Grump'. If it's you, it's your job to loudly proclaim; "I don't like it at all, come on honey we don't need a mirror, it's far too big. How are we supposed to get it all the way back to New York?"The dealer will sense the sale slipping out of his fingers & come down on price faster.The ol' good cop, bad cop routine works like a charm!Â
Talking of getting stuff home, you'll need a shipper. There are a couple dotted throughout the market but I hear Hedley's Humpers do great work, and who could say no to that name?!
Watch your valuables. Leave your passports & extra credit cards in the safe.As with any big city or market, there are pickpockets around so ladies, keep your bag zipped. Gents, keep your wallet in your front pocket.Â
Have fun! You don't need to spend a fortune on a chandelier to make a trip to the market worth while. Buy a little trinket or nothing at all. It's all about the experience.Â
Have a crepe on your way home, there are stalls dotted along the street & they really are ridiculously good!Â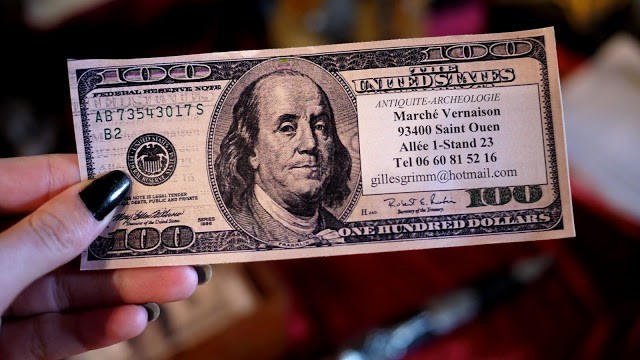 Possibly the coolest business card I've ever seen!
Back in the grown-up part of Paris, we made our way to Hotel Coste for lunch.
…Wiiiithhh a little pitstop at Pierre Herme for macarons!
We have these in London, but there's something a little bit special about buying them in Pariii!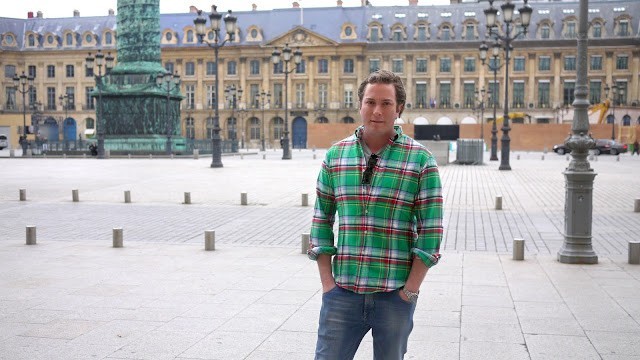 Hotel Coste is my favourite place in Paris.
It's dark & moody. Red velvet couches & secret hidden rooms, heavy with the signature scent of Coste make the whole place feel just a little bit… naughty.
If Chuck Bass were a hotel, this would be it.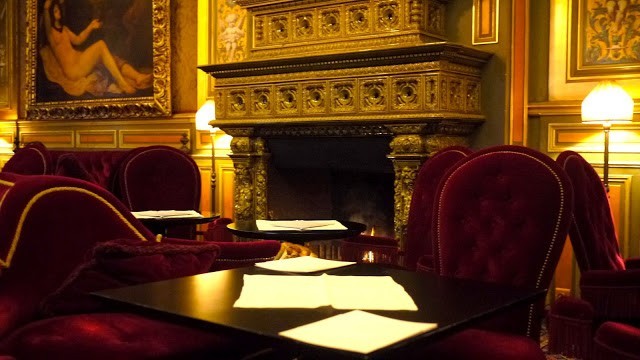 For lunch you can sit in the courtyard or relax by the fire.
The menu hasn't changed in years & we always have the same thing; langoustine risotto & 'le tigre' (beautiful steak with a light, herby, spicy sauce).
Coste is very much a place to see & be seen. I'd be surprised if you didn't bump into a celebrity or two, but everyone will pretend not to notice.
It is expensive, so don't go overboard with the food.
The hotel shop sells their signature scent in shower gel, moisturiser, cologne & candles.
I always think scent is the best souvenir from a trip. Whenever you smell it, you will remember just how you felt when you were there.
I was particularly taken with these little clutch bags, but at over £1000 a pop, I bid them au reviour in favour of a scented candle!
After one last walk (or 'singing in the rain' style dance in my case) around Paris, we begrudgingly made our way to the train station.
Time for the eurostar home & combination which is really a reason to visit France in itself… Nutella & Go and a cold Orangina!
It's the little things, eh?!
Ps. My mint knit jumper was a ridiculous bargain
from here
& D's check shirt is from Ralph Lauren.
If you're across the pond & love Nutella as much as I do, you can find
Nutella snacks here
.
.