We arrived in Paris on Friday morning.
After some frantic scrambling in bags & checking of computer histories, we remembered the name of the hotel (
Le Maurice
) and the cab whisked us away for a quick splash in the jacuzzi & a change of outfits.
Feeling fully refreshed we wondered over to one of D's favourite restaurants, l'écume st-honoré.
To be honest calling it a restaurant is pretty generous, it's a tiny little fishmongers with tables in the back. You perch on stools next to the lobster tanks as a soundtrack of seagulls & waves crashing plays overhead.
It's all very romantic!
A tiny menu of fresh, mostly raw fish boasts some of the best oysters I have ever tasted and an unbelievable home-made mayonnaise.
If it sounds like your sort of thing, you'll find themÂ
here
.
It's worth booking on weekends (33-1-42-61-93-87) and you'll find the best oysters in the coldest months. Avoid them during midsummer, but try the clams & the prawns.
After lunch we went to Collette.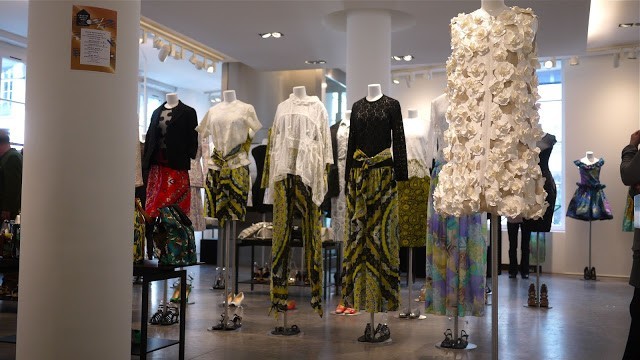 One of the most famous concept stores in the world, it's just one of those places that oozes cool.
Bathing Ape t-shirts & leopard print high tops sit along side delicate organza gowns & some of the most intricate jewellery you'll find.
A collection of nicknacks, treats, tech & fashion means prices range from 3euros to 30thousand+
If you're planning a trip to Paris, it's a must.
As it was my birthday, I got to choose what we did next.
I plumped for a walk in the park, something D rarely agrees to as being at one with nature doesn't come particularly naturally to him!
We played with the boats in the pond & lounged on the grass in the sun.
I wear-Â Black coat: Zara,Â
Ombre shirt: Zara
, Black boots: Aldo, Bag: Prada,Â
Sunnies: ASOSÂ
D wears- Â Blazer by
Loro Piana
, check shirt by
TM Lewin
, Hermes belt, jeans by
Cheap Monday
& s
unnies by Ray-Ban
.
You can find my shirt here.
As it got a little colder we popped across the road to Angelina.
They serve the most incredible hot chocolate. It's a sort of thick, dense potion topped with cool whipped cream.
Lighter than the chocolate you may have had with churros, but thicker than the stuff you drink at home.
If you come to Paris, please just promise me you'll try it!
Nails are 'Black Oyster' by Mavala.
There's usually a queue for a table & the staff are exquisitely rude, but the line moves very quickly and it's France; rude comes with the territory.
After a little more wondering, we went back to the hotel to watch the sunset from our balcony & get ready for supper.
For dinner we went to Chateaubriand.
Supposedly the 9th best restaurant in the world, it's a hidden little gem in the 11th. You have to book about a week in advance if you want a table, but after 9.30 they allow walk ins.
It's a fantastic system which I wish more restaurants in London would introduce.
You can book for the first sitting, and then queue for a table during the second.
We arrived early at about 8.45pm, and were told they don't allow people to wait inside until 9.30. Luckily I knew that there was a sister restaurant (Le Dauphin) just next door (something the maitre dee wont tell you!).
We popped in for a drink & a nibble and were quite simply dumbfounded by the quality of the food.
The decor looks like something of a Spanish truck stop, but the flavours were outstanding.
Not wanting to fill up, we only allowed ourselves 2 dishes and at 9.30 we joined the queue outside Chataubriand.
After about half an hour we were standing at the bar with a bottle of wine.
We soon had our table & what followed was a fairly remarkable tasting menu.
10 courses of seasonal, fresh dishes in an intimate, buzzy restaurant.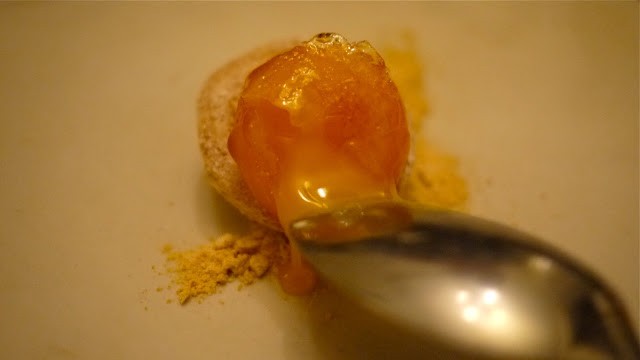 The food was exciting, experimental & something of an adventure.
Friendly staff explained each dish with passion & interest and the whole menu was just 45 euros.
The menu changes every night, but if you fancy giving it a go, you'll find them
here
.
After finishing our wine, we headed home a little worse for wear but very happy.
The perfect end to a magical first day in Paris.
.