Trust me when I say, there is nothing more decadent than this spicy, sweet, salty, smokey, wooden box of gooey goodness.It's one of the easiest starters you will ever make, and I guarantee you will be greeted with oohs and aahhs as you place it on the table, followed by a satisfied silence as your guest(s) tuck in. Serve with crusty bread & really great wine for the ultimate winter treat.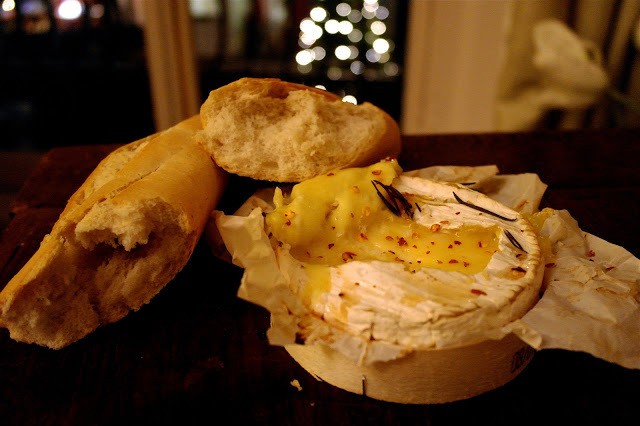 Yes, a melted cheese GIF!Â
You are welcome.Â
If you'd like to devour your own wheel of cheese,
You will need:Â
A box of brie or camembert, whichever you like but make sure it comes in a WOODEN box. Not plastic.
A few sprigs of rosemary
A squeeze of honey
A sprinkle of chilli flakes
Your favourite crunchy bread
Preheat your oven to 200
째CÂ
or 390
째F
.
Make sure you've removed any plastic from your cheese, this is going in a hot oven and no one likes melted packaging with their wine.
With a big, sharp knife, score the cheese deeply about 4 times.
Stick your rosemary sprigs into the cuts, so they're sticking up like trees in snow. Now drizzle about a tablespoon of honey all over the surface.
Pop your creation onto the middle shelf of the oven and leave for 30mins. Check on it now and then. If it's looking all molten and the top has risen so it's bulging, it's ready. Don't let it burn.
When you pull it out, put it on a nice plate, remove the rosemary and use a fork to peel back the centre of the top, revealing the heavenly goo bellow.
Sprinkle on your chilli flakes and serve.
Spicy, salty, sweet & cheesy… all in one mouthful!
Incredible.
.