The once manic, shambolic, Marrakech airport I used to fly into back in the early days of this blog has gone. Eaten up by a huge, glass, marble and steel alien structure.
No more hassling and bargaining from taxi drivers when you exit into the real world. It's homogenised and a little sad.
As you drive towards the old city of Marrakech, we no longer pass by grazing camels and horse drawn carts piled high with giggling kids. It's all air-conditioned SUVs, peoples faces glow from the light of their phones and the streetlights block out the stars.
This, of course, is to be expected. Things change. I just didn't realise it would happen so fast.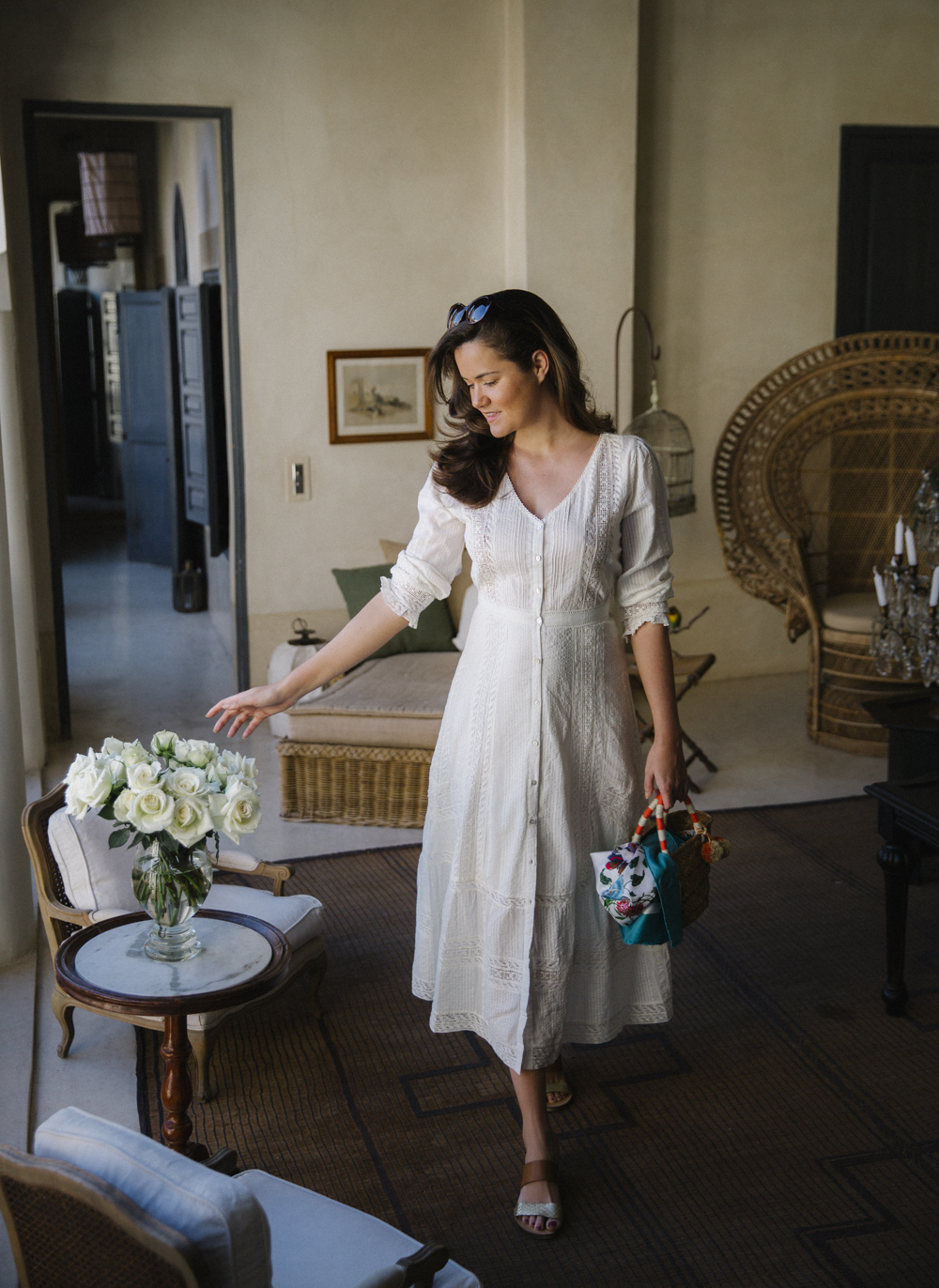 I started to fear that the Morocco I used to know and love had gone forever. Spoiled by the passing of time and visitors who want pizza, sushi and sprawling golf courses where there should be desert.
But I needn't have worried. The joy of staying in a Riad in Marrakech, is that for all of the luxury and peace inside, you need only step outside your door for a taste of real Morocco.
Busy, dusty, noisy, beautiful, intense, fun, charming Morocco.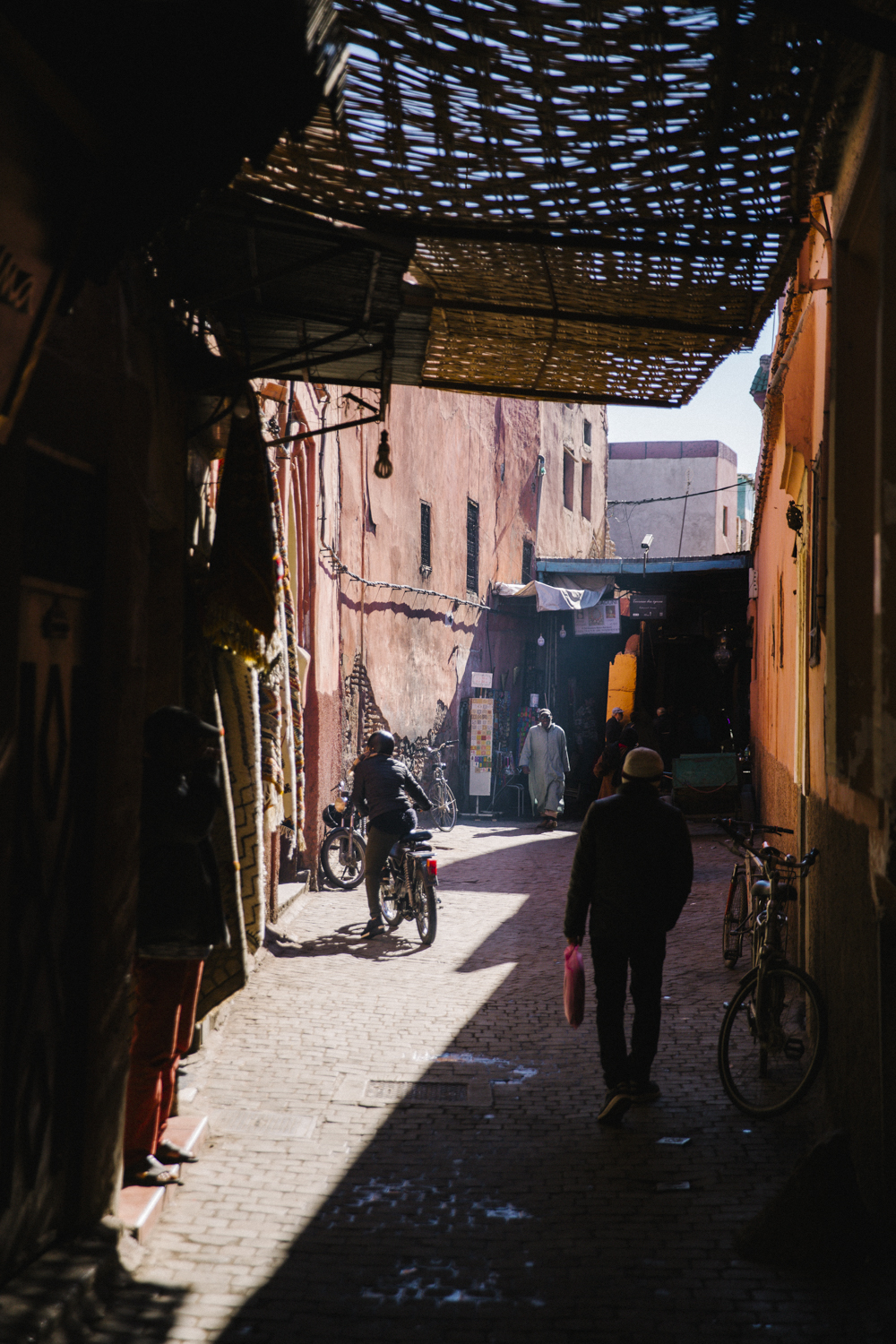 Slip into something light, breezy, comfortable but covered up.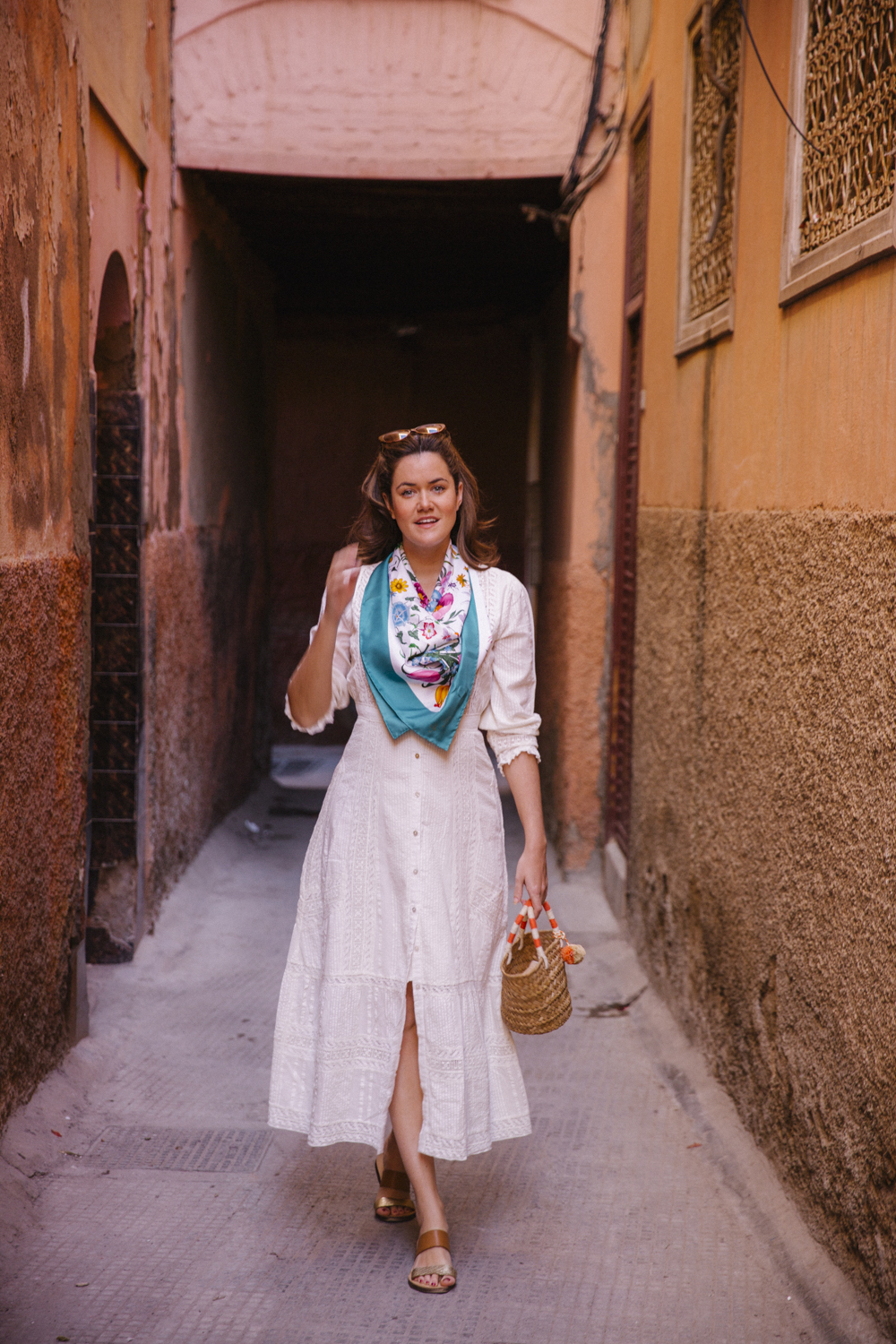 White cotton dress (the most beautiful quality, a keeper for many summers to come)
Gucci silk scarf (similar) // Straw basket
And set off into the souks.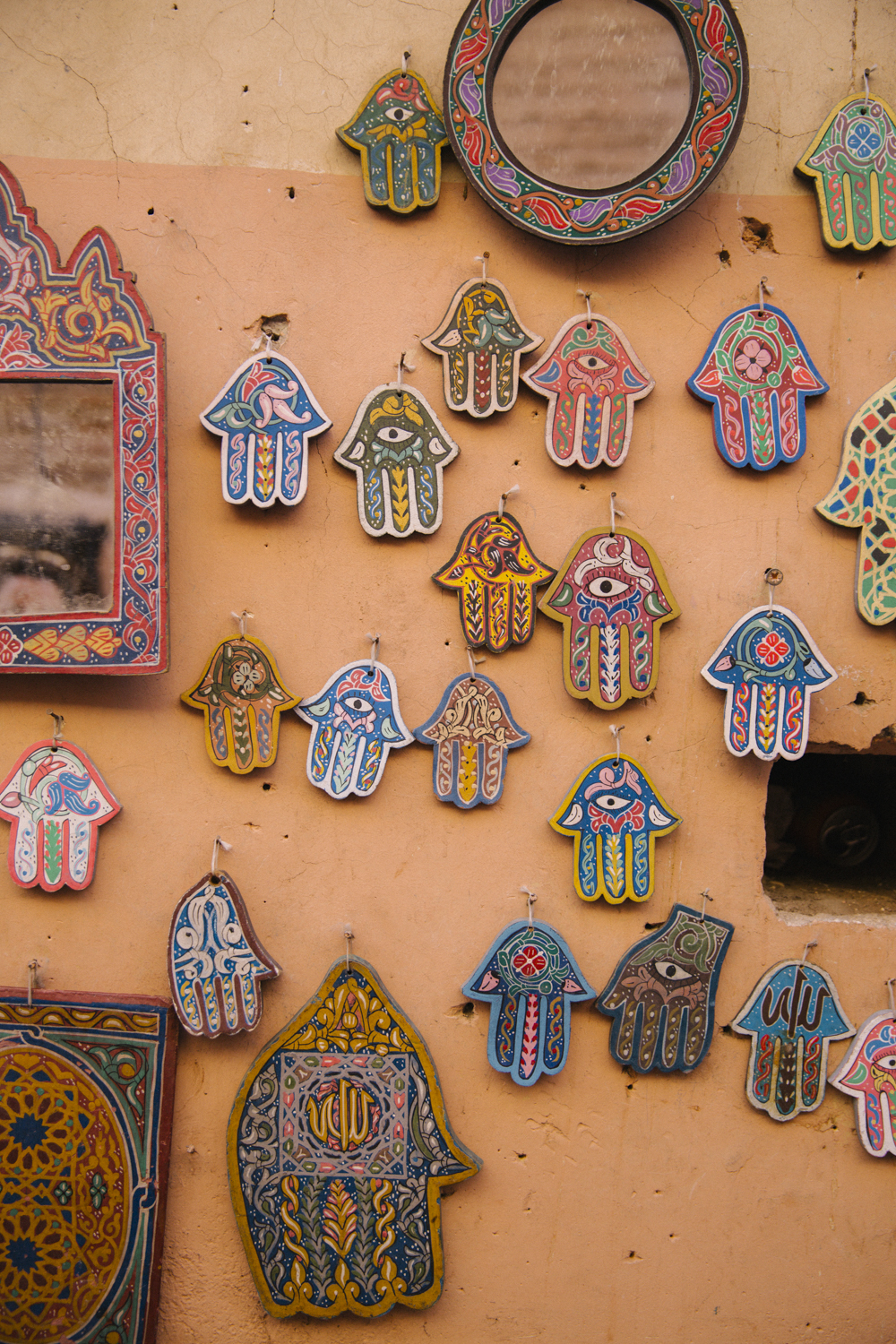 A labyrinth of streets, with a local craftsman's wares spilling out from every door, window and crack in the wall.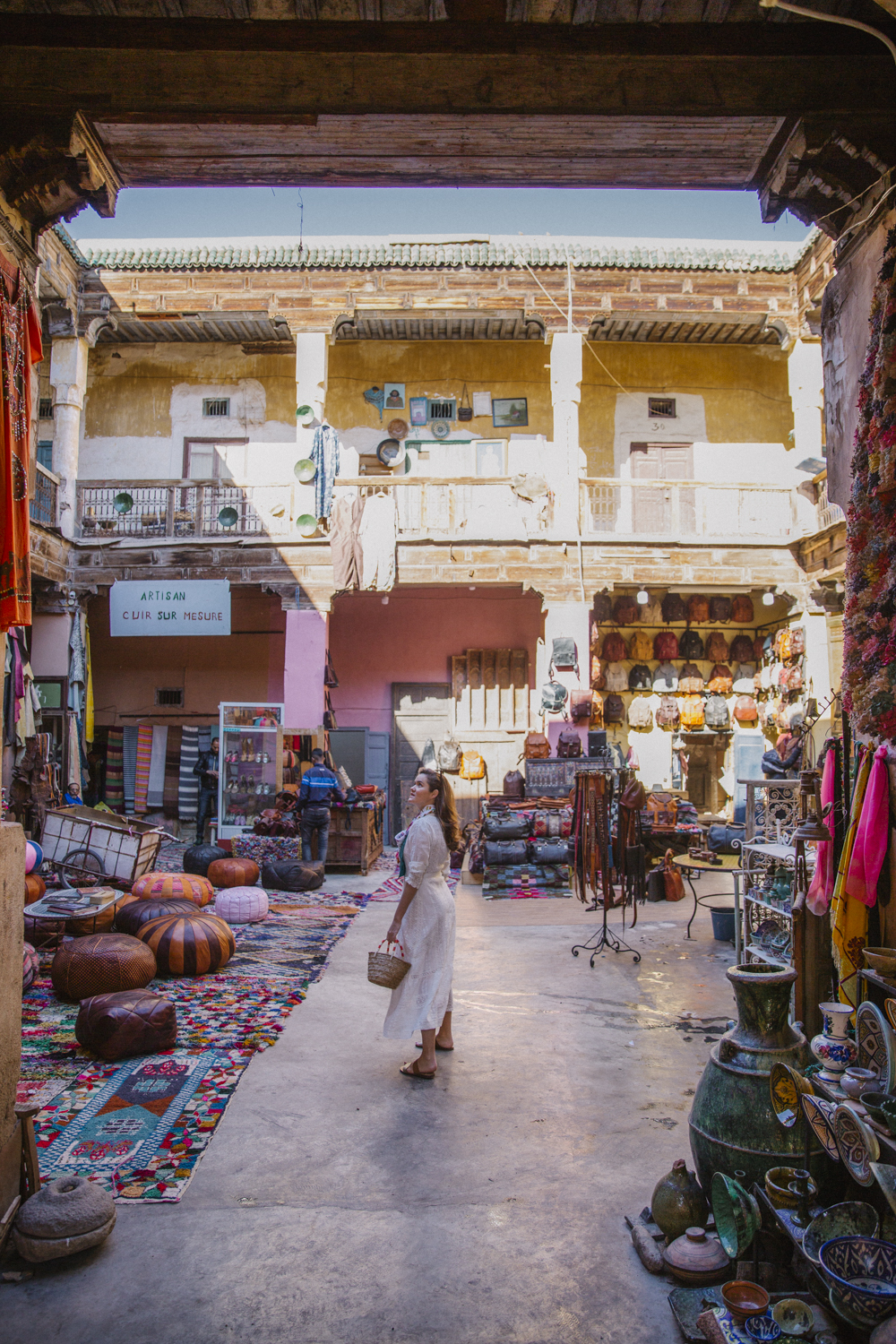 Just be sure to walk on the right of the street, or you'll risk being knocked down by a passing scooter, piled high with fresh mint.
A beautifully scented way to go!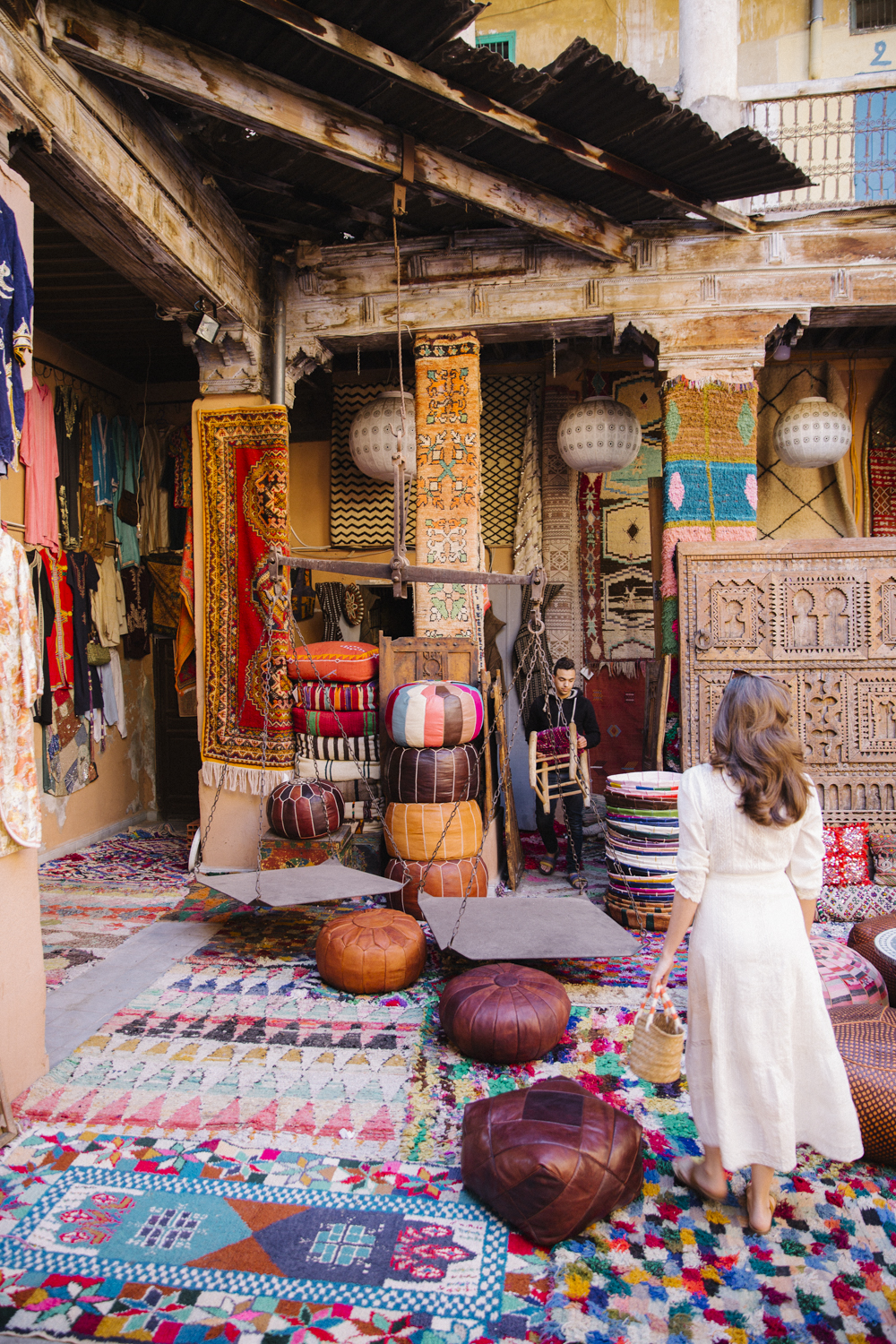 I'd say the very best time to visit Marrakech is when you have a new home to decorate.
You've measured every inch and you're ready for rugs, poufs, lamps, baskets and throws to fill it.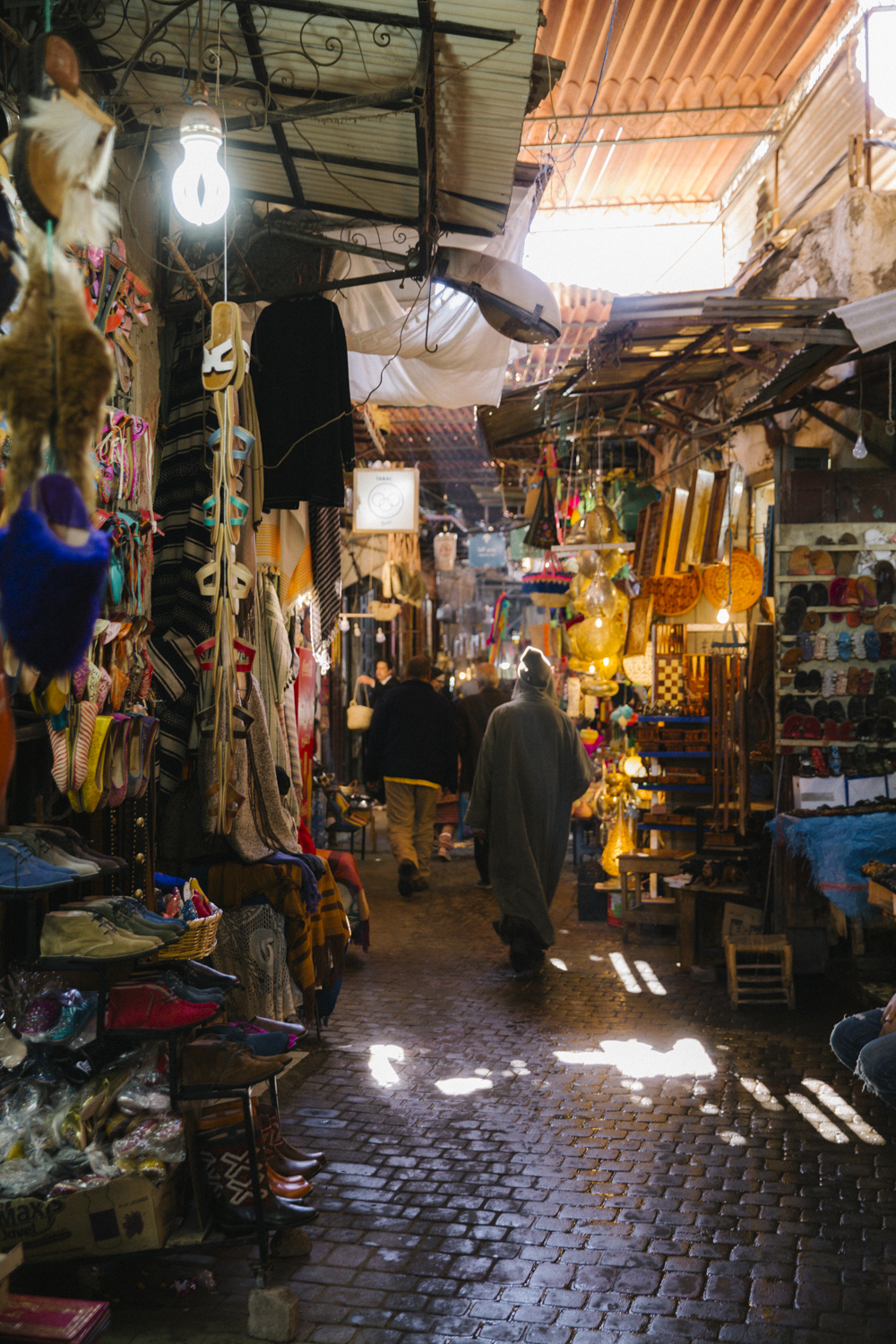 But for the rest of us, there's enough fashion and jewellery to keep us happily occupied.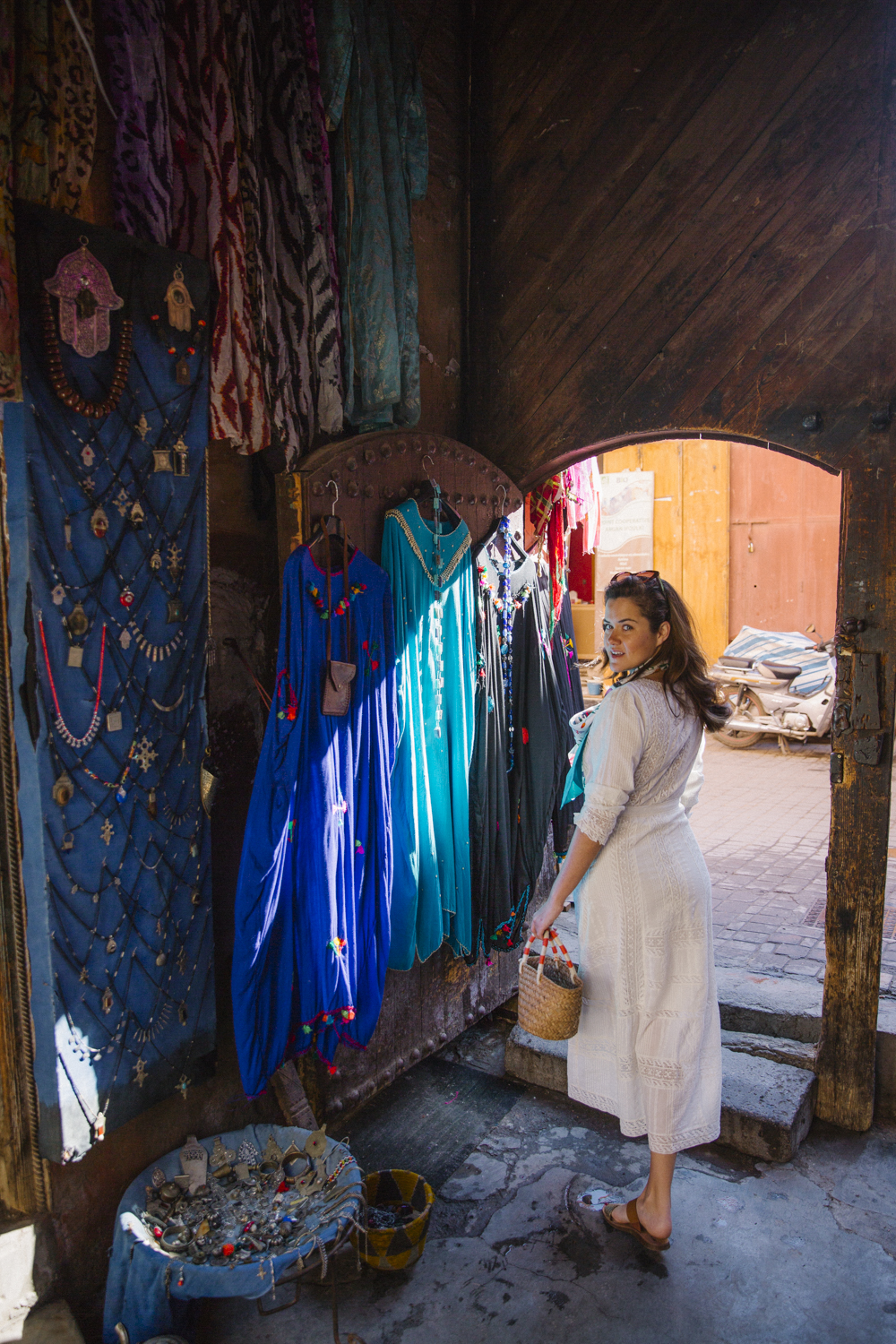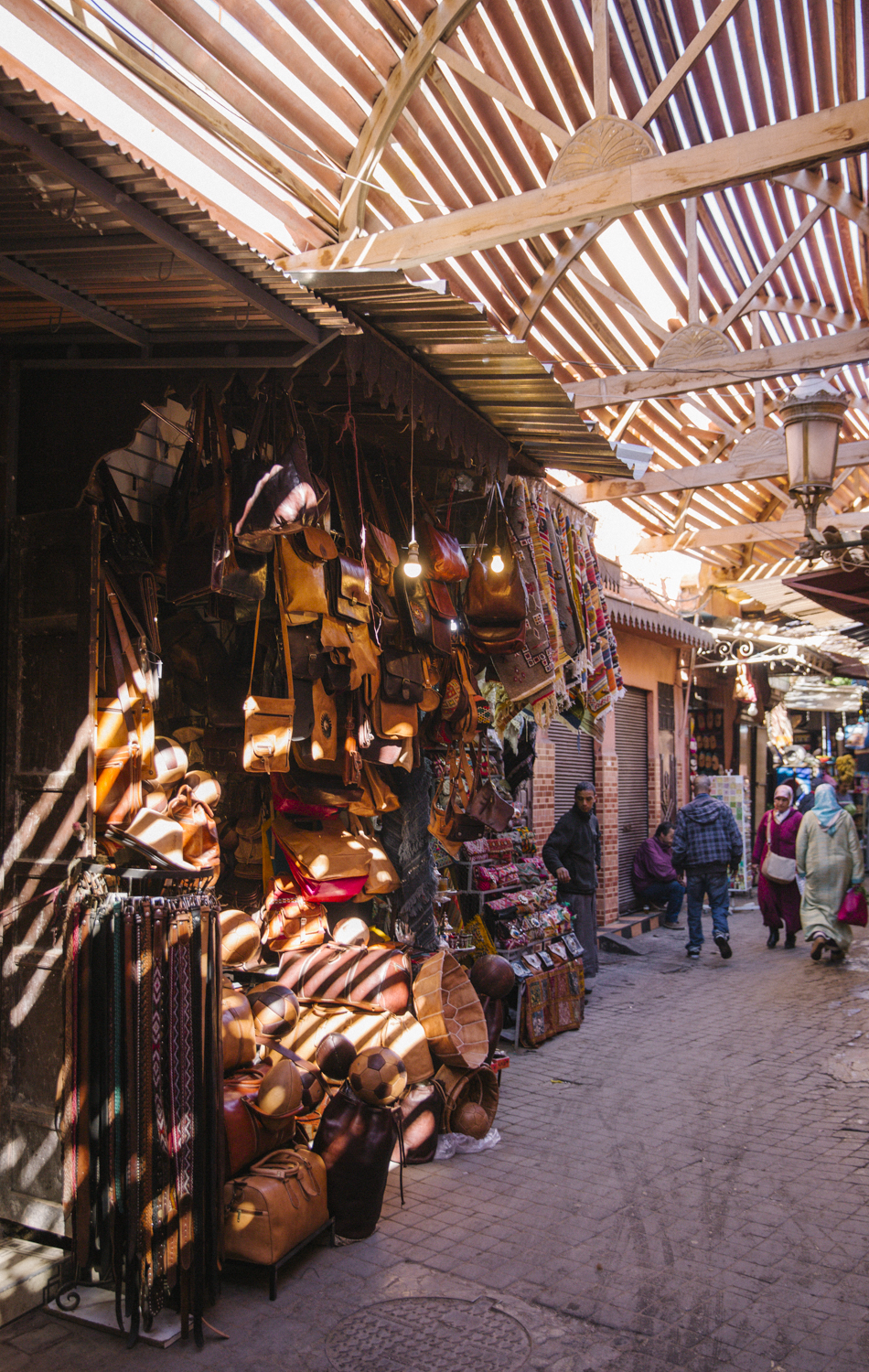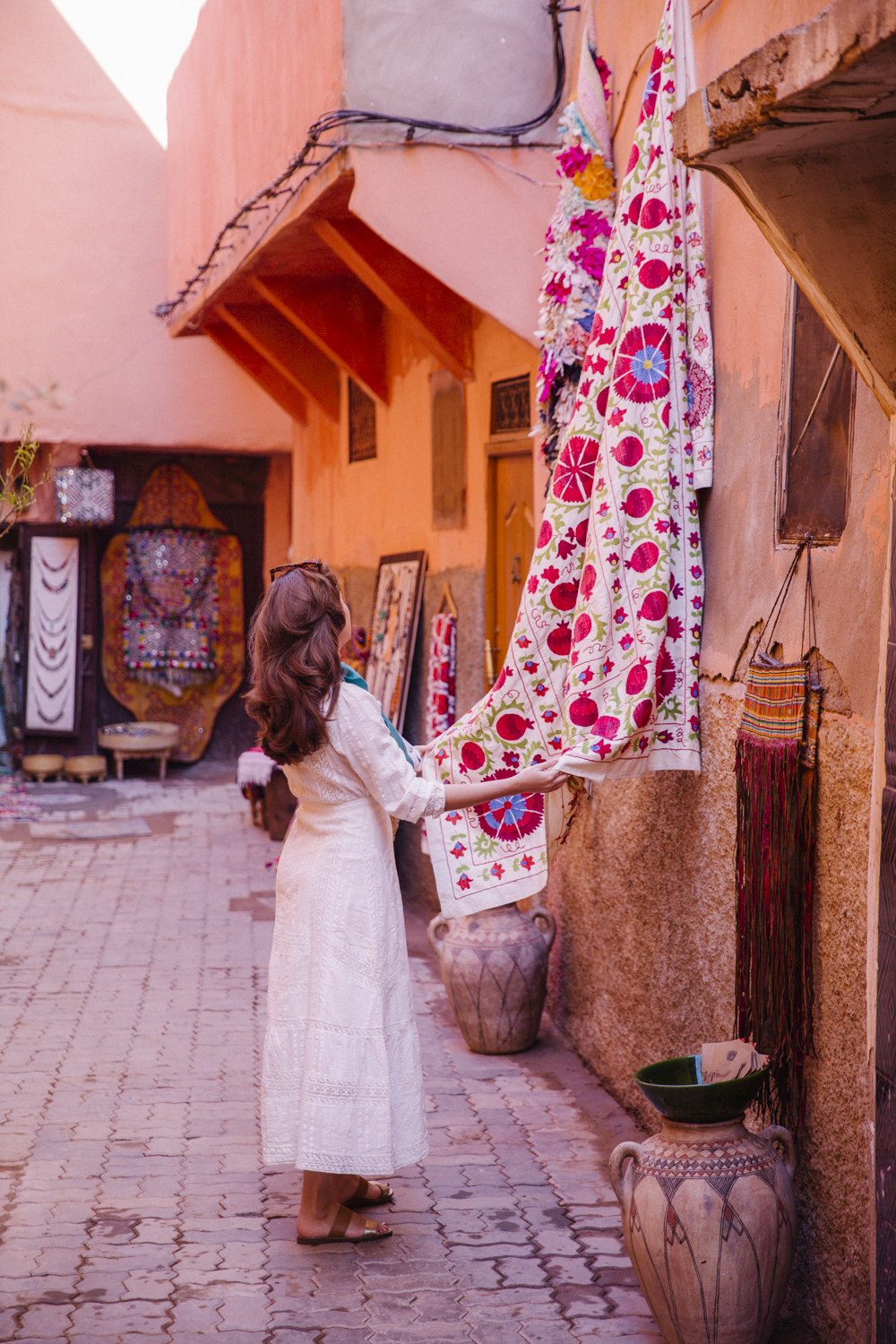 I've told you this before, but never accept the first price offered.
If anything you'll only disappoint the seller, who enjoys the patter of a good haggling session.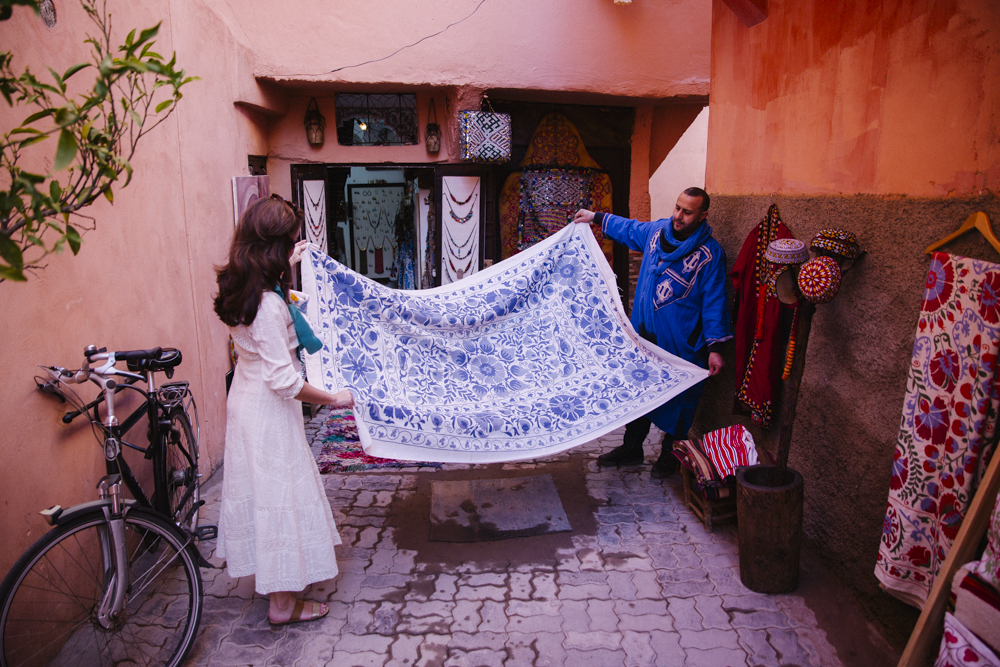 Most of my bargaining went something like this.
Me – "How much is this?"
Them – "Well… I give you good price//you're my first customer//it's very expensive//it's very special…" (etc.)
Me – A friendly laugh, smiling – "No no, you give me your final price."
Them – "Ok, final price? 1000."
Me – Hands it back, still smiling but a little disappointed. "Ah ok. No thank you."
Them – "Woah woah, lady! You tell me the price."
Me – "No, no, I asked for the final price."
Them – "Ok, 700."
Me – Walking away, "No thank you. Have a lovely day!"
Them – "Ok, 500!"
Me – Cheery "Bye! thank you!"
Them – "Ok, how much?"
Me – "Well… 250."
A short back and fort, and we settle on 300.
They grin, go wrap it up and come back laughing telling my fiancé "she's tough!" (as if he needs telling.) And they send us off with a wave and lots of thank yous.
I think people often fall into the trap of thinking that haggling is rude or unfriendly, when really it's just a game, and if you take it lightly both sides can enjoy it just as much. In the souks you don't need to worry about walking away from something, three stalls down you'll see it again anyway.
I always try to get something for a price I think is good, but leave a good profit in it for them. You don't want to feel as though you've ripped someone off. Not that they'll let you anyway!
And don't go so hard in the fancy shops.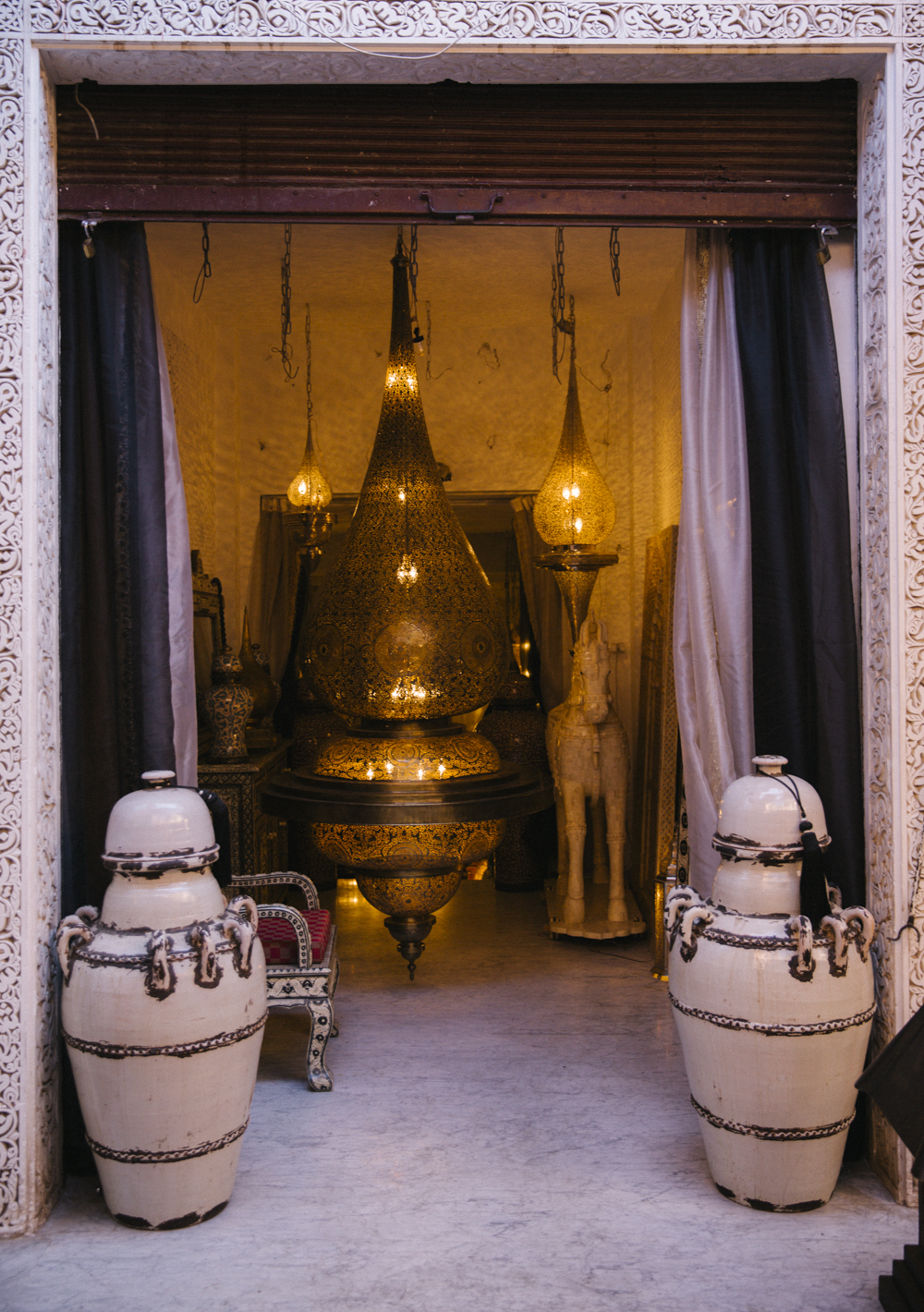 The best time to visit the souks is right after breakfast.
The morning light filtering through the shutters overhead.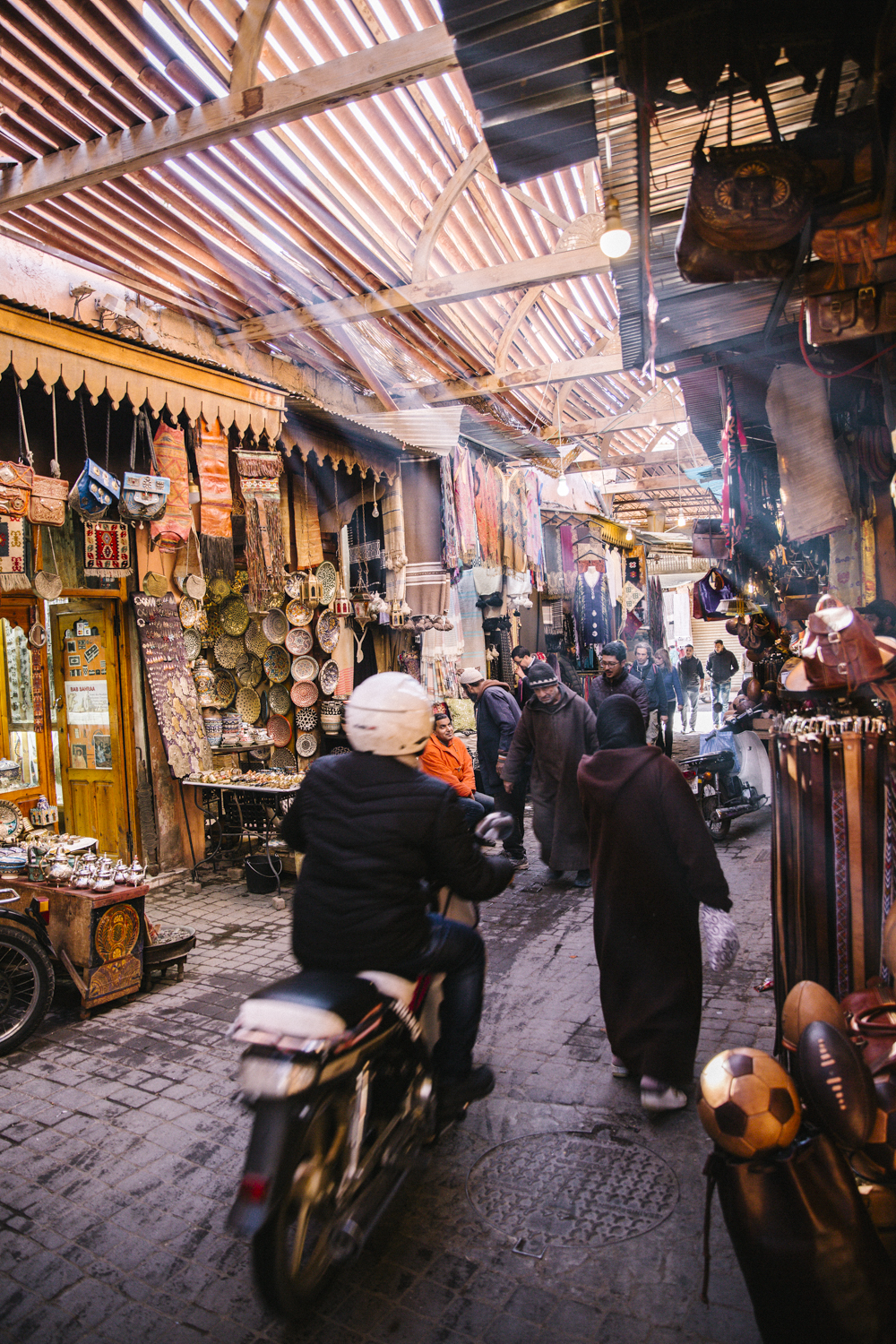 It's quieter then, and you won't be so hassled by people shouting at you to come in and look.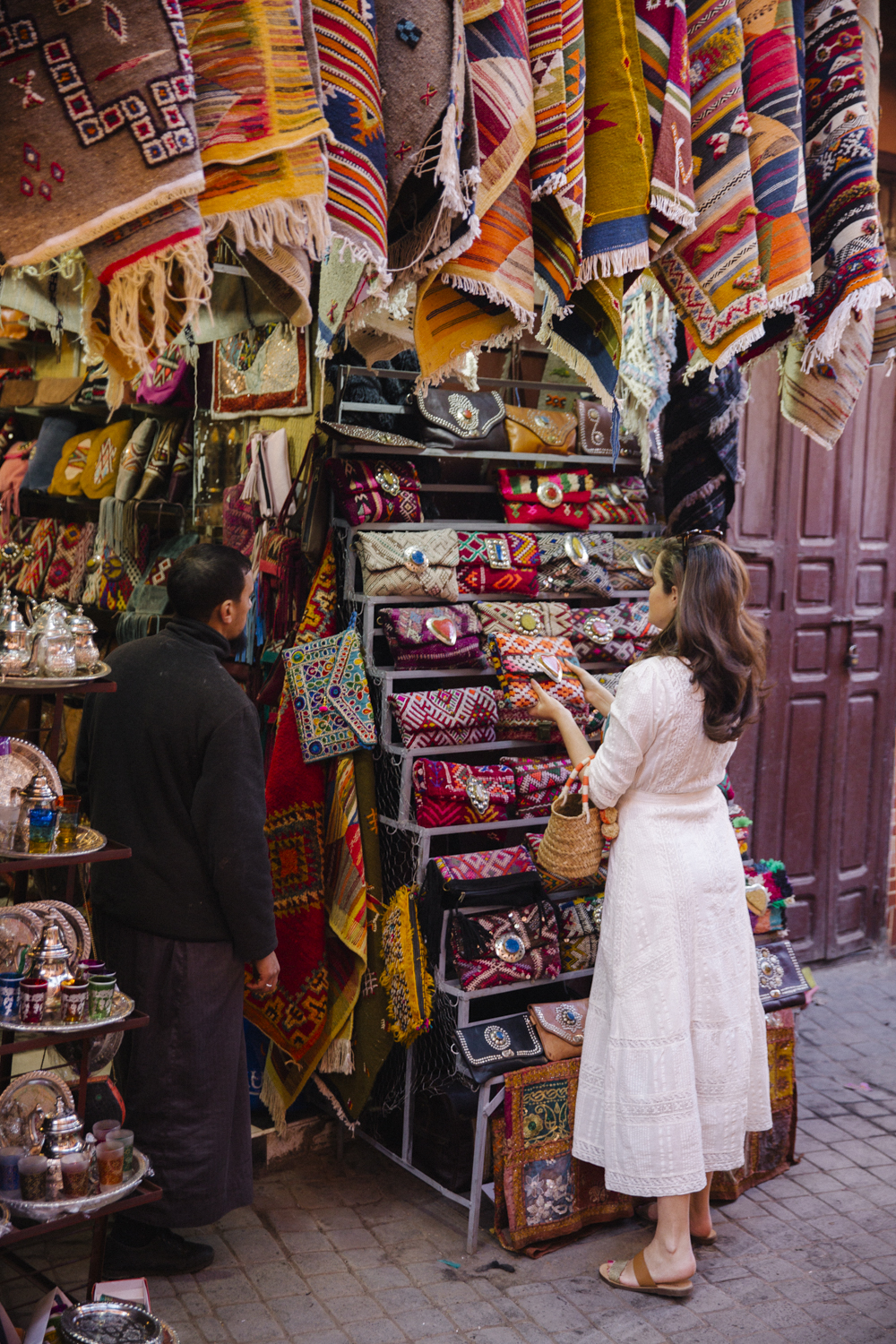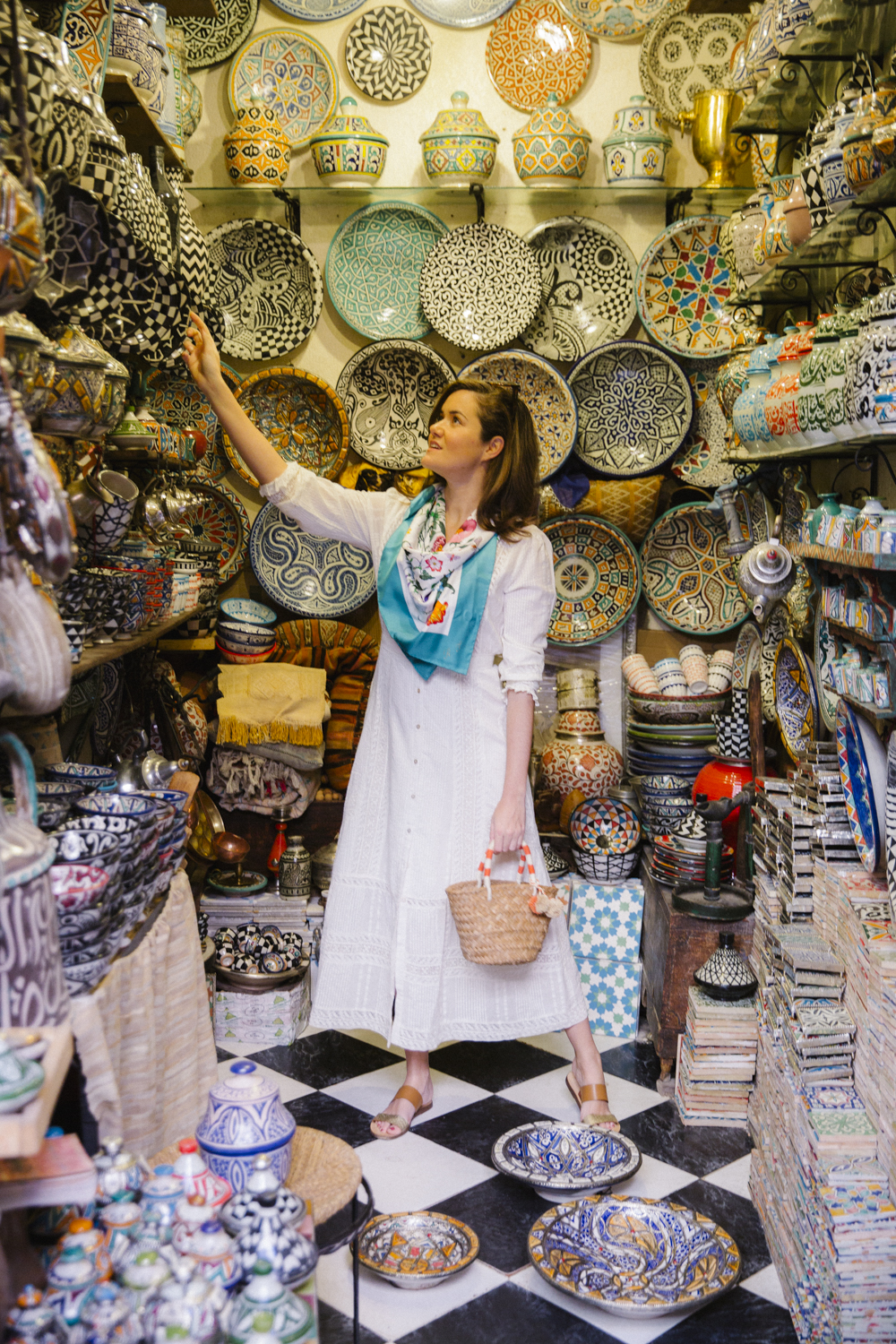 Don't feel pressured to go into stores you don't want to.
Just say "no thank you" and keep going.
Dip in wherever you like, you may just find an Aladdin's cave.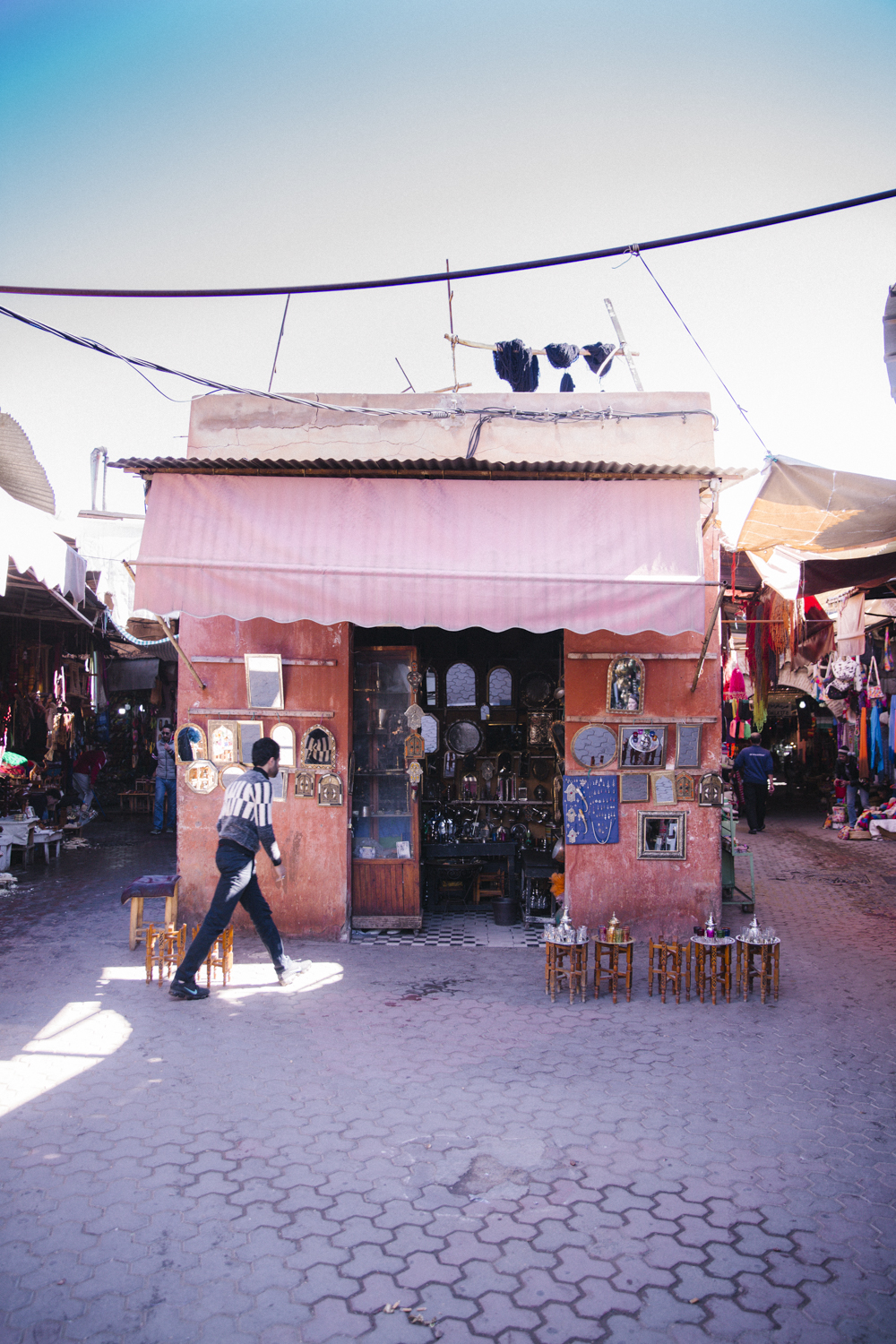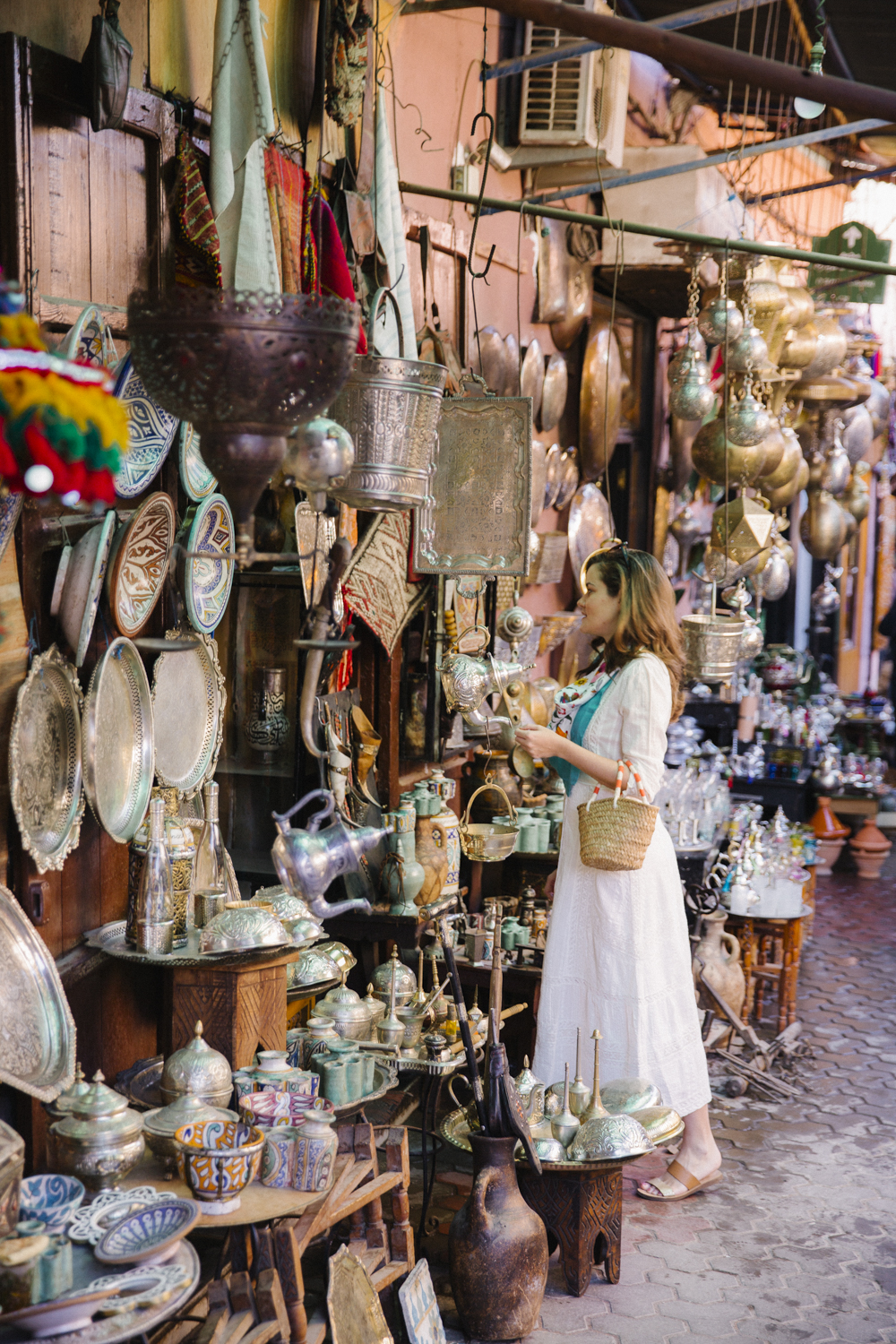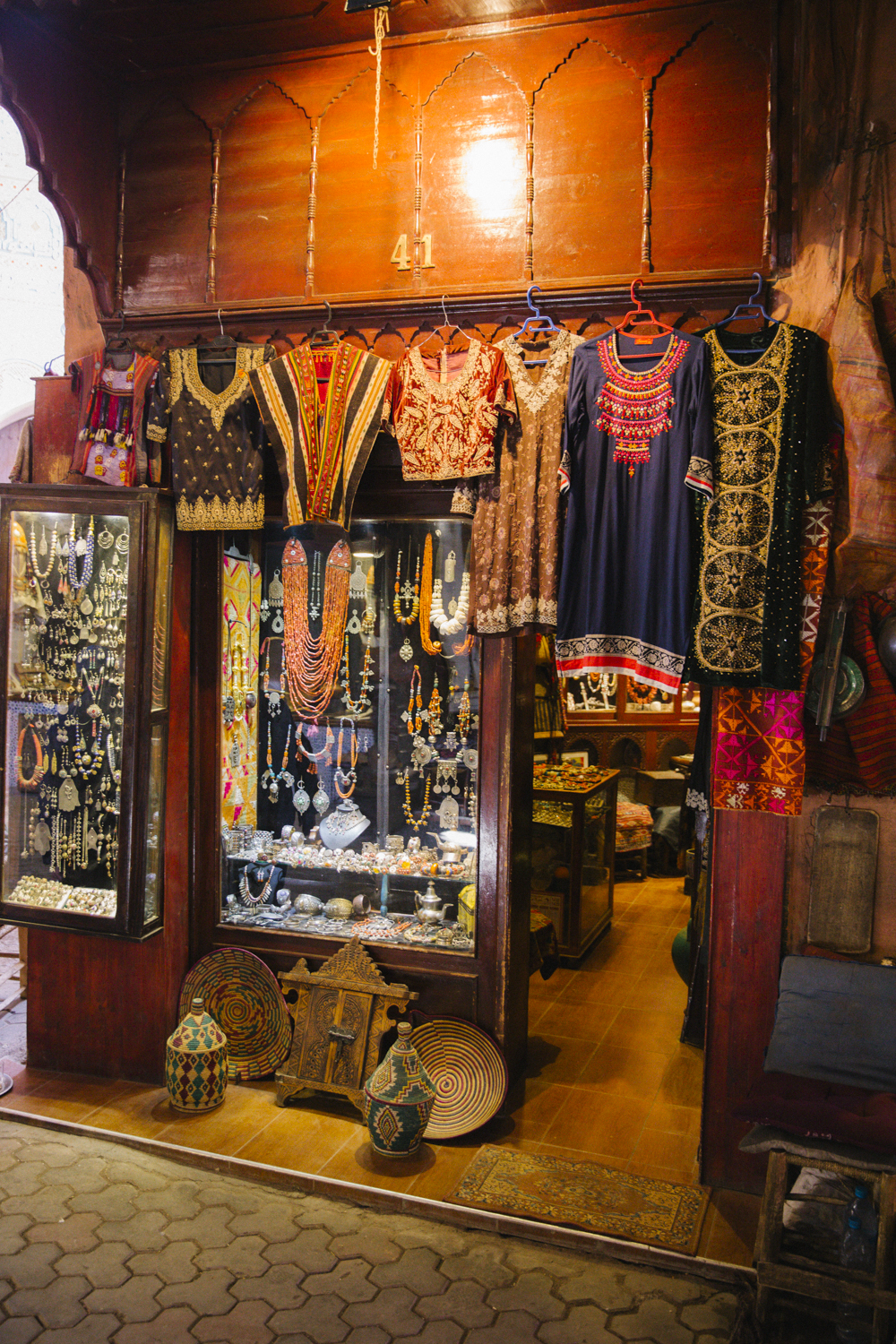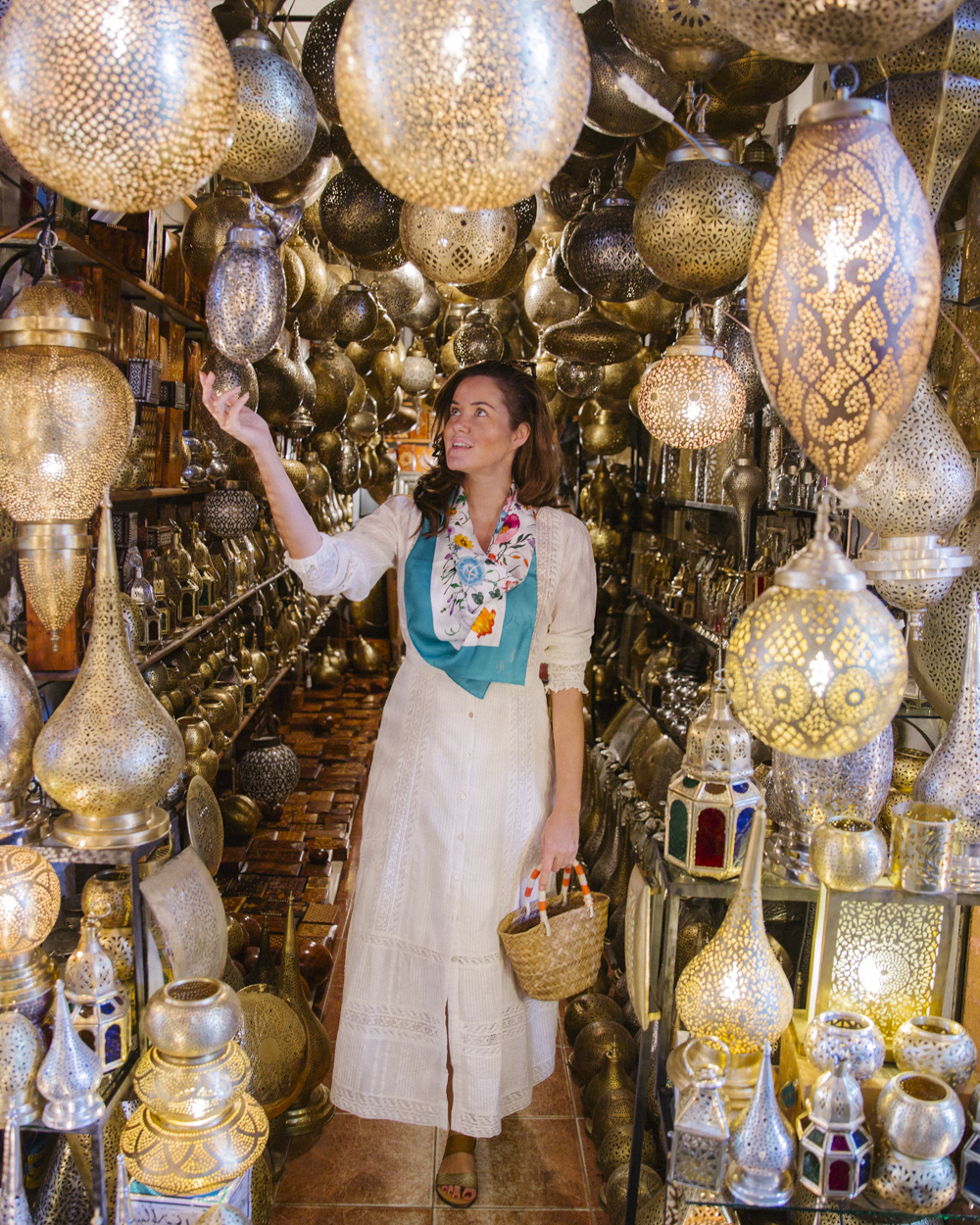 Stand still long enough and someone will wrap you up in hand dyed silks!
Berber style.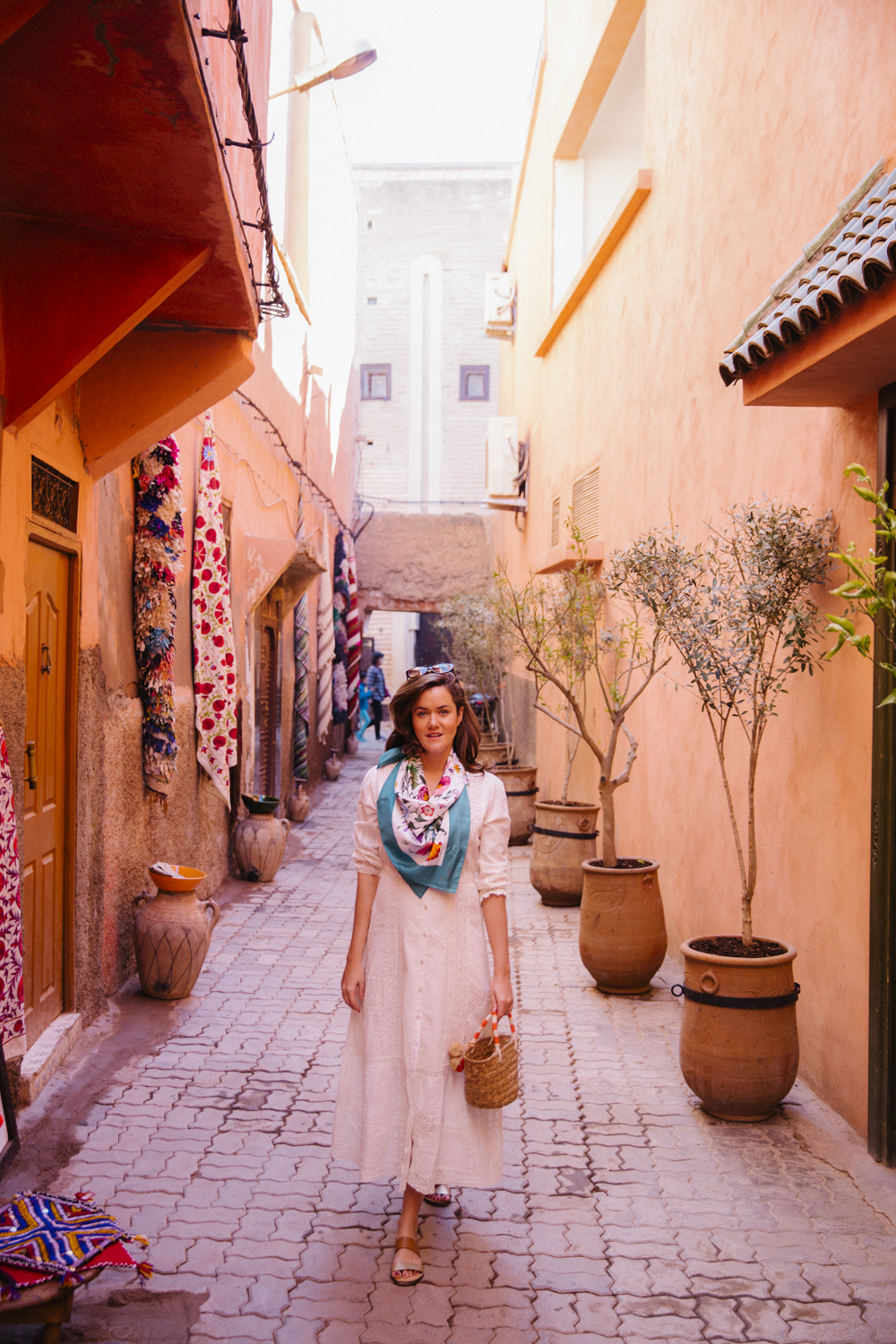 Eventually you'll find yourself emerging from the depths of the souk into a huge, sunsoaked square, filled with baskets and herbs.
Stay there! Or you'll never find it again.
If you fancy a drink you can make your way to the rooftop of Café des Epices, if it's nearly lunchtime head to the other side of the square, to Nomad.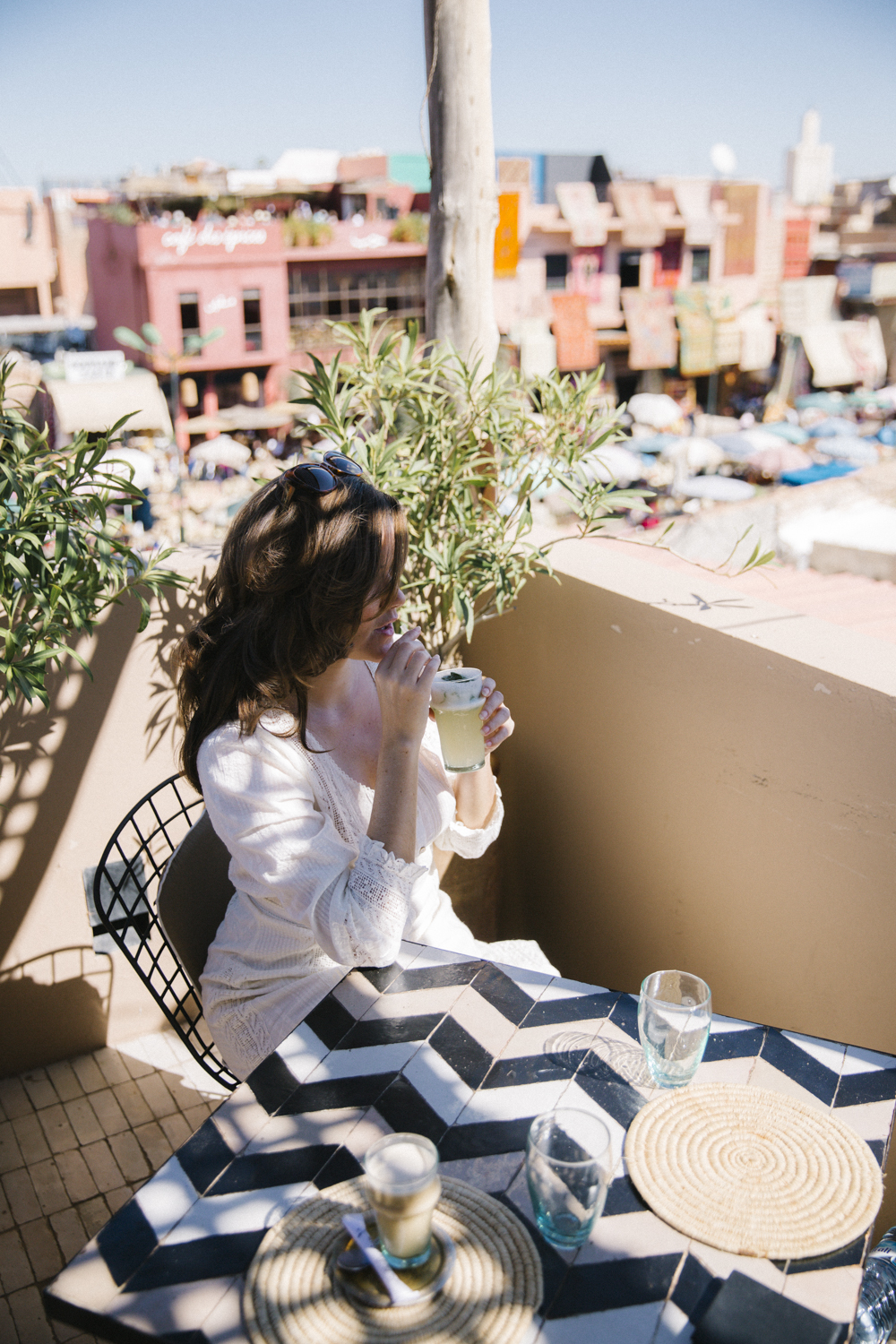 Here you can have a drink overlooking the madness below.
And tuck into some beautiful, modern Moroccan food.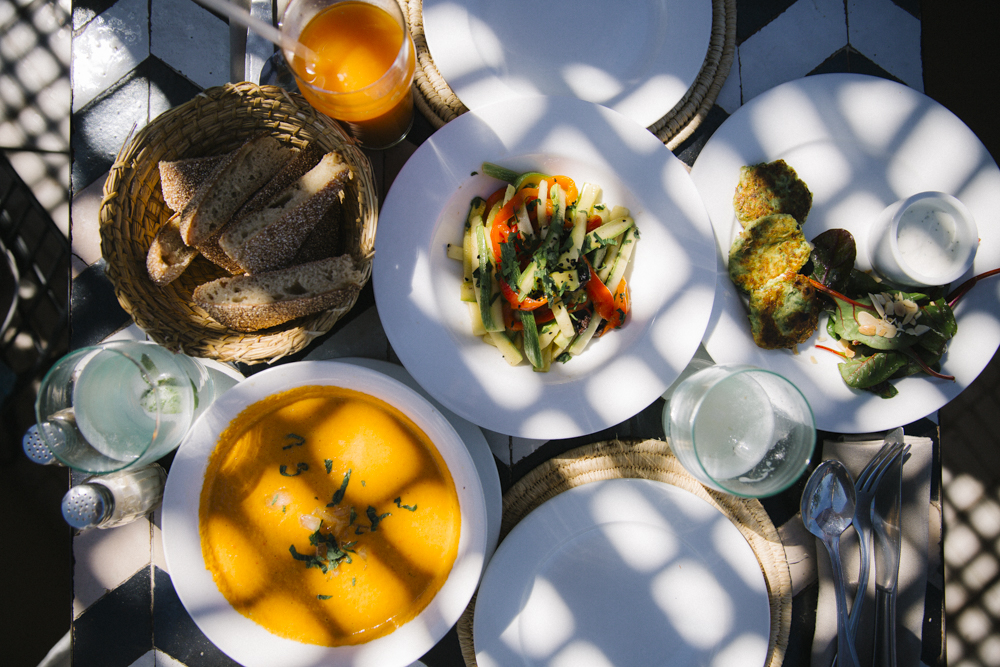 Including an exceptional lamb tagine, on spiced cauliflower rice in place of cous cous.
Something I plan on recreating!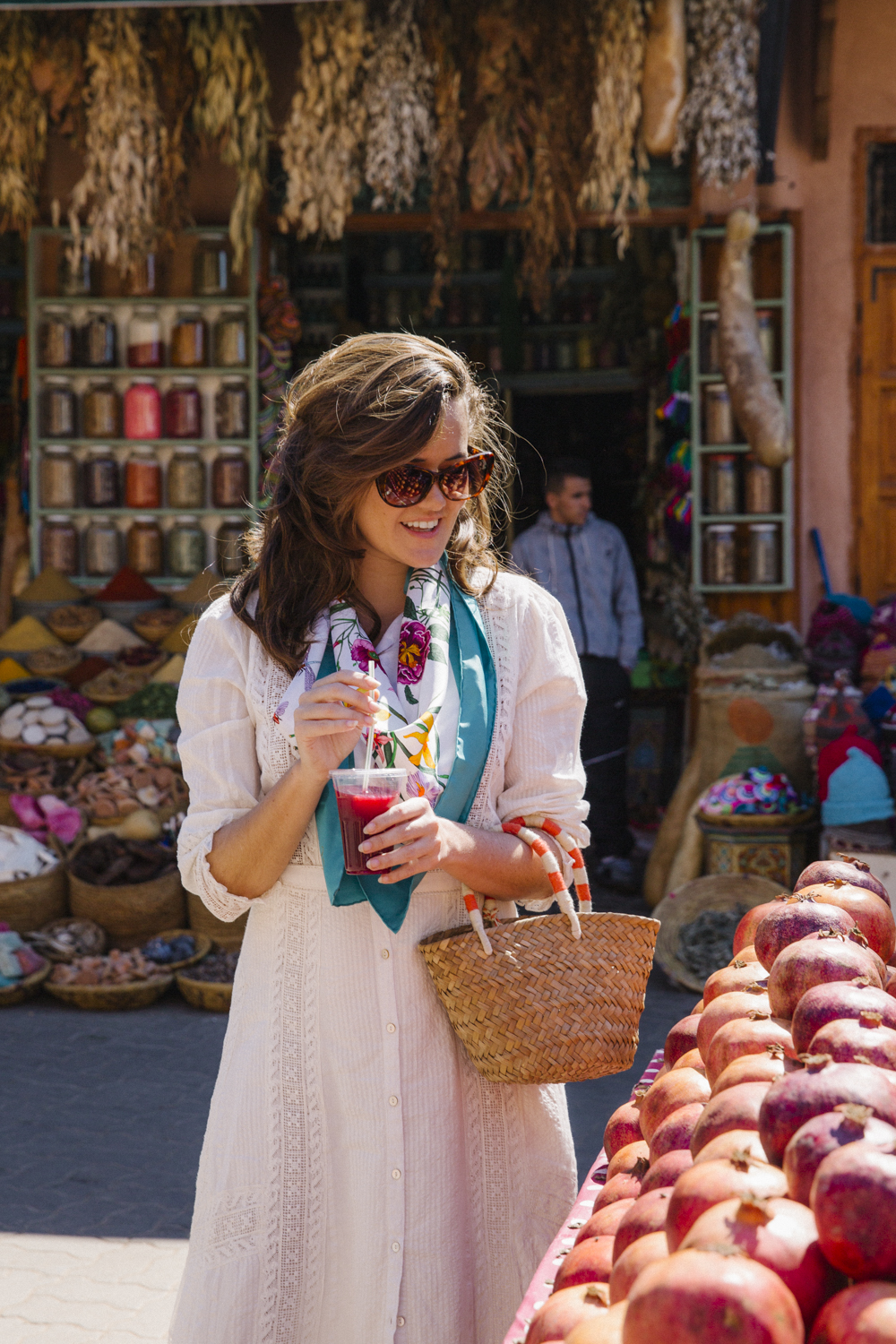 On your way out, pick up a fresh pomegranate juice in the square.
Be sure to buy some dried rosebuds, harvested from the valley of the roses not far away from Marrakech.
Make a tea from them that's great for your skin, immune system and general sense of wellbeing.
The camomile flowers also make the most wonderful calming tea, great for sending you to sleep at night.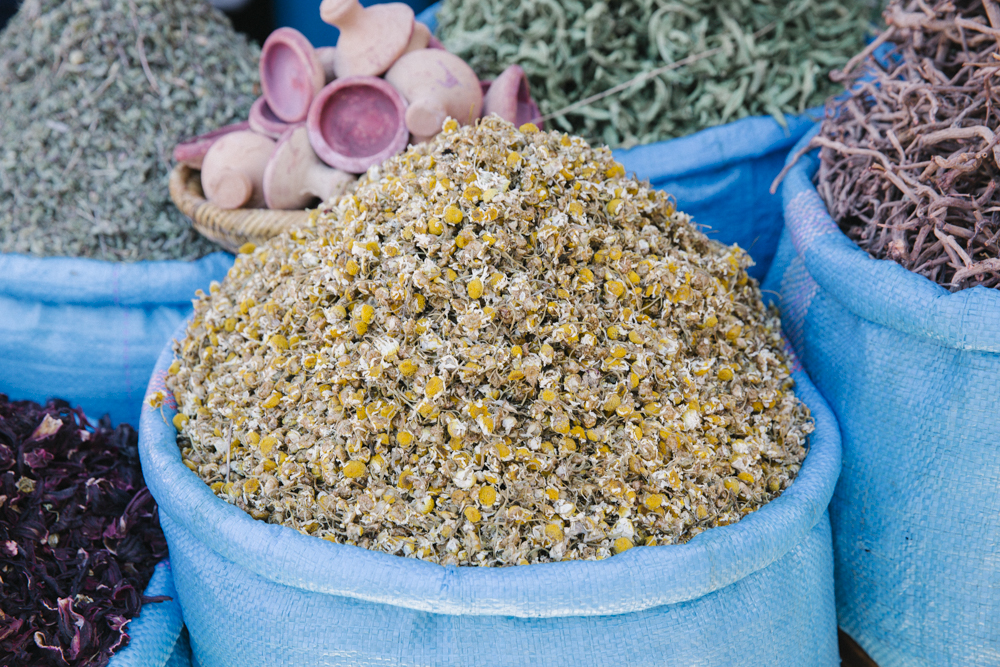 There was only one thing I longed to take home, but couldn't…
…one day.