It's hard for me to put into words how good this dip is!
The dreamiest marriage of warm, comforting pumpkin flavours with the nutty flavour punch of tahini.
It's the perfect thing for a cosy night in with friends, or just curling up with on the sofa to watch something captivating.
It's also an excellent reason to use my pumpkin bowls!
To make enough to serve 3-4 as a snack you'll need:
600g peeled and sliced pumpkin (the eating kind not the decorating kind, use butternut squash if you're not sure – this is particularly easy!)
1tsp chilli flakes
2 cloves of garlic, skin on
Big pinch of flaked salt
Juice of half a lemon (or a whole one if it's small)
1 clove of garlic, crushed
4tbsp tahini
Olive oil
Heat your oven to 200C/390f. Toss your pumpkin or squash (it's all gourd!) with a couple tablespoons of olive oil, your chilli flakes and a good sprinkle of salt. Add your garlic cloves.
Roast for 30mins, until soft and browning at the edges.
Once ready, put the pumpkin into a food processor (or you could use a potato masher in a pinch) and squeeze the garlic in there too, like toothpaste out of a tube. Discard the skin.
Add tahini and lemon juice. Blend.
If it's too thick add a splash or two of water to thin it out. Just do this little by little, or you'll end up with a pumpkin puddle.
When you're happy with the taste and consistency, pour into a bowl.
Serve warm with flat bread and chopped veg.
If you're feeling fancy, a drizzle of chilli oil and a few sesame seeds wouldn't go a miss.
Dive on in!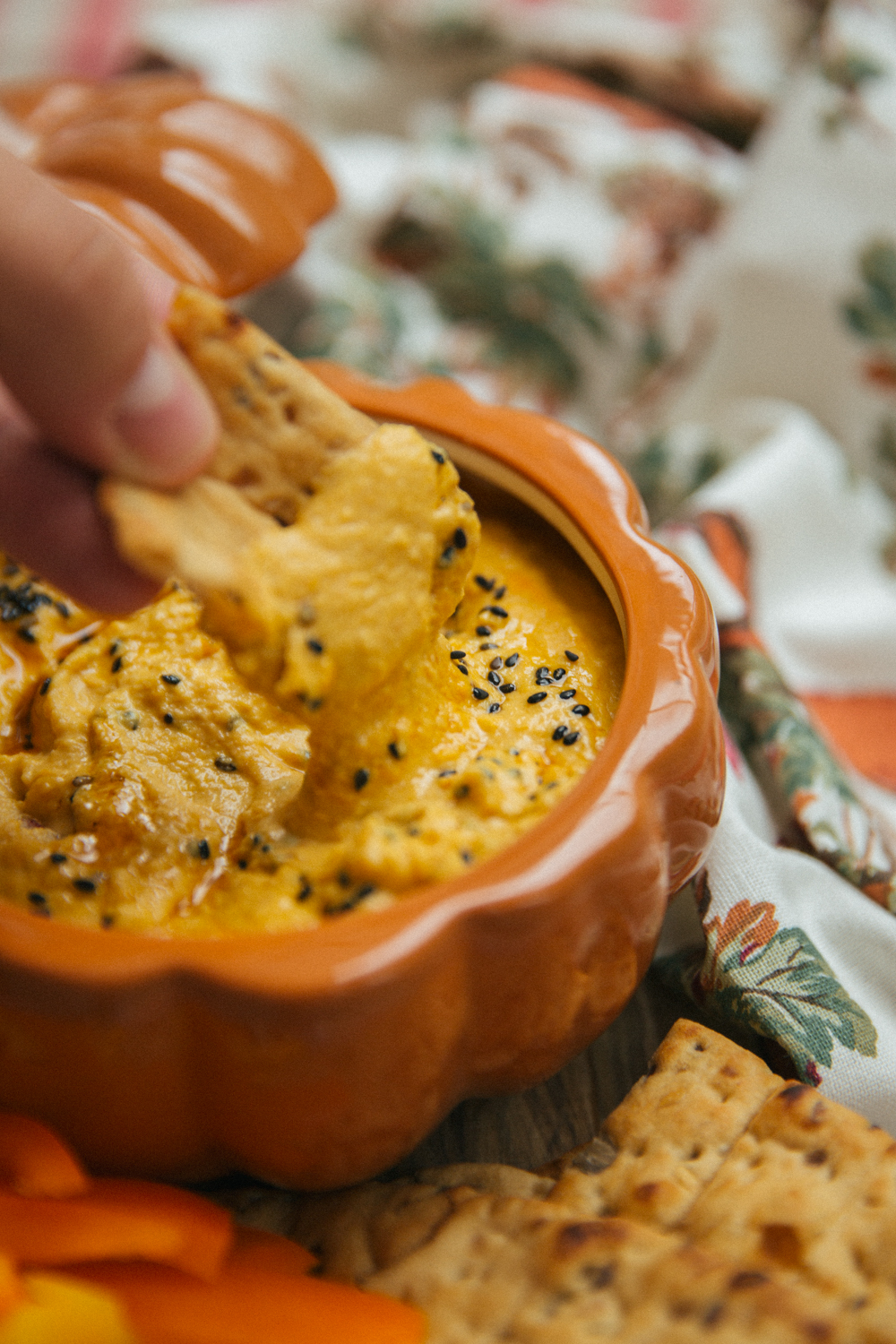 Comforting, cosy, spectacularly good for you and made for sharing.
It's the pumpKING of snacks!