Thanks to too many soppy movies, old family stories and Pinterest, wedding dress shopping has become something of a right of passage in many women's lives.
The idea of your nearest and dearest sinking into plush sofas, glass of champagne in hand, wiping away a small tear as you emerge in "The One" is something I've had since I was little and remember doing just that with my big sister. Perhaps the first time I ever cried with something other than sadness* was seeing my heroine emerge in a pale pink cloud of tule, twirling in front of huge age speckled mirrors, gold mane of curls tumbling over her shoulders while mum looked on enraptured.
*Tears of joy are now a regular feature in my life, I wept buckets when meeting each of my nieces and nephew for the first time, and now even a good greeting card will get me going! 
I thought it only fair that while mum was in town we go and try on a dress or two, so we went to Browns Bride.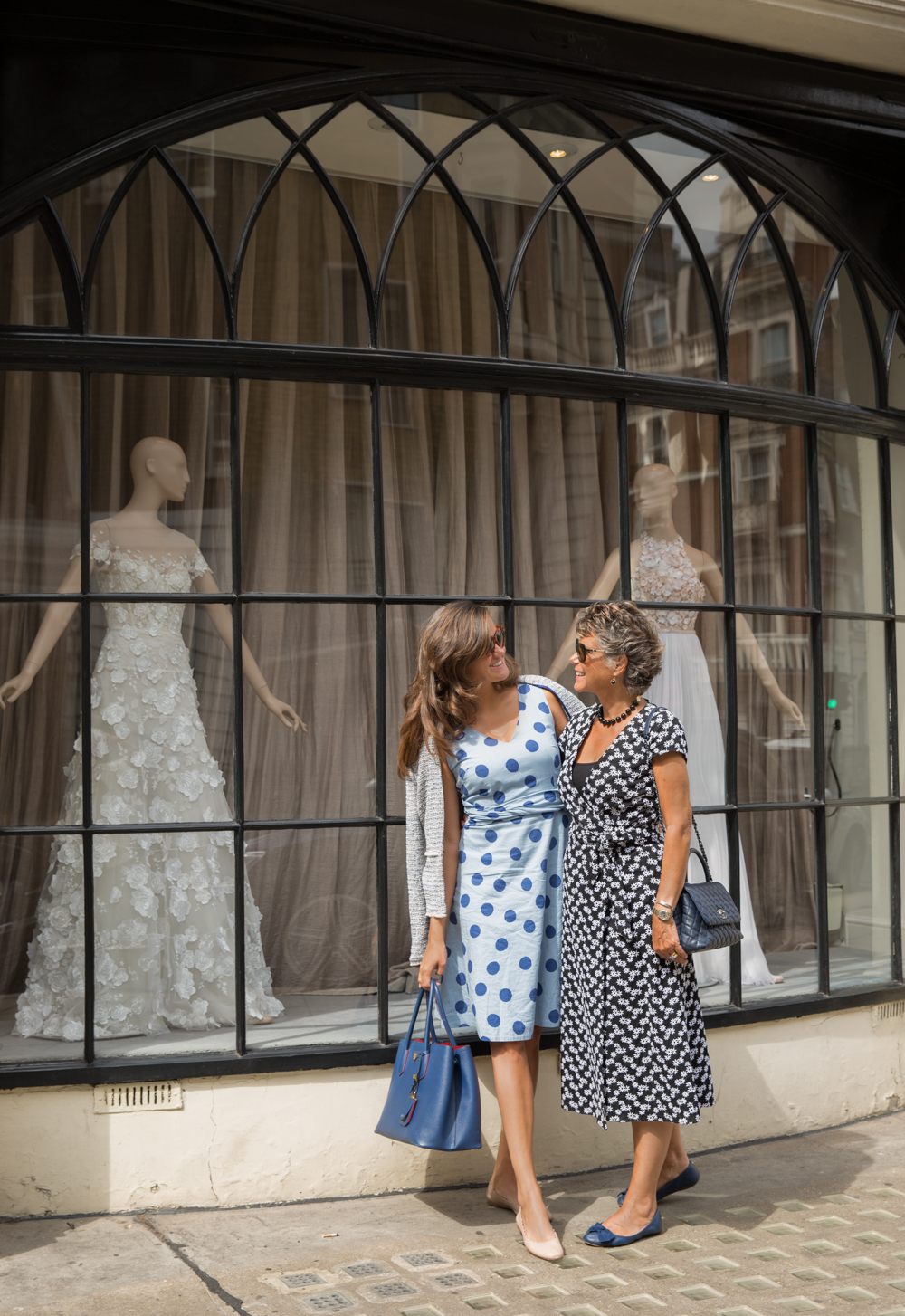 Where we were greeted with warm smiles and chilled champagne.
Which we soon abandoned in favour of other sparkles…
Diving into a sea of tule, embroidery, beading and silk.
Delicate, frothy creations floating along every wall.
With no idea what style I wanted, Parisa brought a selection.
Starting with the creation made of tumbling blossom…
Galia Lahav's "Arabella" dress.
Covered in delicate flowers, crystals and lace. The clever illusion sleeves make it seem as though the blossom twirls around your arms like a Disney princess caught in a breeze.
Next, something a little simpler.
Monique Lhuillier's "Gracen" dress.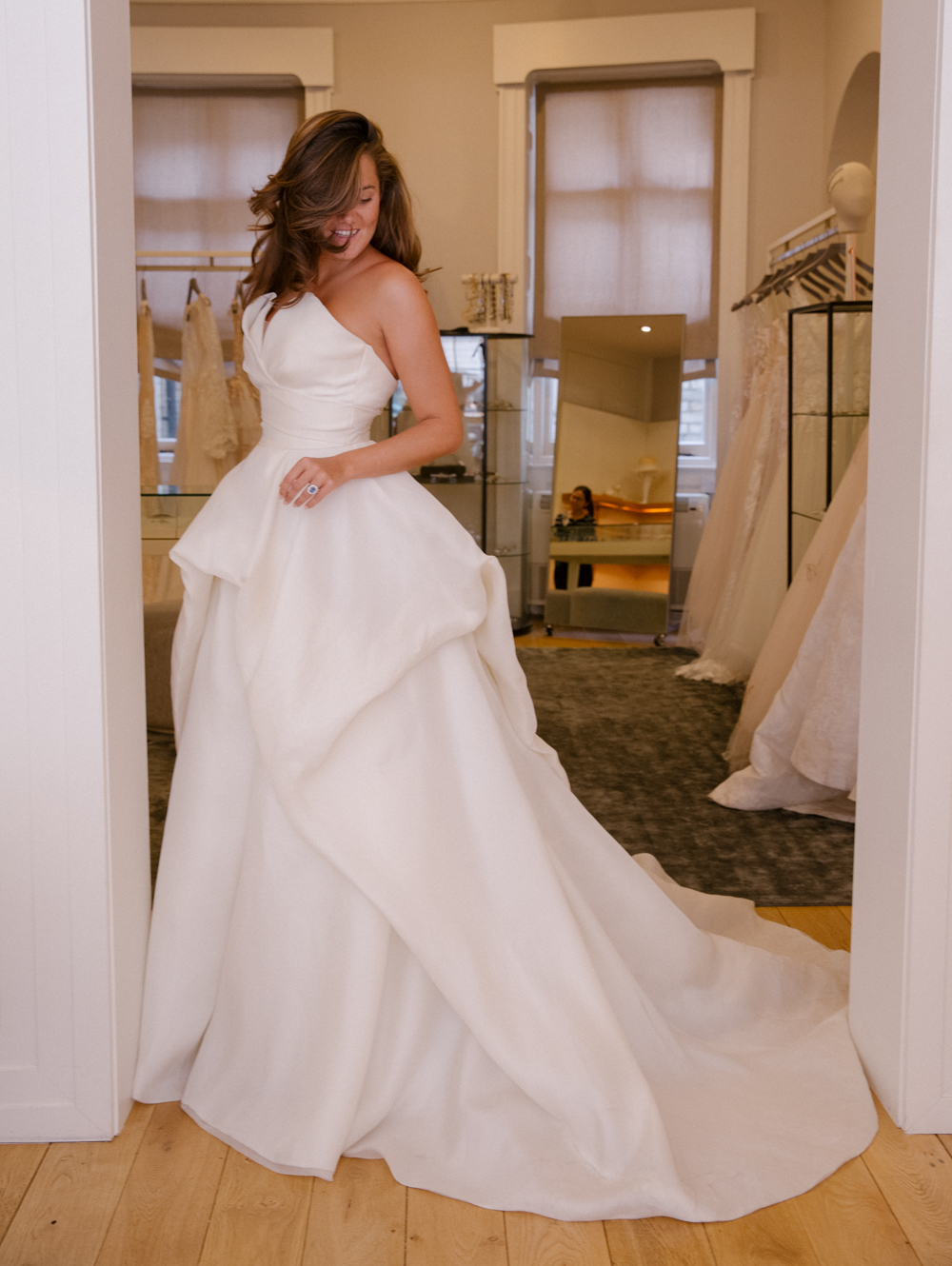 The most beautiful light silk, gathered to look as though it's just been draped and pinned around you.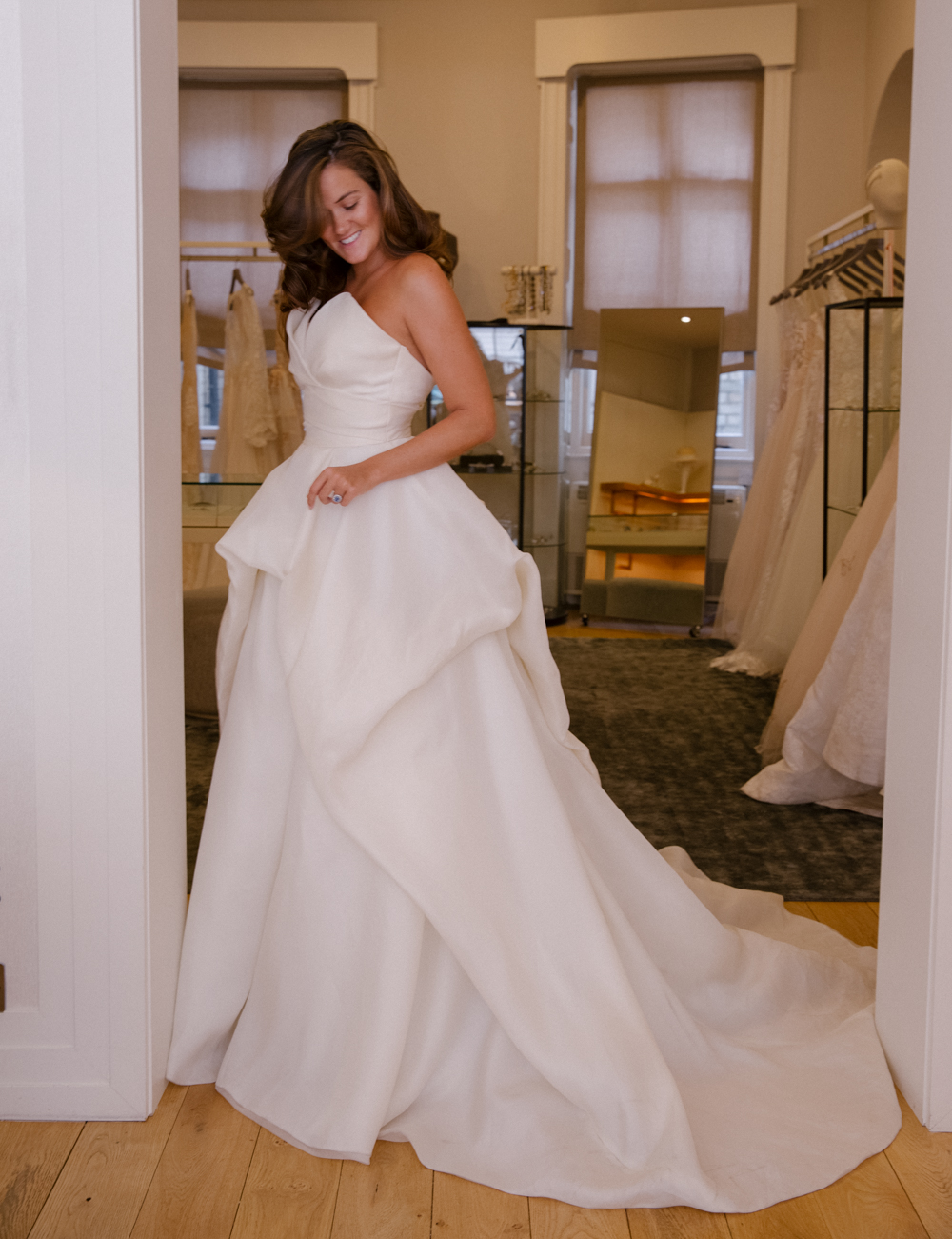 Perfect in it's perceived simplicity.
Now, wedding dress shopping wouldn't be quite the same without a few clucking hens!
One of my favourite people, Rosanna, also got engaged quite recently (she is way further ahead with planning than I am, having booked the church, venue and every hotel within 10miles almost immediately! She's my motivation.) we thought it would be fun to try on our first dresses together.
Particularly fun as we have different styles, my poof combined with her boho vibe couldn't have been more perfect, just look at this…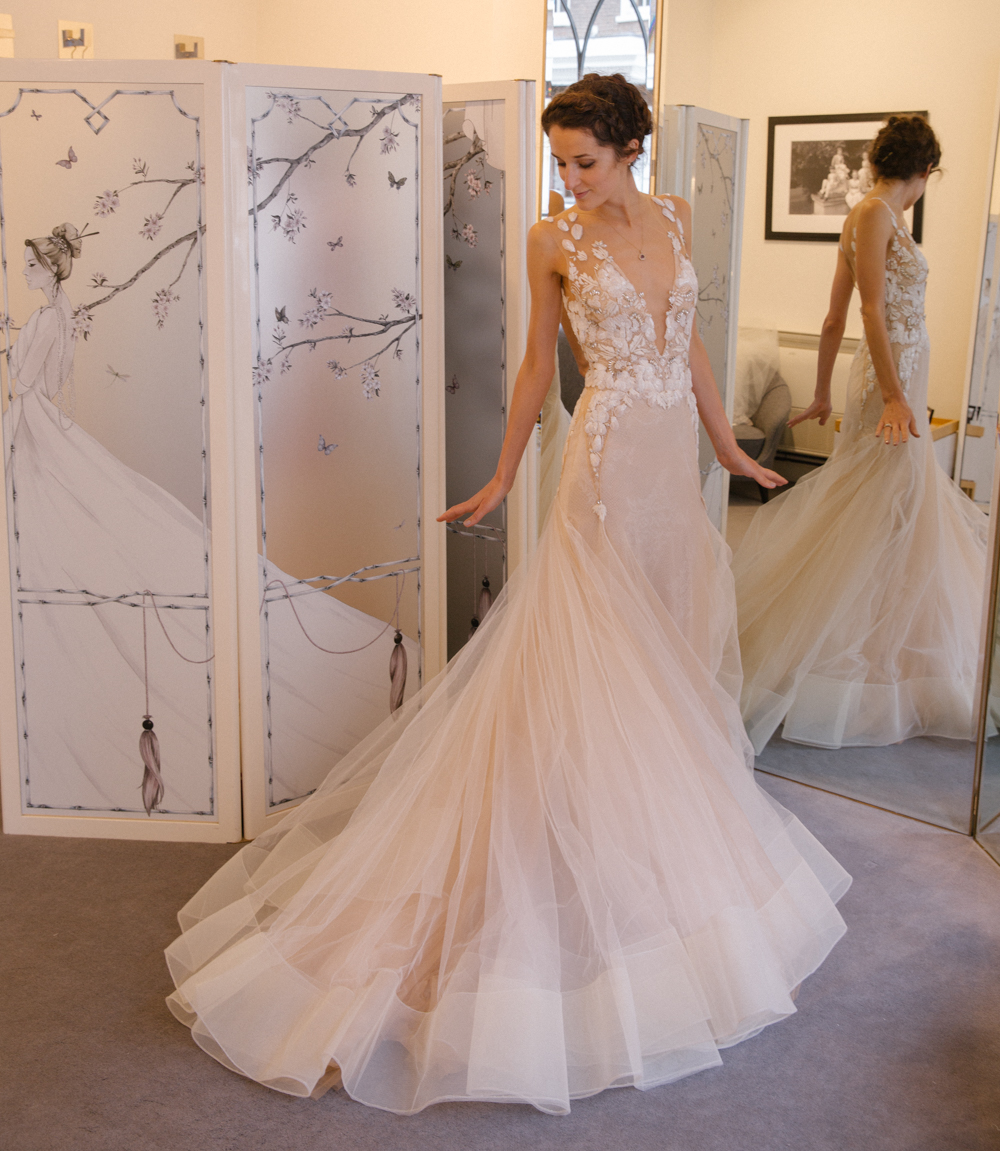 Galia Lahav's "Lauren" dress. 
A sheer mermaid dress made entirely of silk tulle and hand embroidered blooms. 
Just so beautiful on Rosanna's delicate frame.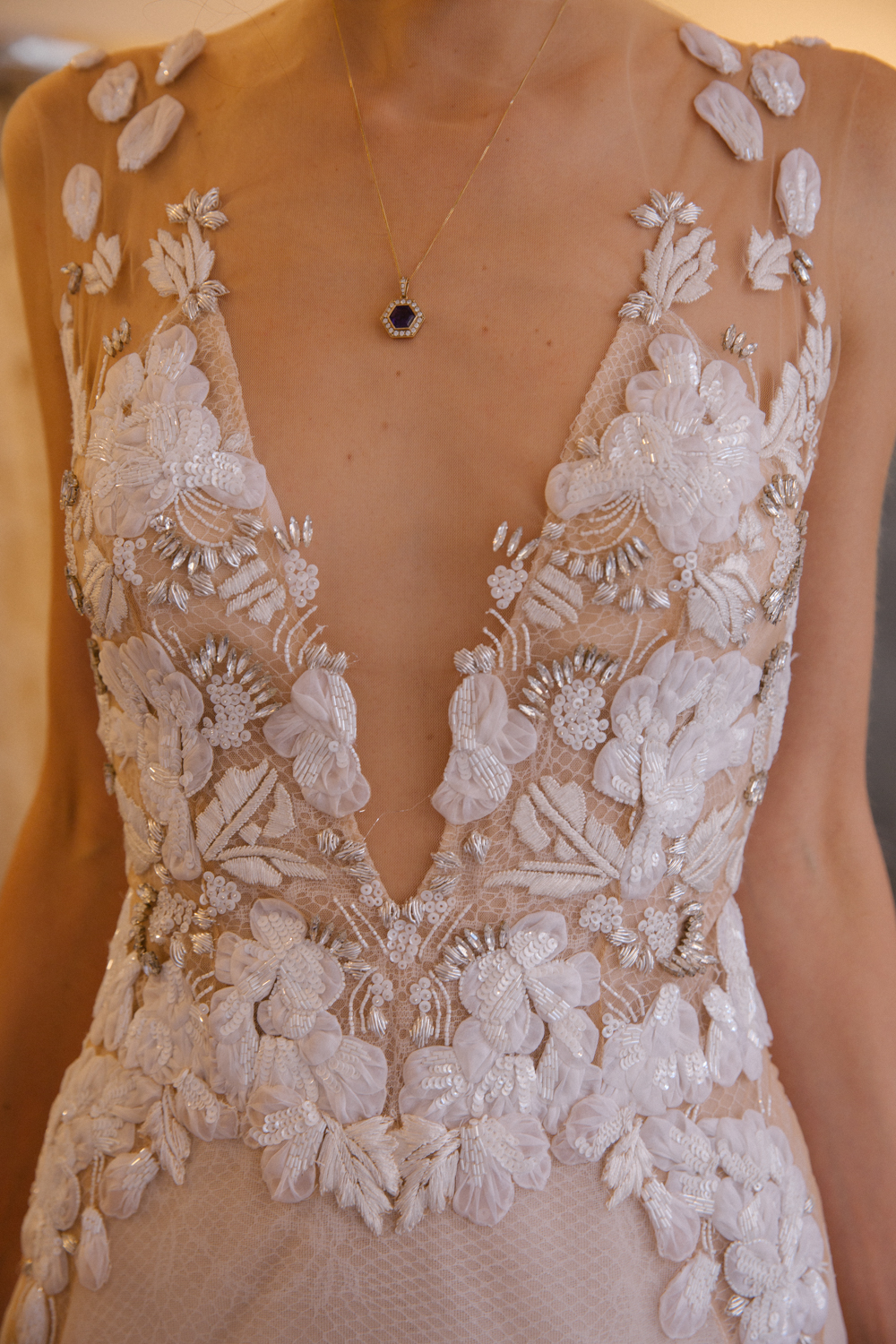 While I slipped into another option, the others chattered away about engagement stories and wedding plans.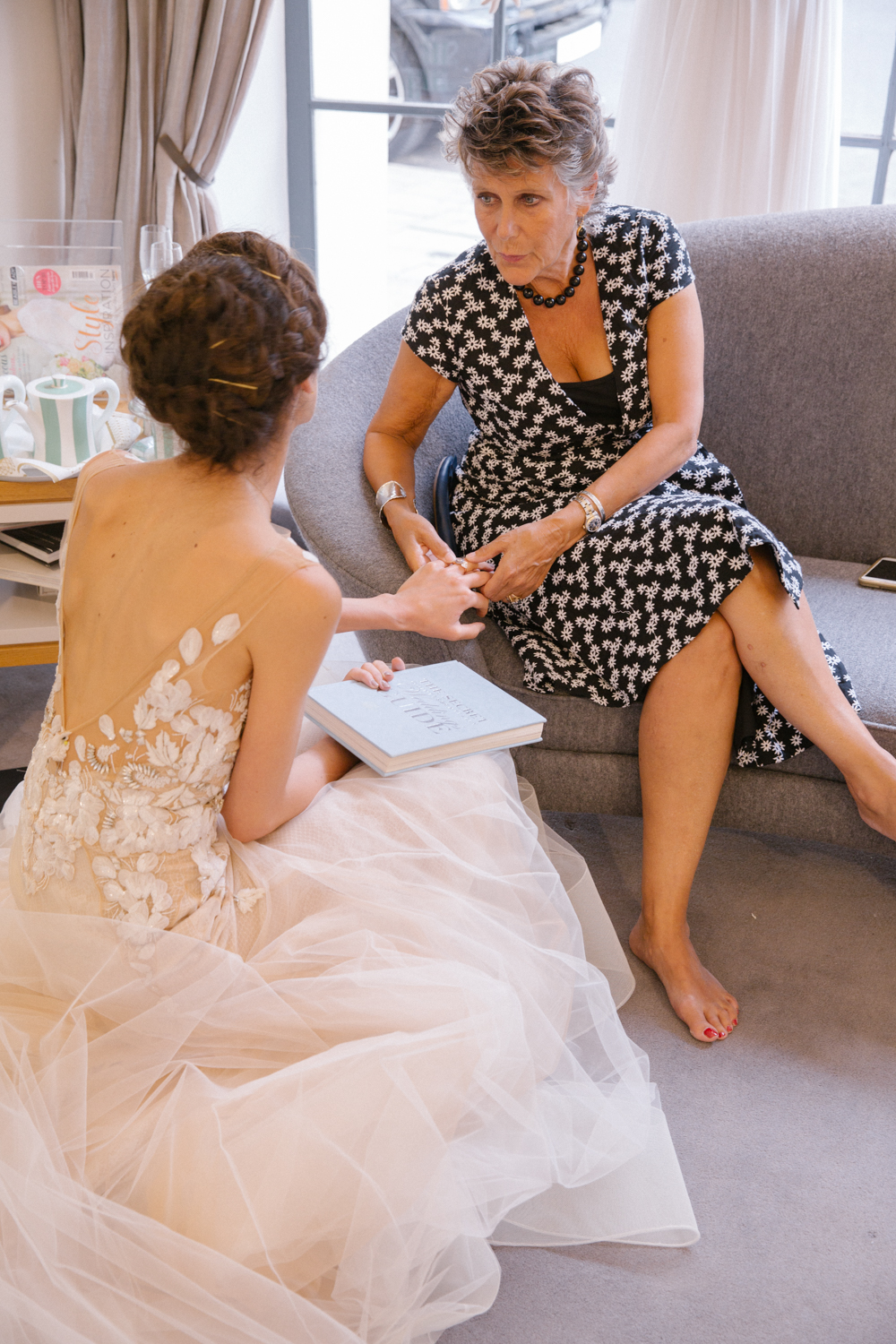 Mira Zwillinger's "Sophia" dress. 
Silk tulle and applique. 
Light as a feather, perfect for a destination wedding I think.
Though perhaps a little distracting for someone with my… figure.
I've always loved the idea of long sleeves on a wedding dress, so tried Monique Lhuillier's "Rhapsody".
While R poured on another gorgeous barely there beaded number.
Galia Lahav's "Harper".
Can you imagine how fabulous it would look glittering away on the dancefloor?
Or this train from Lahav's "Kiera" dress?
While Rosanna practiced her twirls, I stepped into a whirlwind of tule.
Marchesa's Rosette.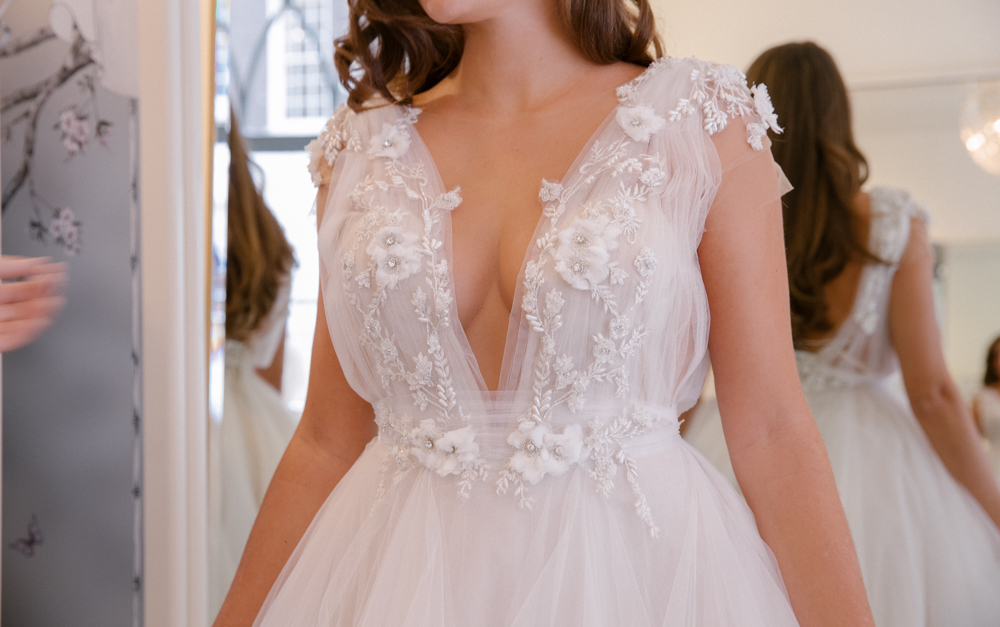 Does anyone do romance quite like Marchesa?
Still not sure about the plunging neckline I asked for something a little more traditional, and was introduced to Monique Lhuillier's "Tresor".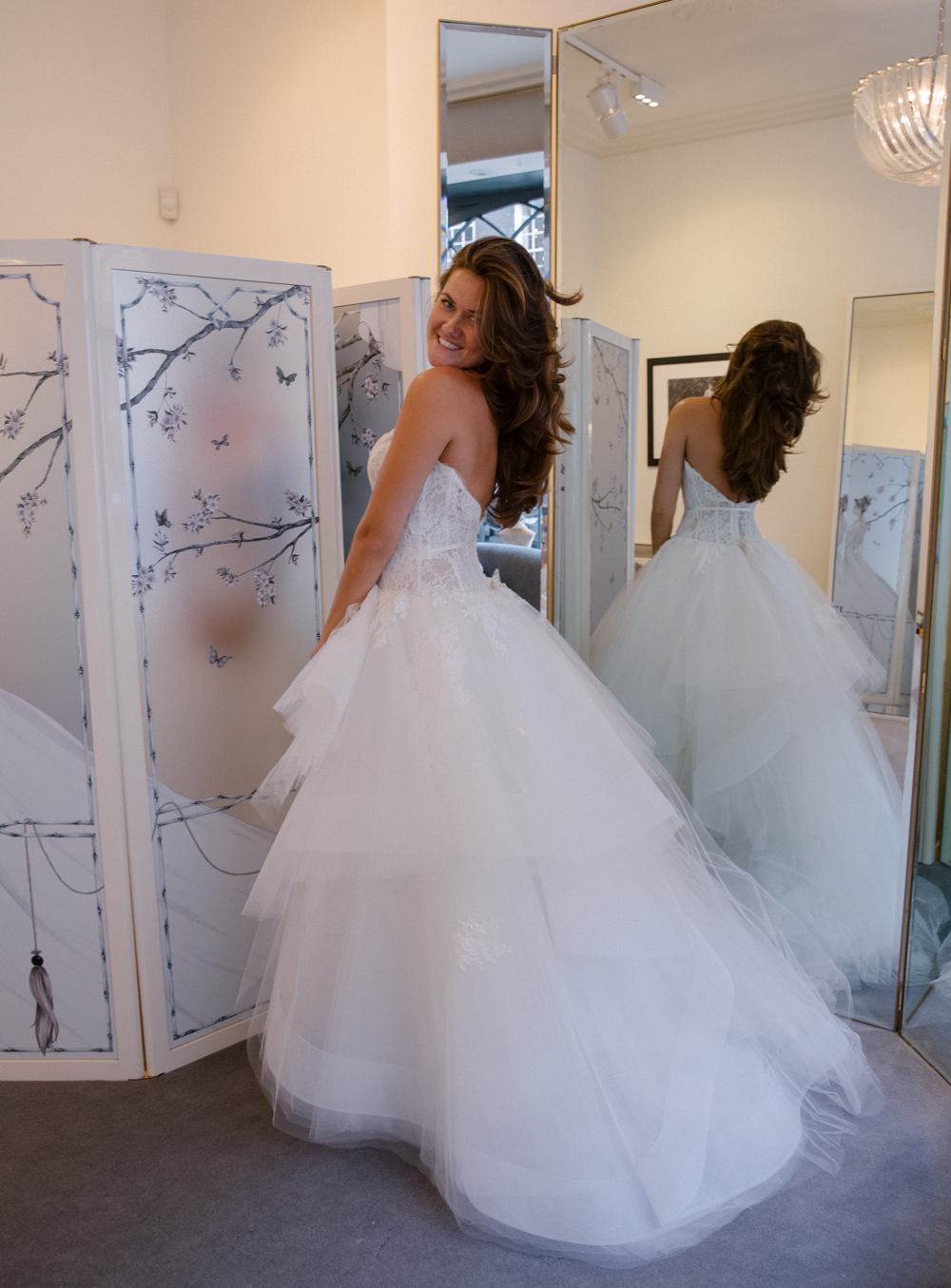 It wasn't until we added a veil that the waterworks started!
Suddenly it all felt so real and that perhaps we weren't just little girls playing dress up after all.
Not that the grown-up feeling lasted long, you understand…
Rosanna felt just the same when adding a veil.
And the sass just kept on coming once a tiara was introduced!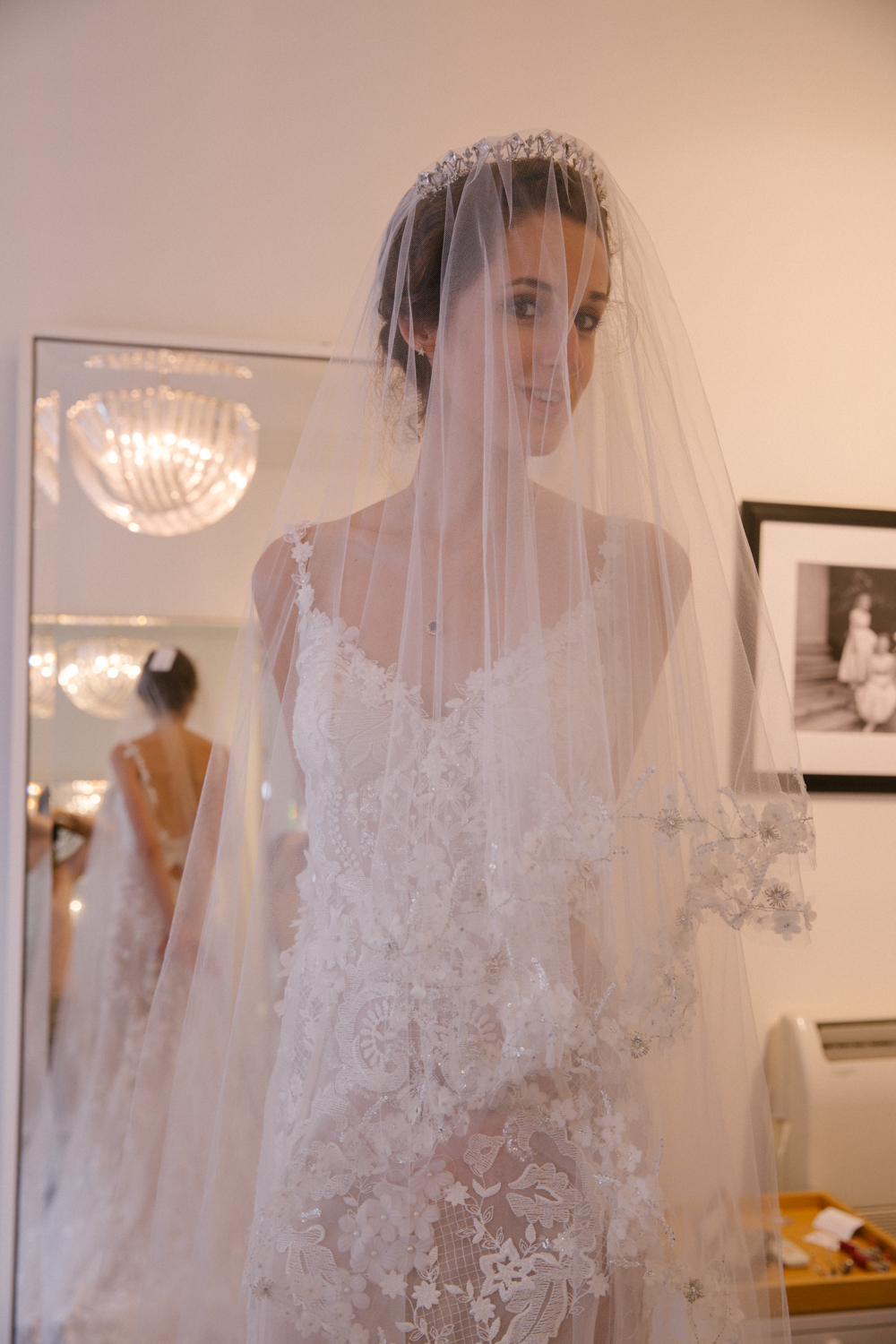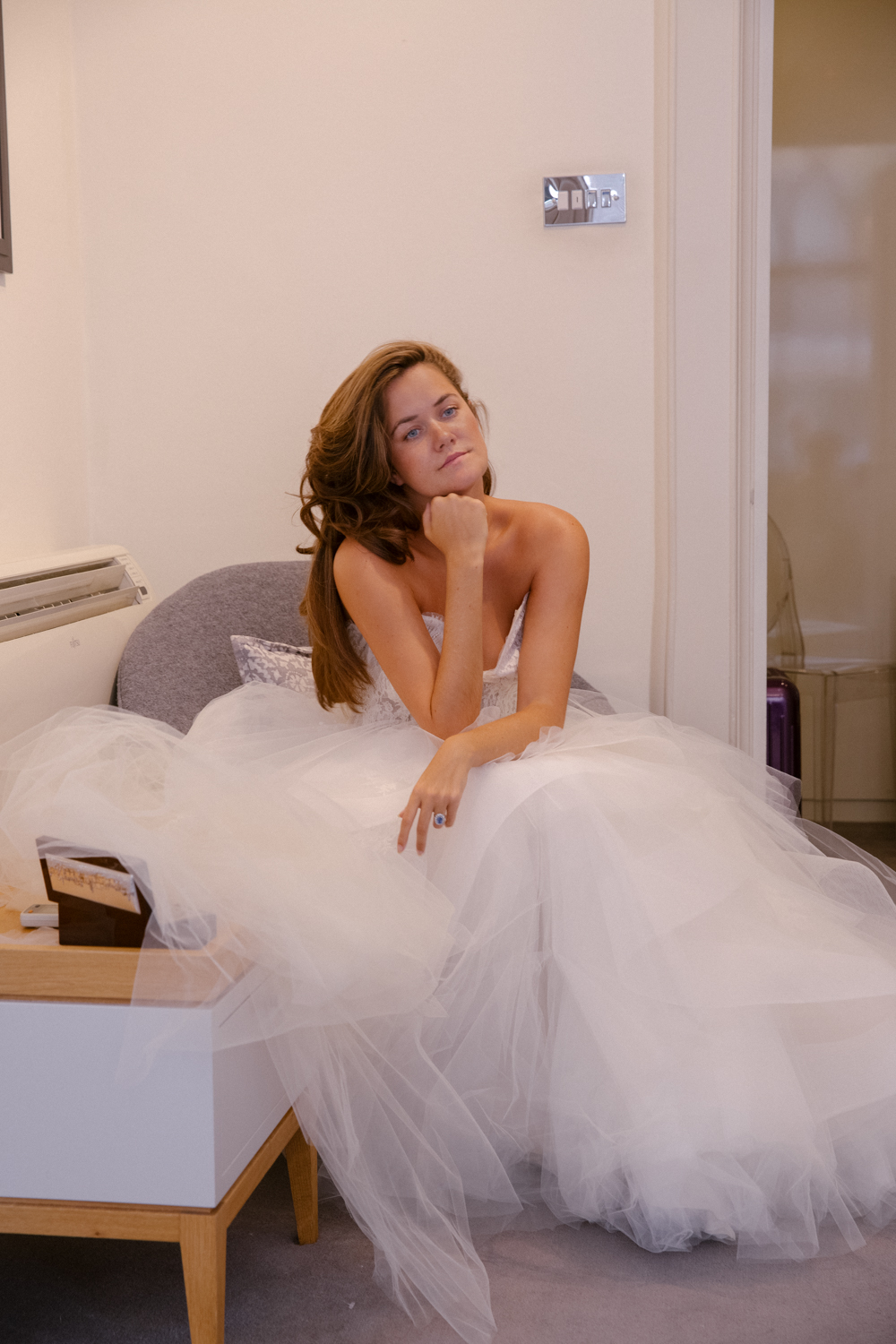 We looked on while R slipped into one final creation.
Ines Di Santo's "Madrid".
Complete with the most beautiful sleeves and lace detailing.
Divine on Rosanna's teeny tiny waist.
With one last trick up her sleeve, Parisa brought out the ultimate show stopper.
Romona Keveza's "RK7496", ironic that it should have the least romantic name! 
We had an absolute ball trying on dream dresses, we shed a few tears and tried to breathe it all in, keen to savour every memory (as fingers crossed we only do this once!)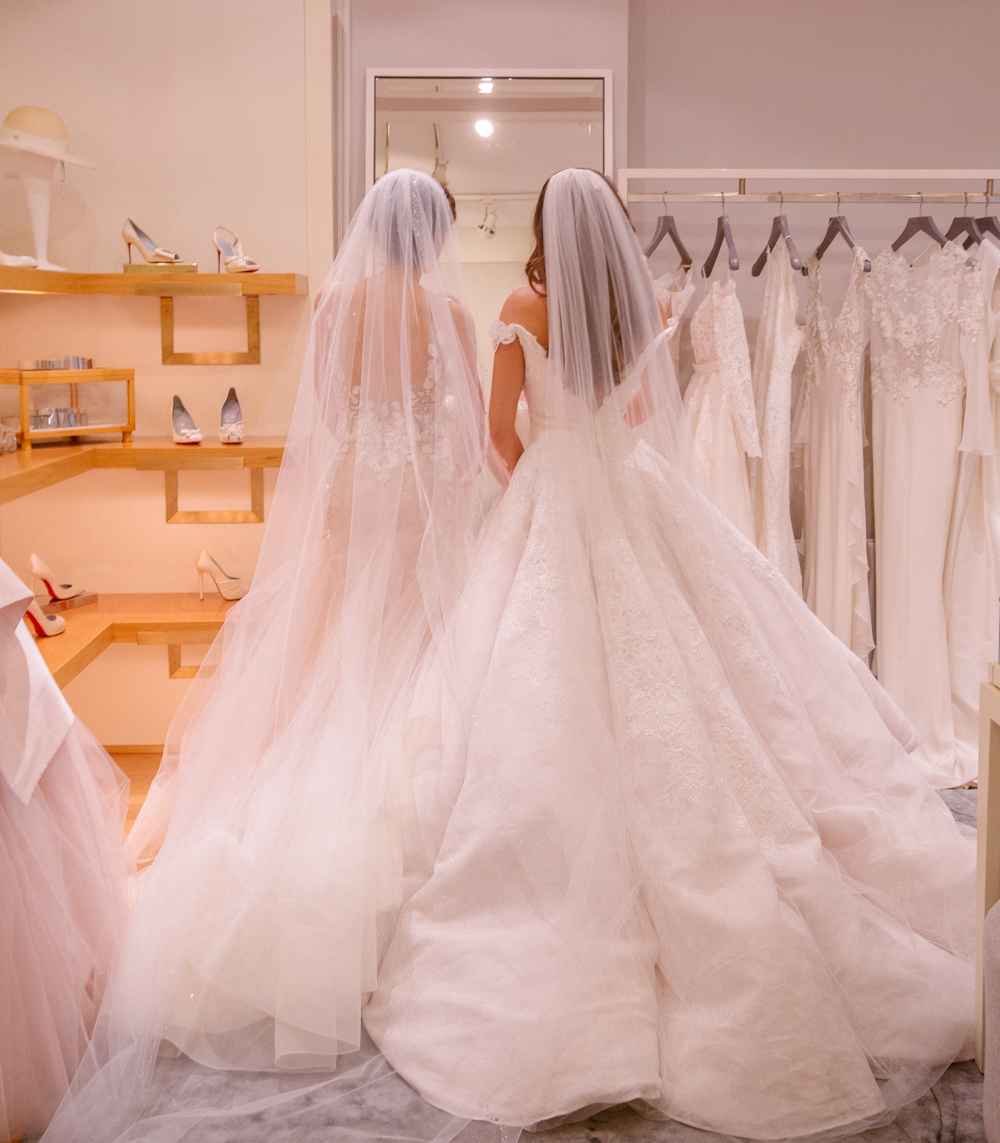 While we may not have found "The One" just yet, we know the hunt will be a fun one!
And if there's one thing I know for certain, this one…
…is going to make the most beautiful bride.