Nazarenos (the hooded people you'll see marching through the streets of Spain en masse, carrying candles and huge sculptures of weeping Marias, beating drums – and sometimes themselves) are Spanish Catholics doing penance for their sins during Holy Week.
The processions are solemn things to behold and somewhat eerie at night. The pointed hats were thought up by the Spanish Inquisition who used them to humiliate sinners, the church decided to keep them going. The hoods covering everything but their eyes are for secrecy.
Easter is serious business in Spain, but it's hard not to see a lighter side when you spot a lone Nazareno going about his business during the day. 
During the main processions, the bars quieten down for a moment or two.
Allowing you just enough time to snag a table and order a drink before the hoards return.
Casa Placido is a favourite of mine.
A remnant of the Spain I remember from my childhood spent in Andalusia, in fact I doubt it's changed much since 1880-something.
Plastered in flamenco and bullfighting posters from a time before pop stars.
Grab a table outside and watch the world go buy with a glass of vino, and some simple but excellent old school tapas.
Order the jamón, machego, paella, ensalada Rusa, and my personal favourite – gambas rebozadas (prawns in this fluffy, cloud like batter – best dunked in aioli!)
The wine is exceptional and at under 2€ a glass, you could happily set up camp here all evening.
The people watching's top notch.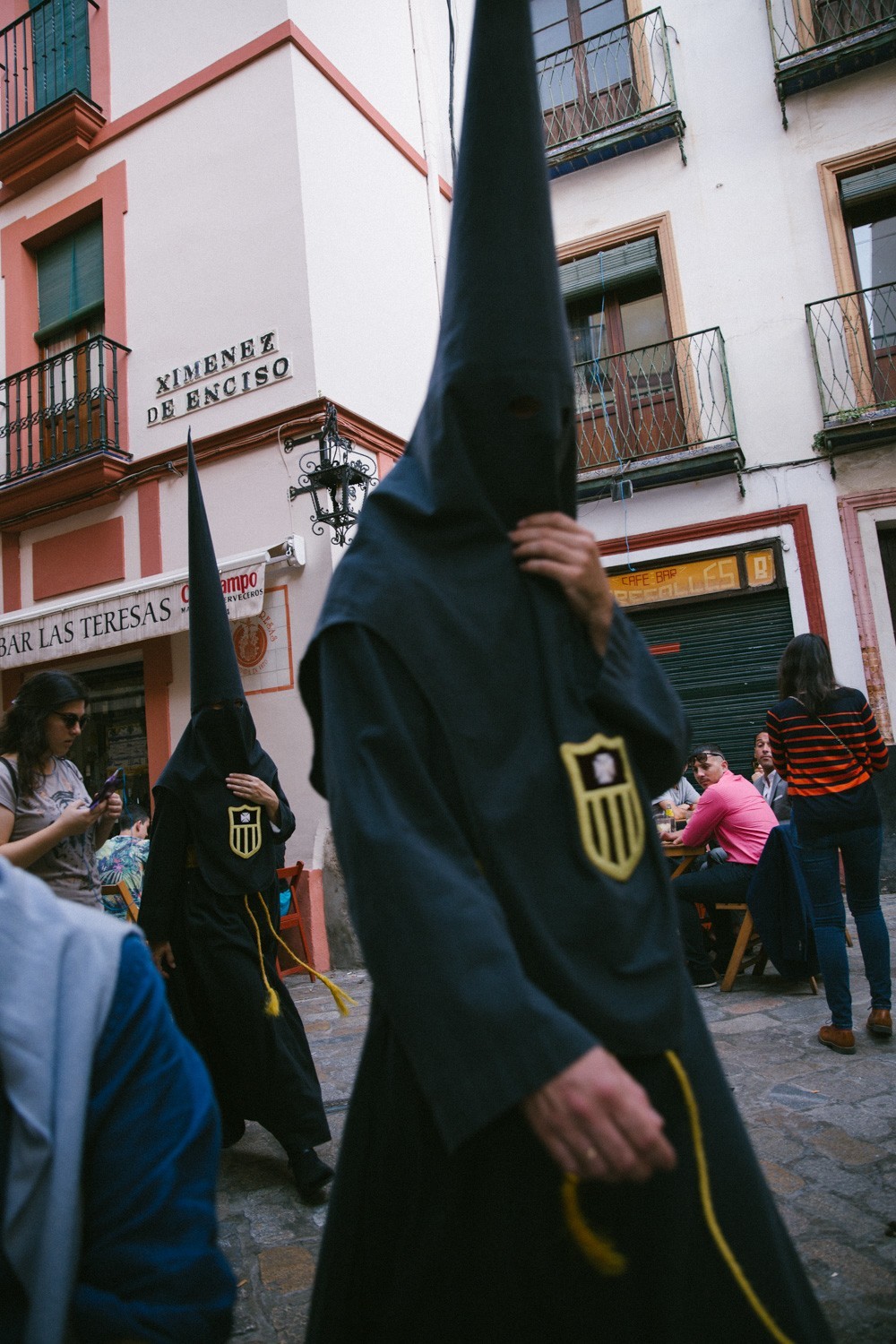 If you're single and ready to mingle, it's also a great place to hang out!
Dapper, suited and booted Spanish gents will come over and introduce themselves in a heartbeat and pretty girls mingle around the tiny square hoping to be invited for a glass of wine.
Put Tinder down and go the old fashioned route!
There's certainly no better way to brush up on some Spanish.
A few years ago I'd have flirted the night away with the best of them, but instead my betrothed and I went for a sunset stroll in the Parque de María Luisa.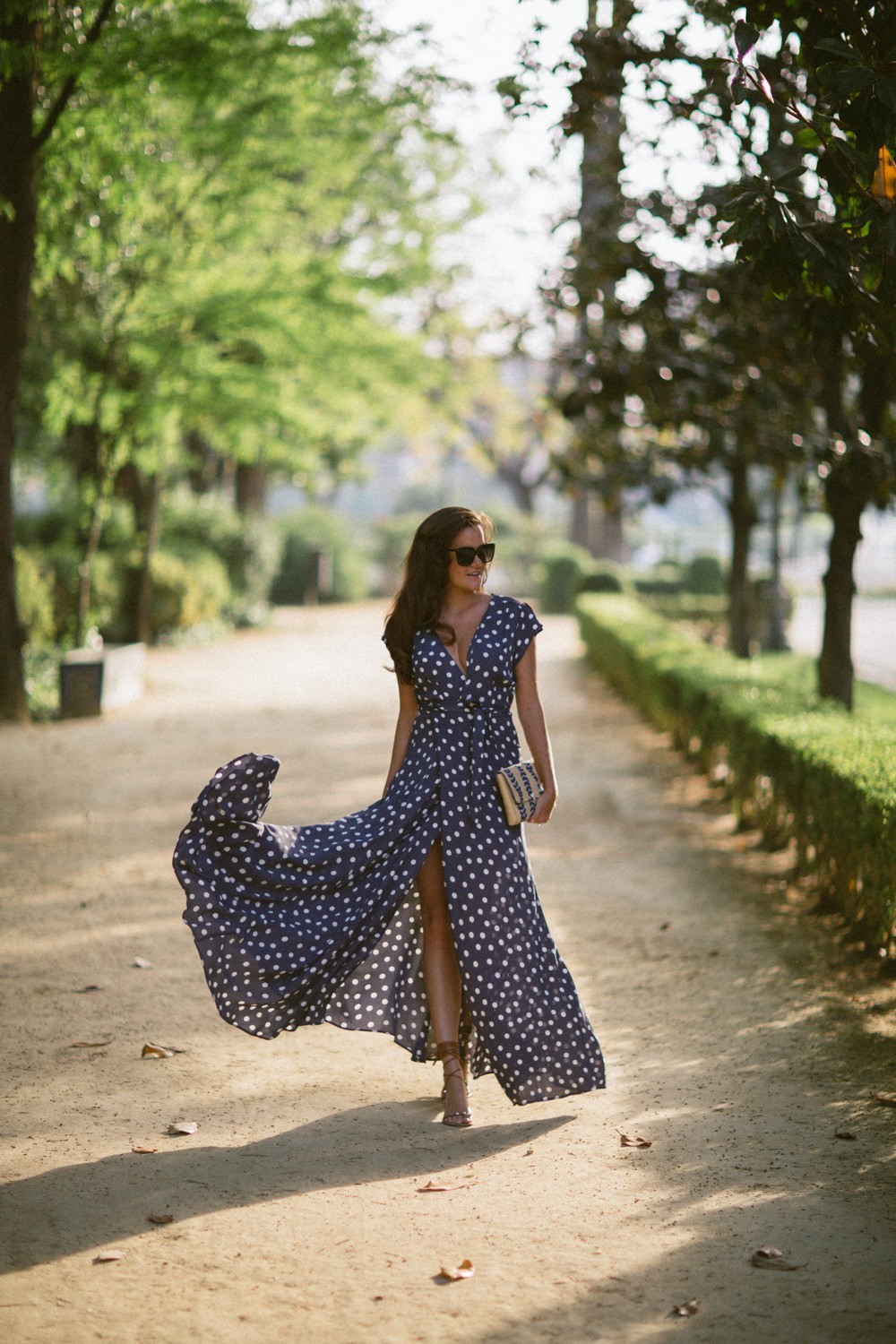 Breathing in the warm and fragrant evening air, heavy with the smell of oranges and cut grass.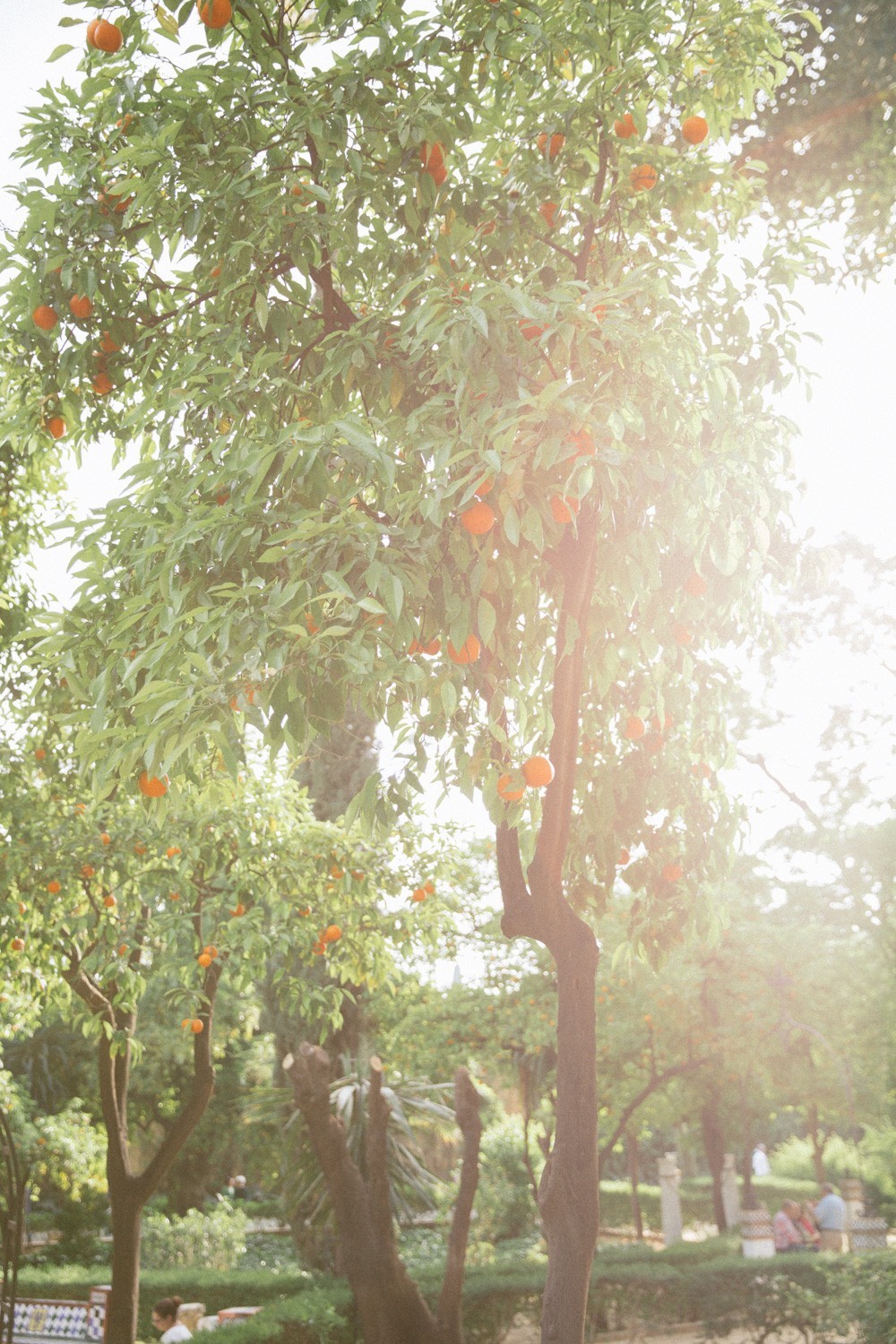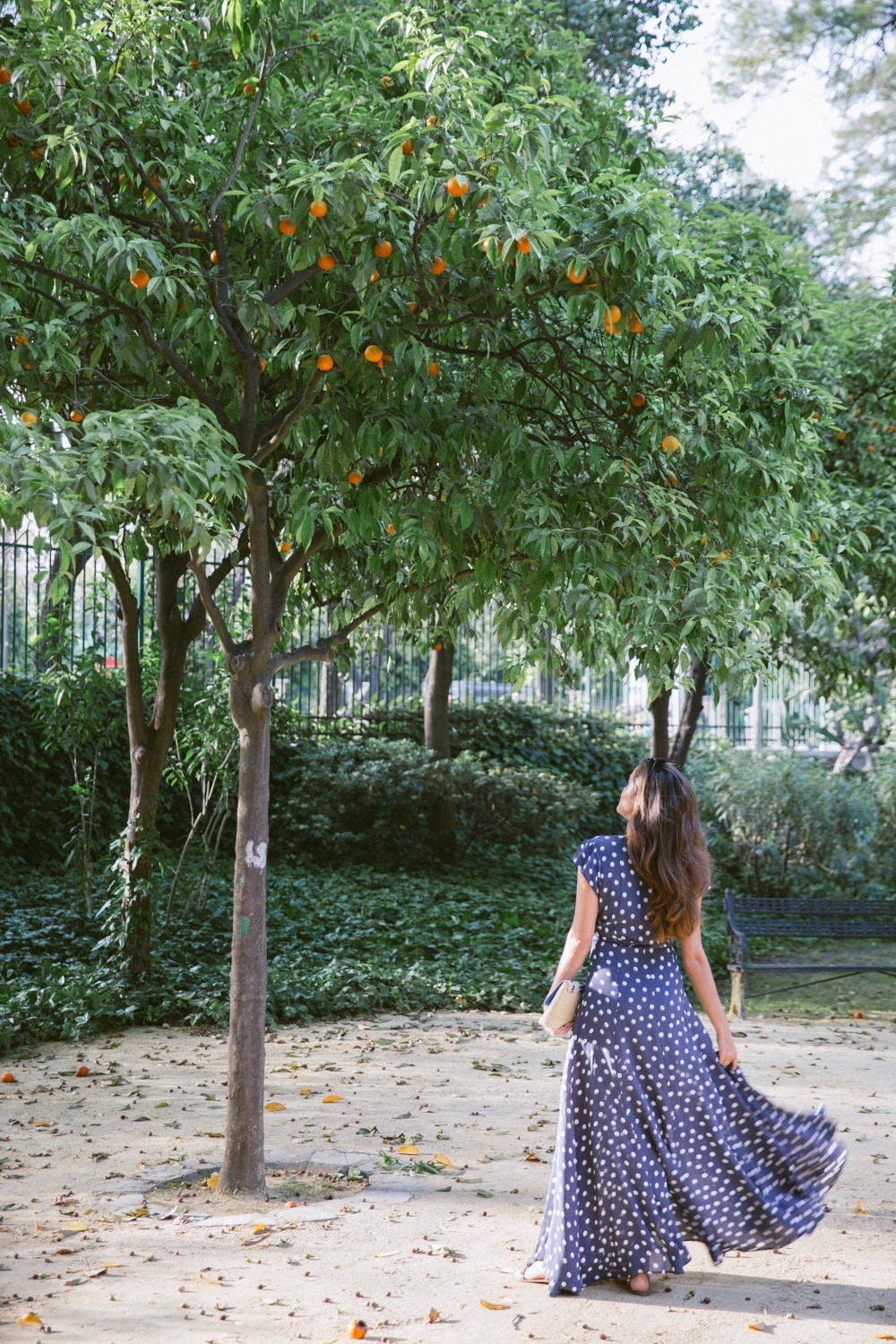 Polka dot wrap dress – also in pink!
Raffia clutch // Rockstud sandals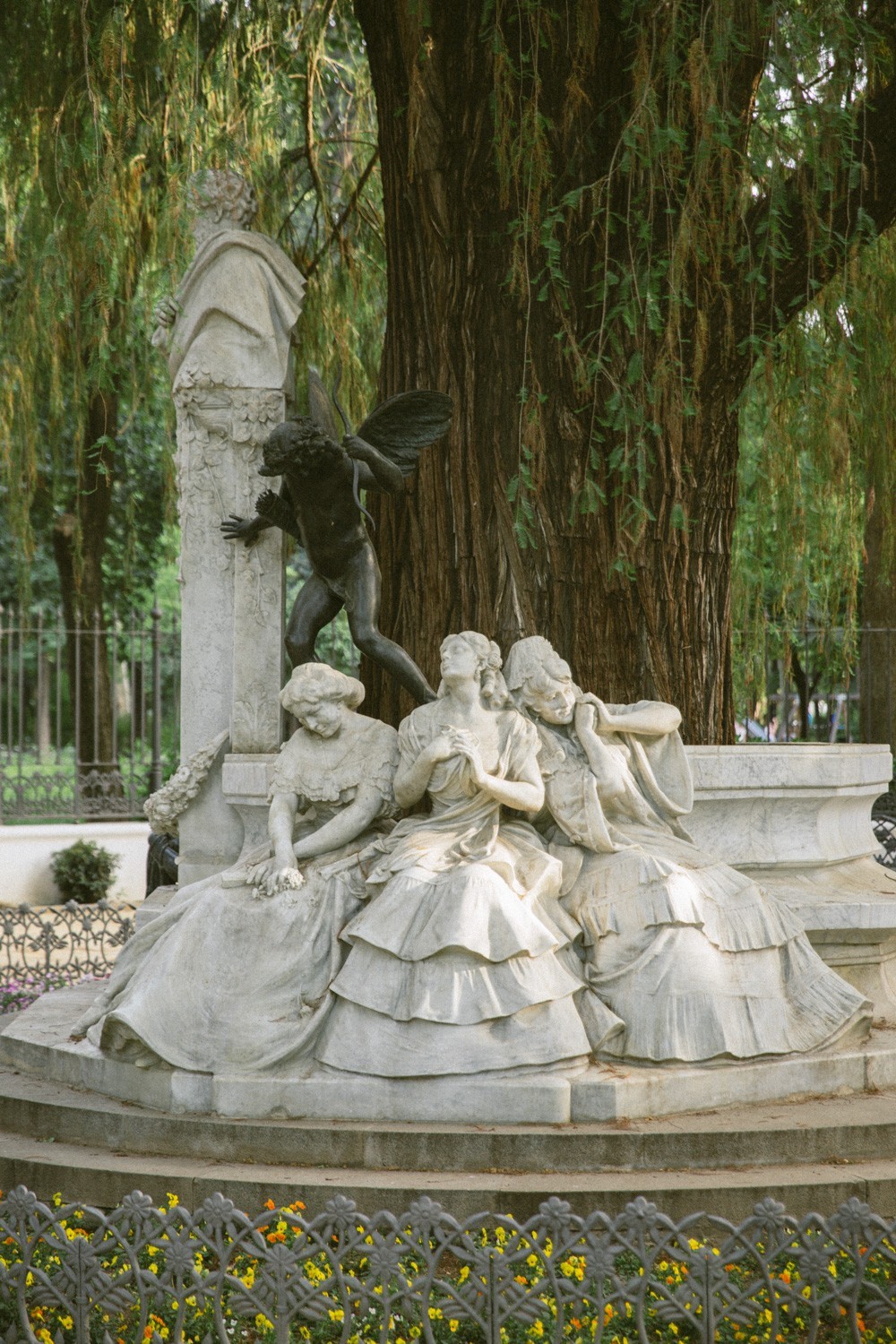 Joining the girls in hiding from cupid in the rose garden.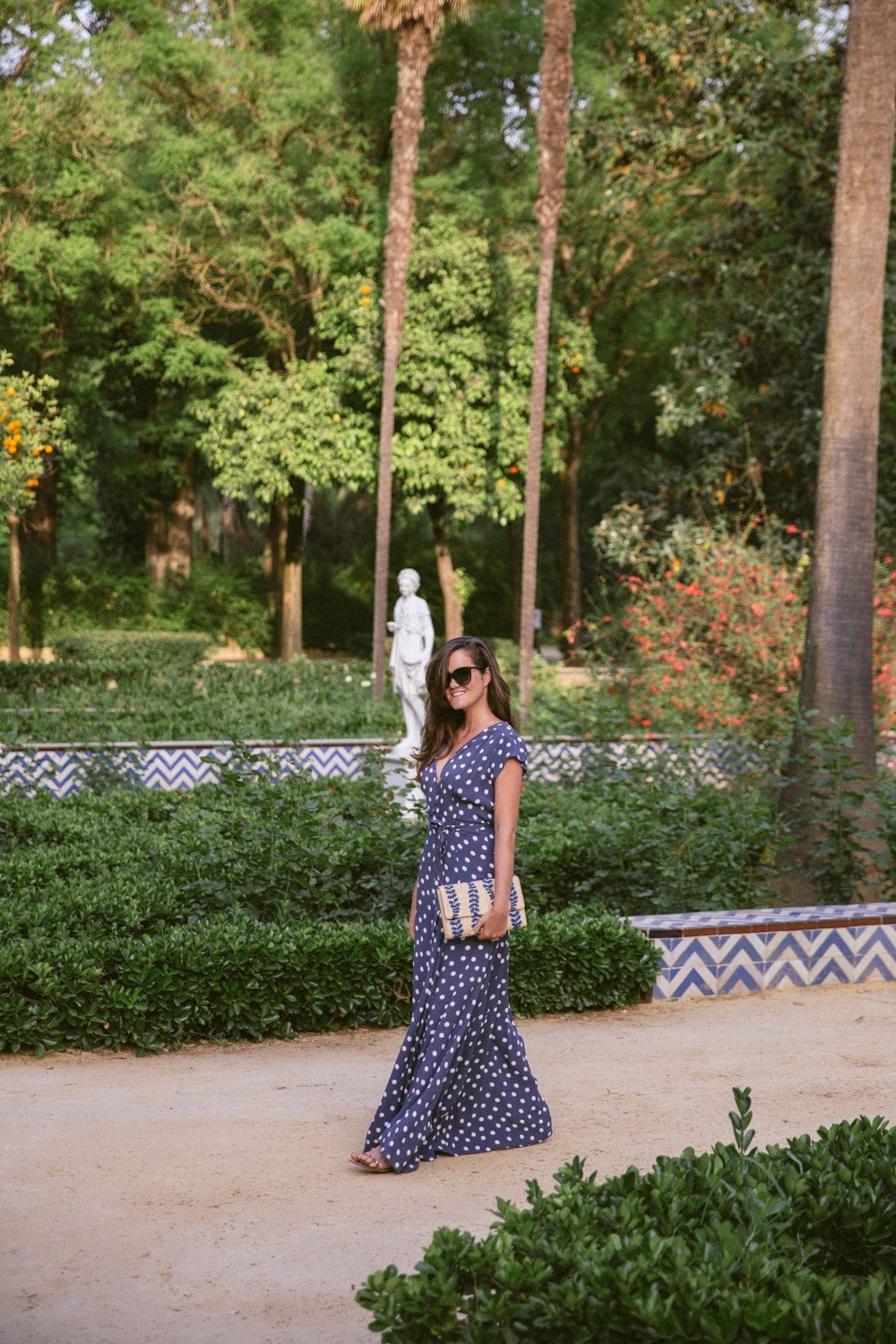 Stealing oranges…
…and generally getting upto no good in the abandoned park.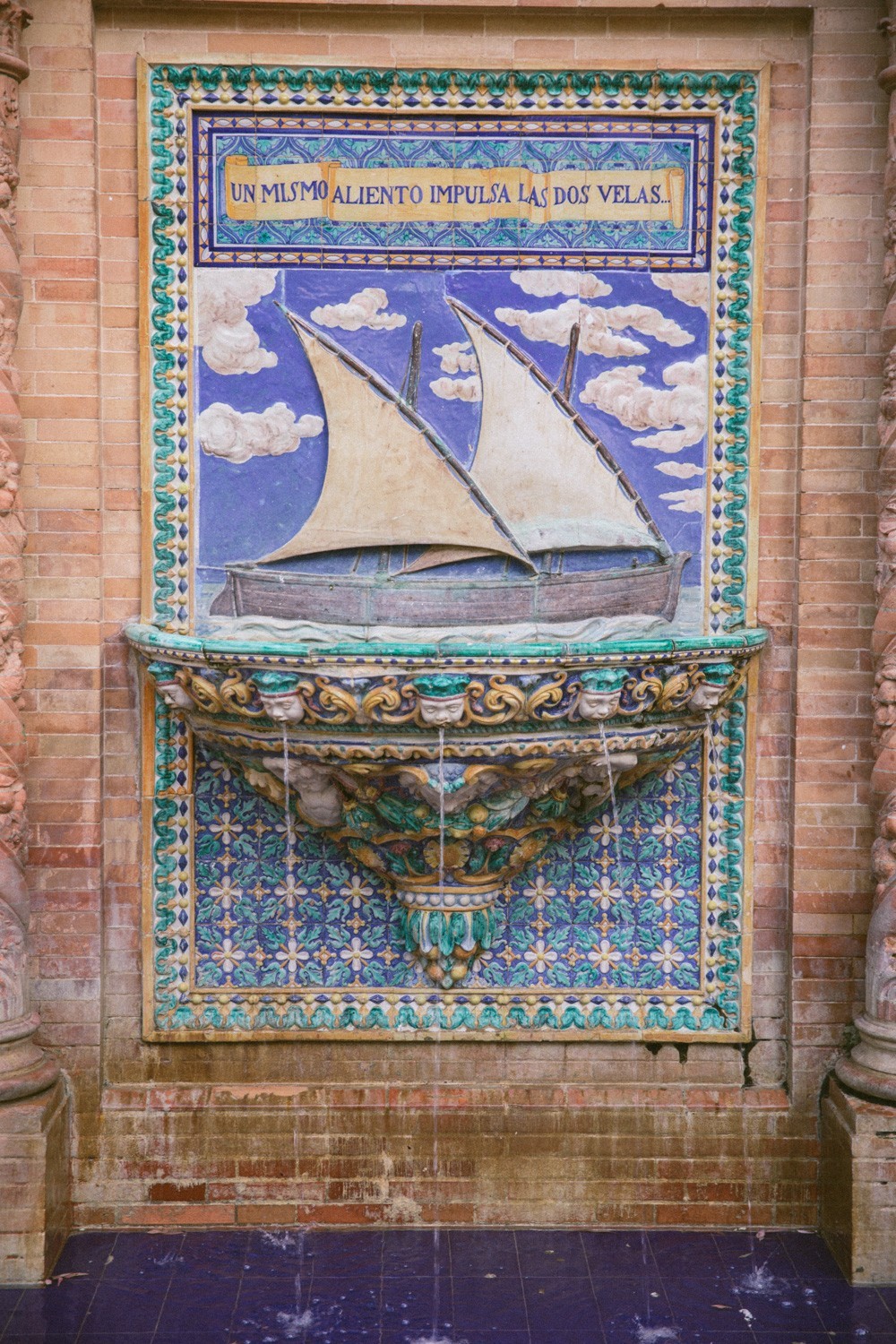 With the world and his wife back in town enjoying the celebrations, we had the place to ourselves.
Leaving us alone to dance in the dwindling golden light.
Before heading uptown for a second supper I'd been very much looking forward to.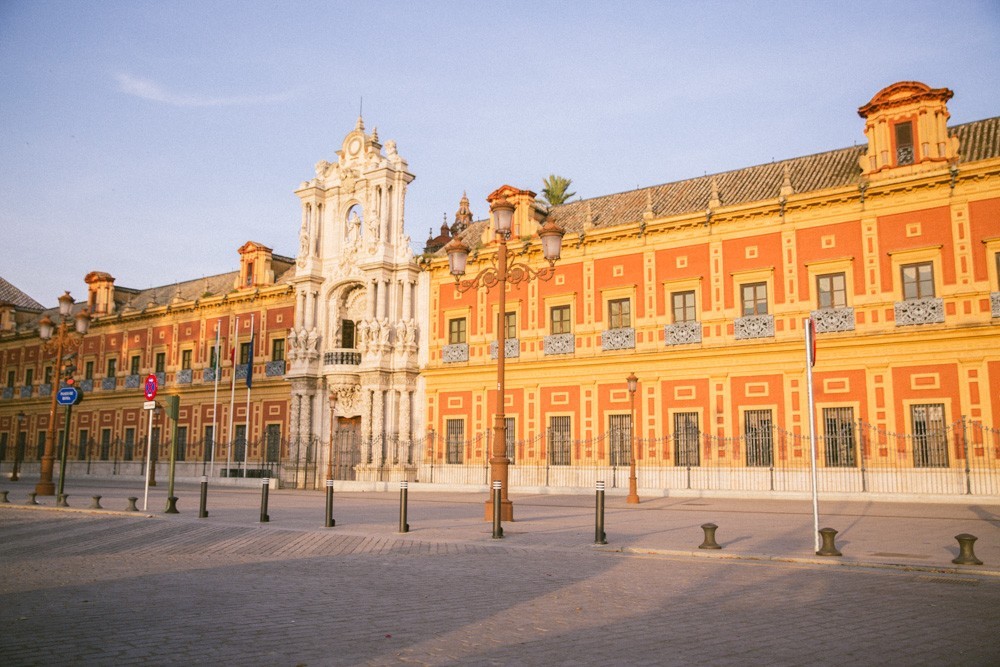 Eslava, my absolute favourite restaurant in Seville.
Choose between the sit down restaurant (fancy) or jostle for space in the tapas bar (casual).
We went for the latter.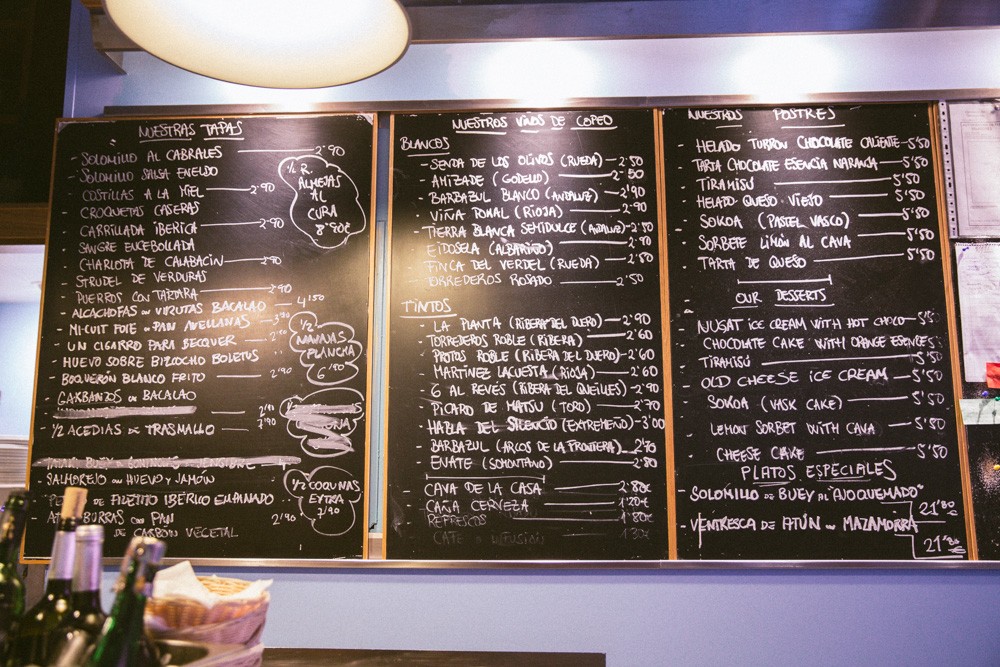 Starting with huge juicy olives and even juicier glasses of cold white.
In excellent company!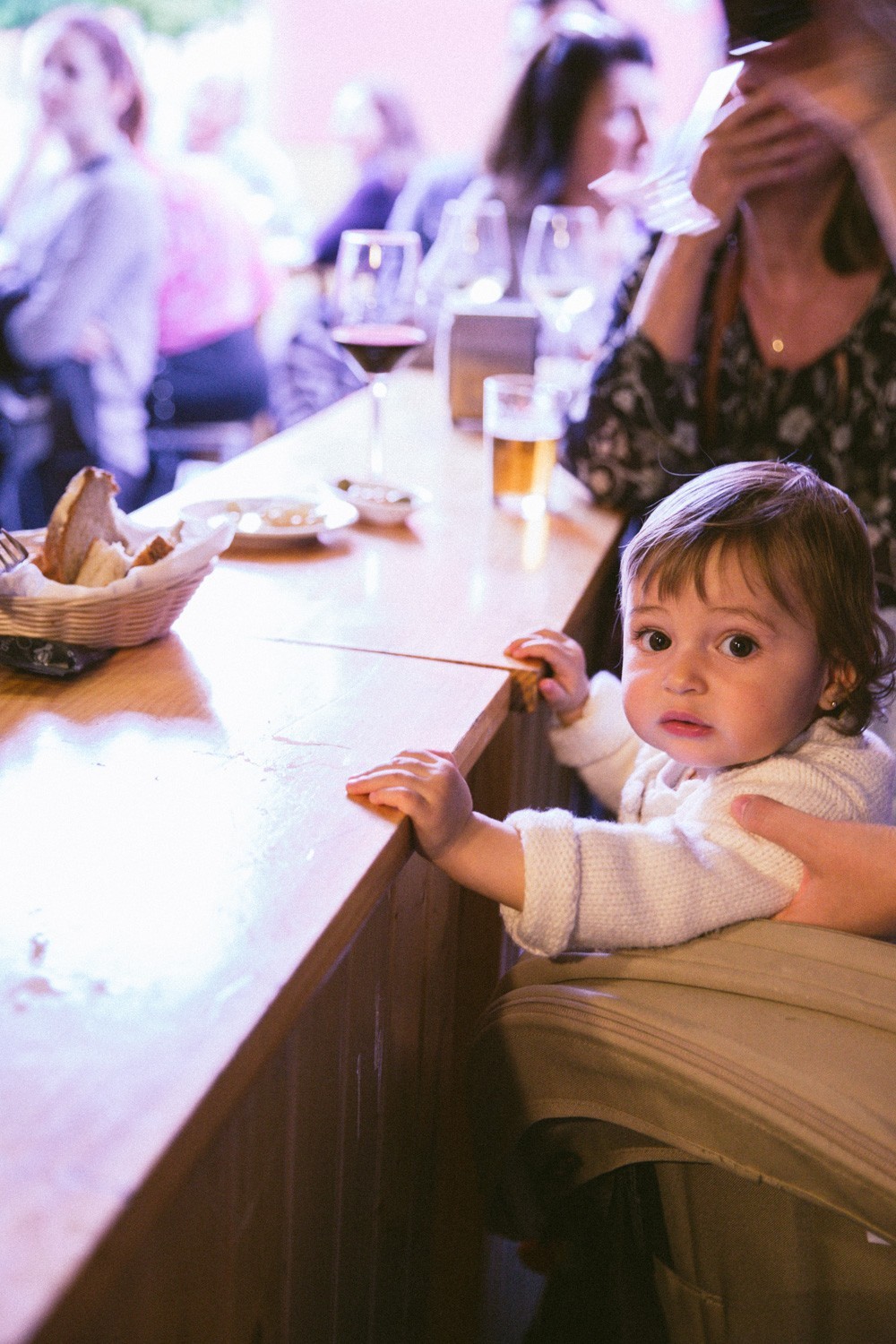 Spain has a very refreshing attitude to children. They just fit in!
It's not unusual to see families with beautifully dressed toddlers out to supper at midnight, the kids either sitting and chatting to the adults or racing off around the square.
They eat what they're given, I'm yet to see one bawl, and everyone loves them. Barmen will stop service in a packed bar to coo and squeeze chubby cheeks, waitresses will drop whatever they're doing to go over for a chat and every passing grandma will scoop them up for a cuddle.
Something about those huge brown eyes just melt everyone they come across!
But I digress.
Back to the food. Which, by the way, is hands down some of the best you'll ever have in Spain.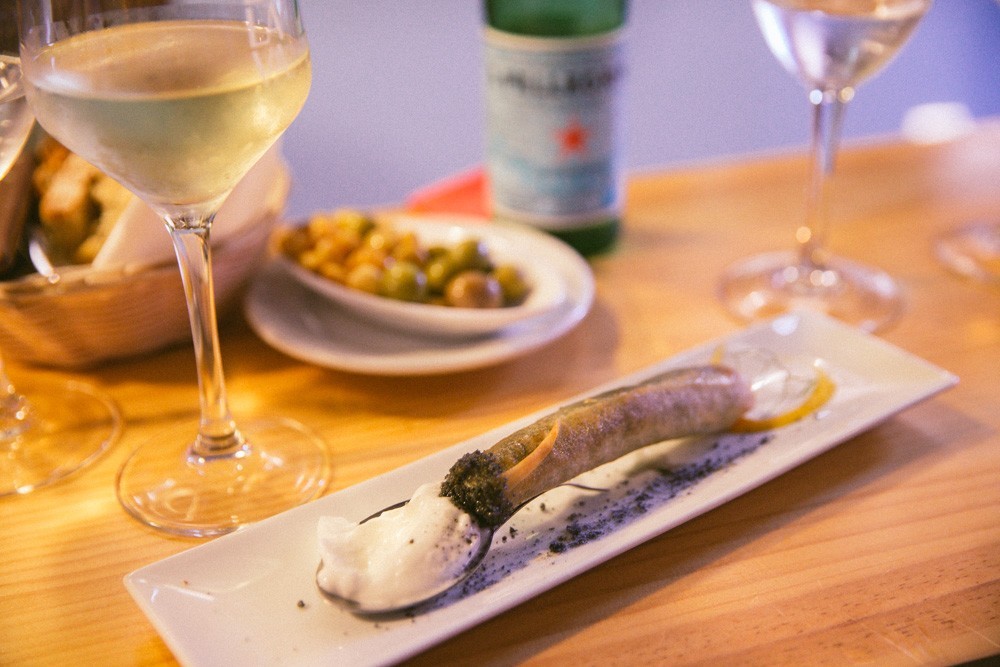 Don't miss the Cigar – a warm brie pastry with cuttlefish and algae.
I'm aware that sounds terrible. It is absolutely delicious.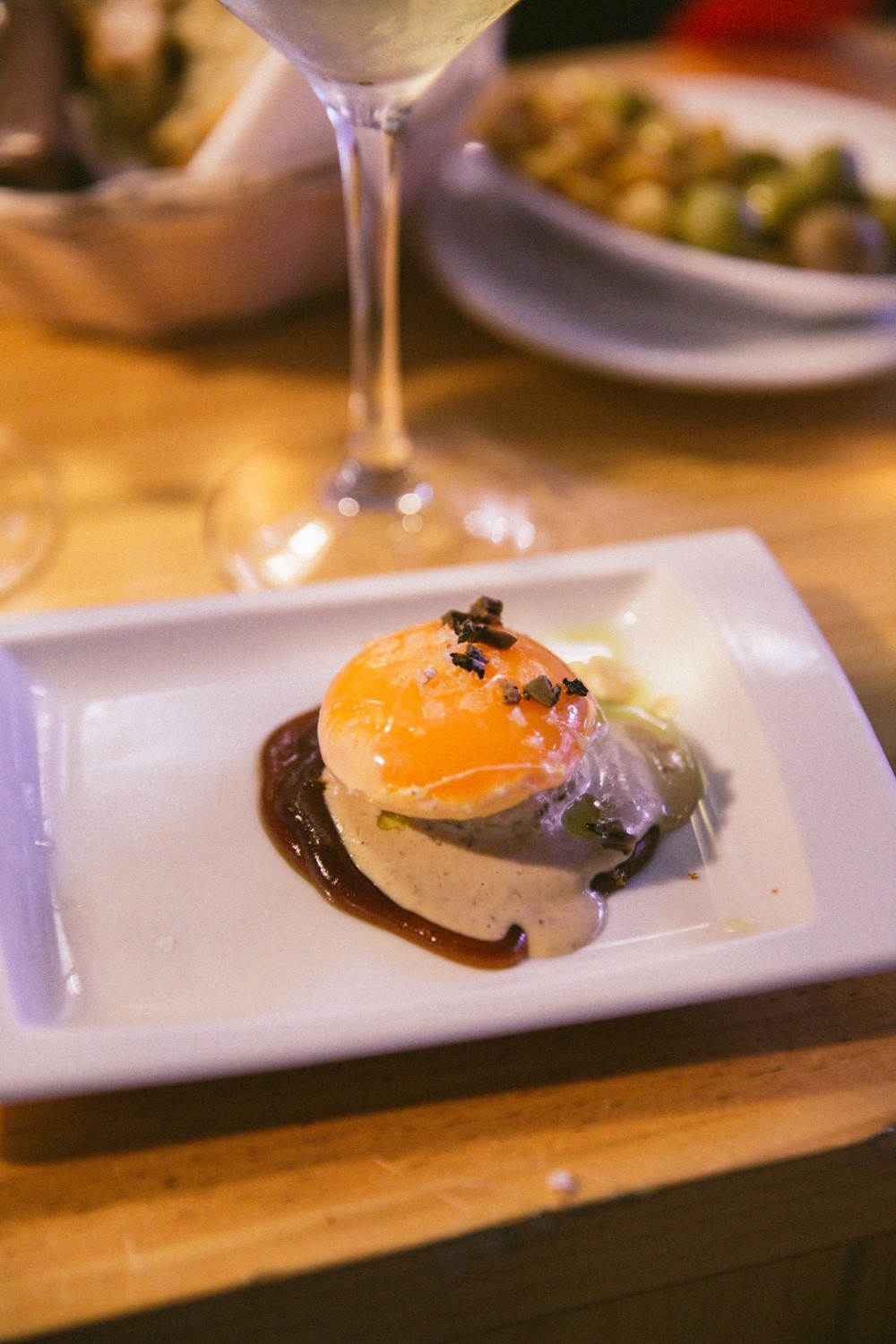 Slow cooked egg yolk on boletus soufflé with caramalised wine sauce.
Order one each, it'll knock your socks off.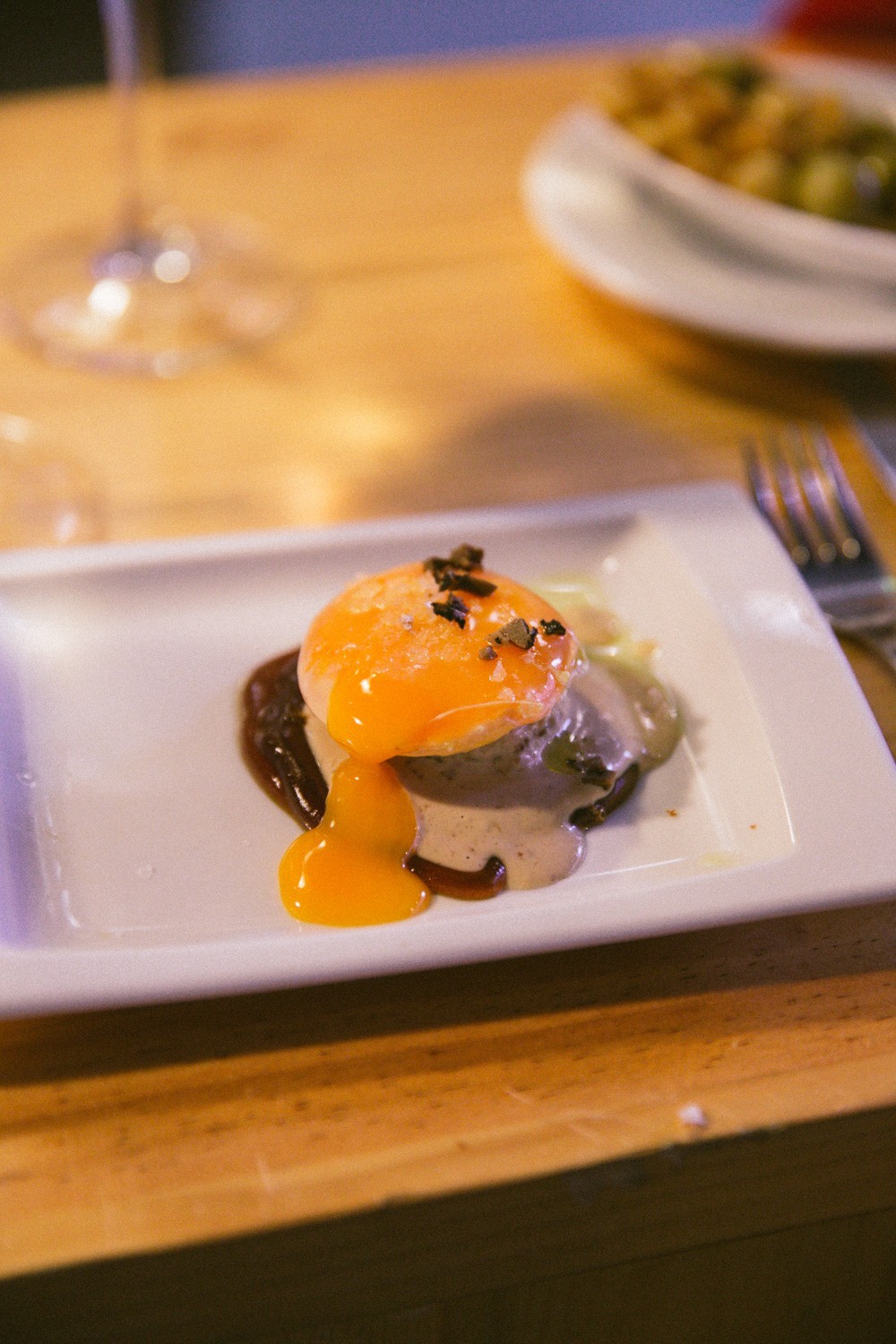 Mi cuit foie.
Spectacular.
Artichoke with salt cod and smoked paprika.
Zucchini Charlotte. Beautiful, light, simple.
Honey ribs, always good!
I really can't recommend a trip enough, should you find yourself in Seville.
If you want a seat at the tapas bar, skip past the people looking lost at the door. Squeeze through the bar and keep your eye out for people who are about to finish. Lean against the wall behind them and order a glass of wine from the barman. When they leave, slide on in and order up a storm.
Alternatively book a table at the sit down restaurant next door – but do it before you even arrive in Spain, it books up a long way in advance.
The locals who eat here are utterly charming and it's well worth introducing yourself to your neighbour. You can always trust a foodie.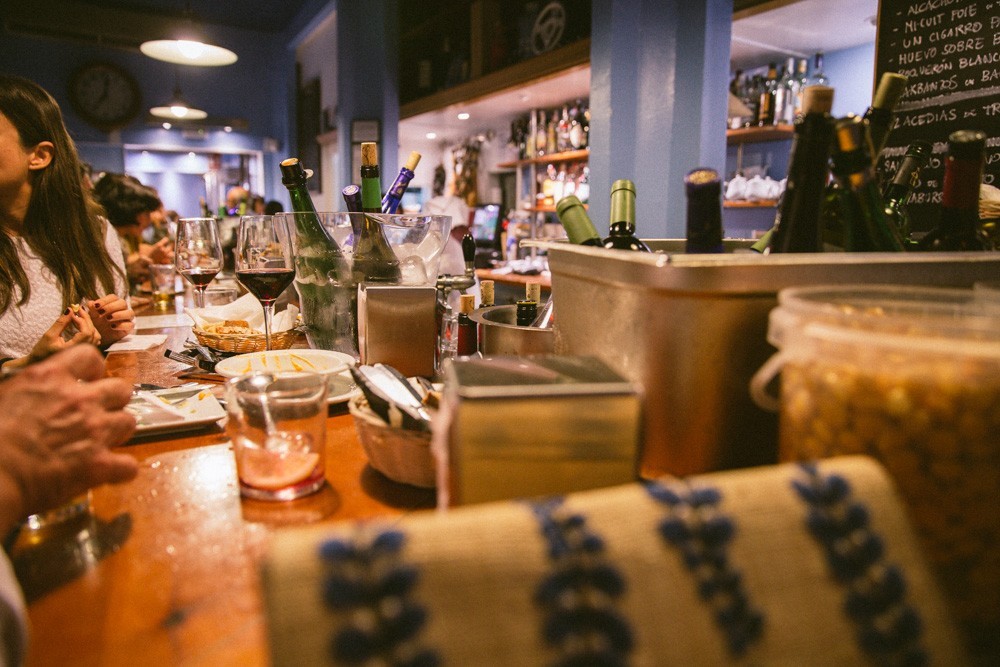 We stayed until late, chatting with our new friend the barman.
Before spilling out into the street just before midnight.
Where we found ourselves knee deep in a particularly huge Semana Santa procession.
Hundreds of Nazarenos marched by in silence, lit by candles and following the beat of a single drum.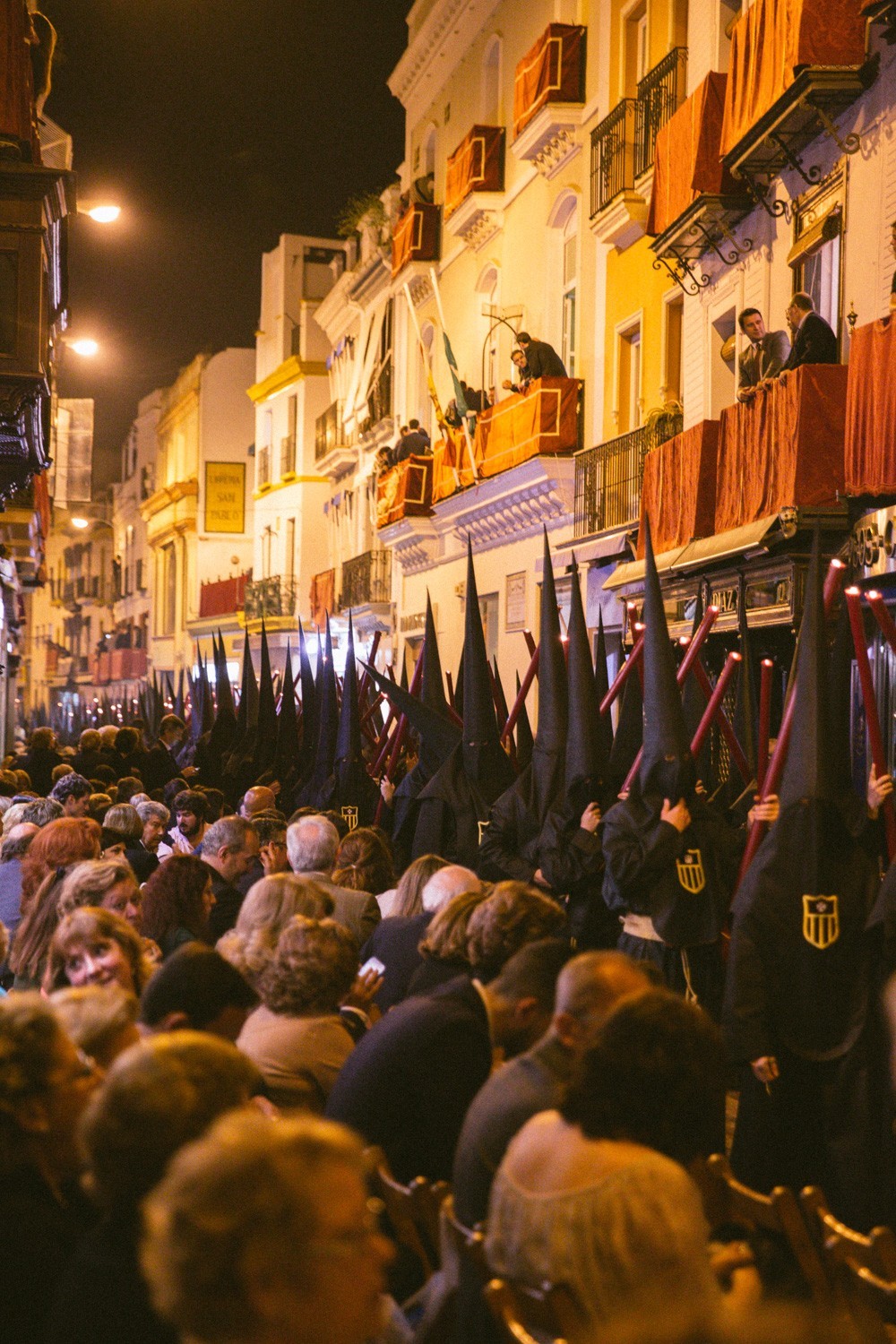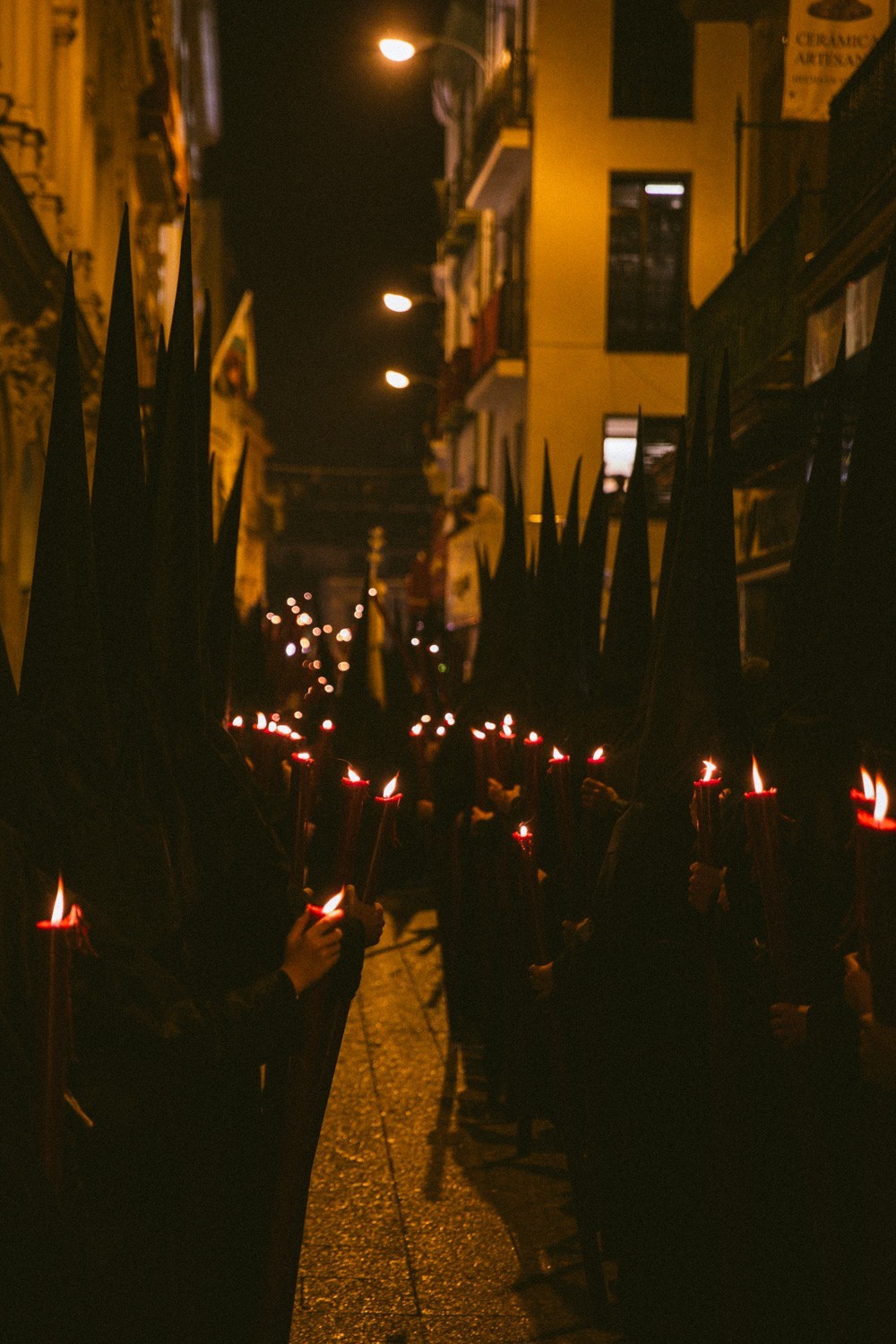 There's something eerie about the nighttime processions, but they're also wonderful.
To see an entire city, an entire country come together and celebrate their faith is a powerful thing.
If you visit Seville (or any of the big Spanish cities) during Semana Santa, don't bother trying to plan around the processions.
Trust me, they'll find you!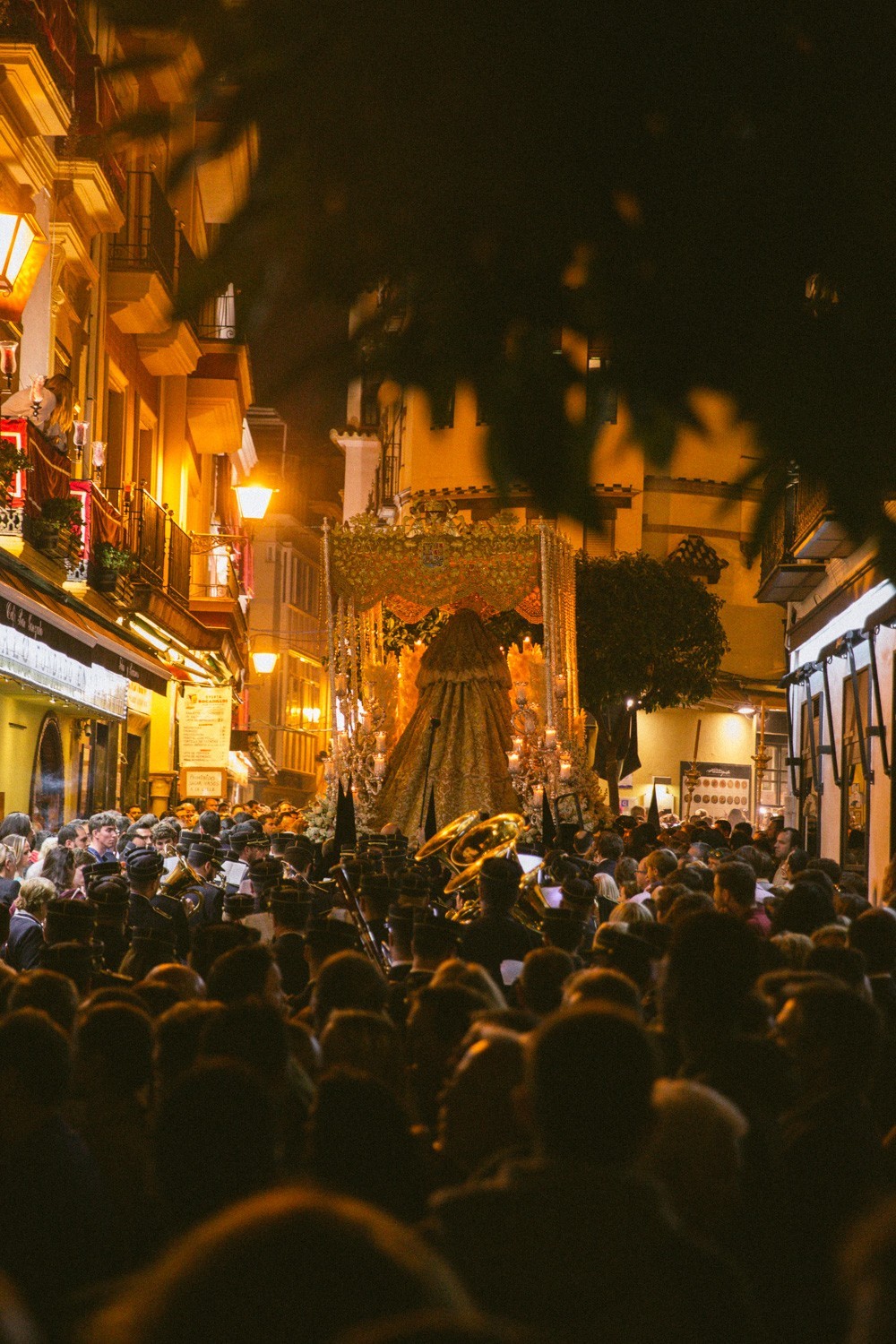 You'll round a corner and find yourself in a sea of black hoods… and quite remarkably, you won't feel scared at all.