Shortly before Christmas last year I took part in a photoshoot.
Not just any photoshoot! One that meant a great deal to me.
You see I've admired Estée Lauder for as long as I can remember. A force to be reckoned with, an original female entrepreneur, a mother, timelessly elegant and a seriously tough cookie.
You're probably a fan too, even if you haven't realised it yet. Just check out some of these pearls…
"I didn't get where I am by thinking about it or dreaming it. I got there by doing it." – Estee Lauder 
"People do make their luck by daring to follow their instincts, taking risks, and embracing every possibility." – Estee Lauder 
"First comes the shy wish. Then you must have the heart to have the dream. Then, you work. And work." – Estee Lauder 
"Whatever you give comes back to you." – Estee Lauder 
"Beauty is an attitude." – Estee Lauder 
"I'd risk the rent, but if it worked, I would start the business I always dreamed about. Risk-taking is the cornerstone of empires." – Estee Lauder 
"When a person with experience meets a person with money, pretty soon, the person with the experience will have the money and the person with the money will have the experience."  – Estee Lauder 
"When I thought I couldn't go on, I forced myself to keep going. My success is based on persistence, not luck." – Estee Lauder
See what I mean? To know Estée is to love her.
The original influencer, if she loved something it sold, if she loved somewhere it became the hotspot. She loved London and some of her favourite haunts are as iconic now as they were then. Using Estée as our guide, we visited a handful.
Starting, naturally, at Claridges.
We settled in the night before, making ourselves very much at home.
And started very early the next morning with a light breakfast.
Ahem…
The hair and makeup fairies arrived to work their magic, I trotted downstairs to The Fumoir and the real fun began.
A spread of Estée's favourites, sandwiches, scones, cake, and English Breakfast tea.
I may have nibbled (scarfed) a few while people's backs were turned.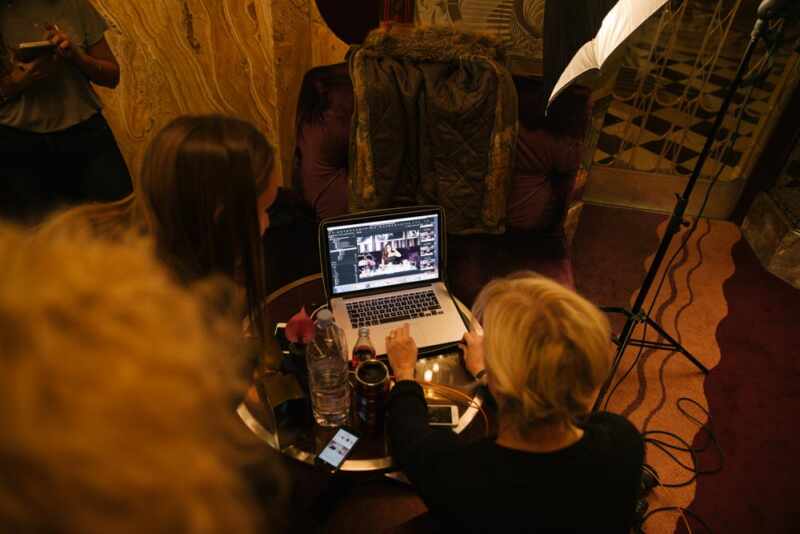 No time to linger, after a quick change we rushed off to the next location on Estée's list.
The seafood spot in Mayfair and Estée's favourite for a spot of fish 'n' chips.
A girl after my own heart!
A quick touch up and we were ready to roll.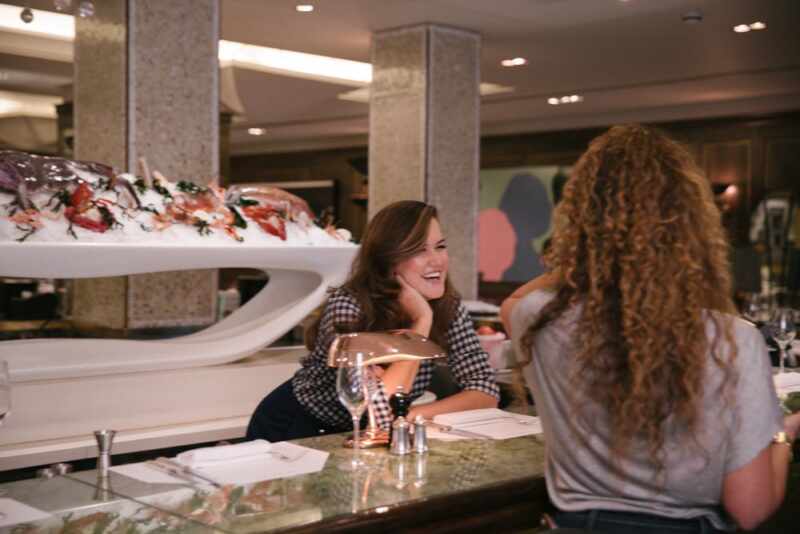 Naturally I took my role very seriously indeed.
And was only somewhat distracted by the steaming, crisp battered, perfectly cooked fish and the accompanying bowl of fluffy chips in front of me.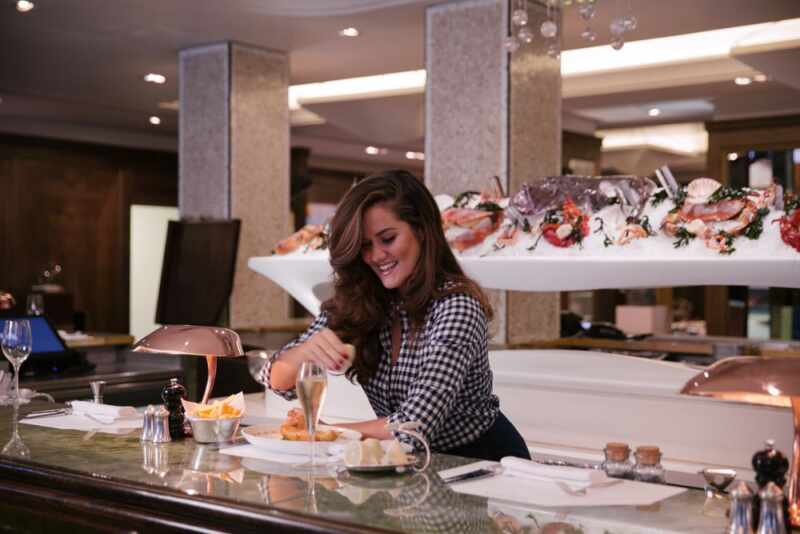 But thankfully I got to polish off the props when we were done.
The final location on Estée's guide to London?
Heaven.
Uh, I mean Harry's Bar.
The magnificent, beautiful, charming, (eye wateringly expensive) members club where every important dinner you've ever dreamt of being invited to is held.
If you were to be a fly on the wall in London, you would want it to be here. On that glorious wallpaper.
We made the most of our special permission to shoot here.
Starting with coffees.
Moving swiftly onto cocktails.
Before finishing off with Estée's favourite, the chocolate ice cream.
Which, sadly, kept melting under the lights so I got to eat a lot of it!
Look, it's a tough job but someone's gotta do it.
One more final shot outside, and we were done!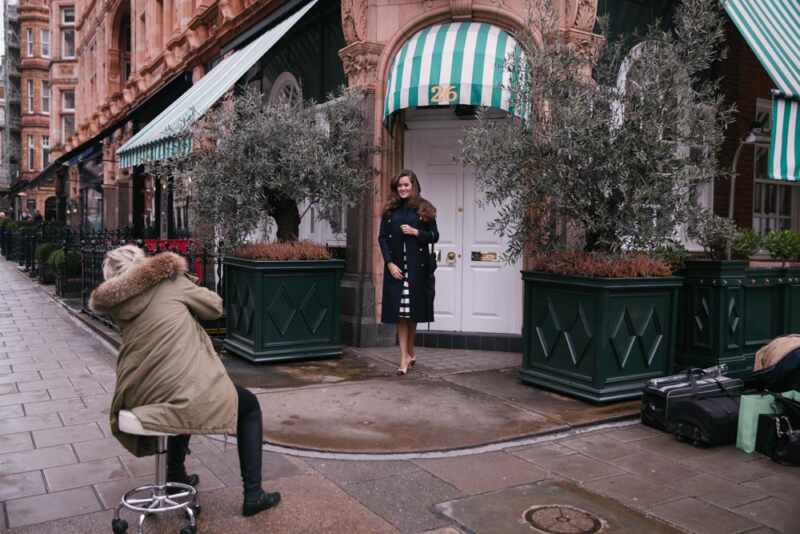 The incessant rain a sharp wakeup back to the real world as we bid a fond farewell to Estée's.
The next part of the guide was all about where I'd take her in London, but for that you'll have to pop over to the finished article!
Which went live today, fittingly on International Women's Day.
Three cheers to all of our heroines and to supporting each other every day of the year, but especially today.
I believe in you, and you should too.
When in doubt, just think of Estée.