One very last mini-post from Val Thorens.
Otherwise you'll be sick of skiing pictures!
I just can't help but share this mountain sunrise…
With candyfloss clouds and the moon still hanging in the sky.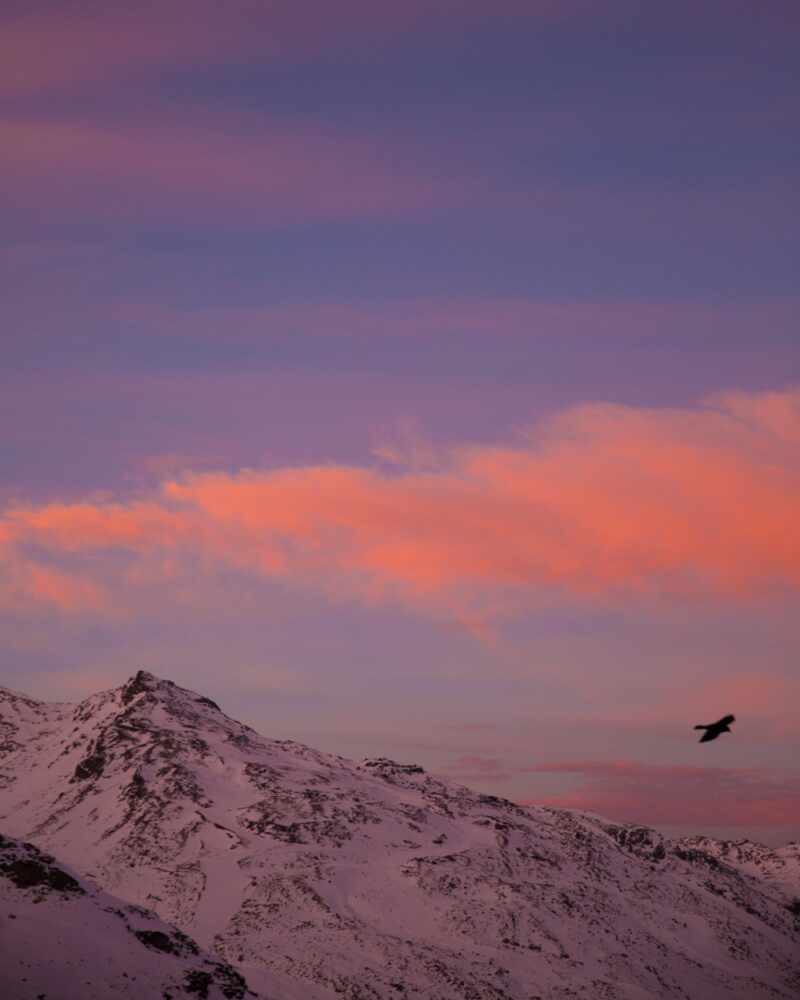 We woke early again, even squeezing in a little sledging on our way out to breakfast!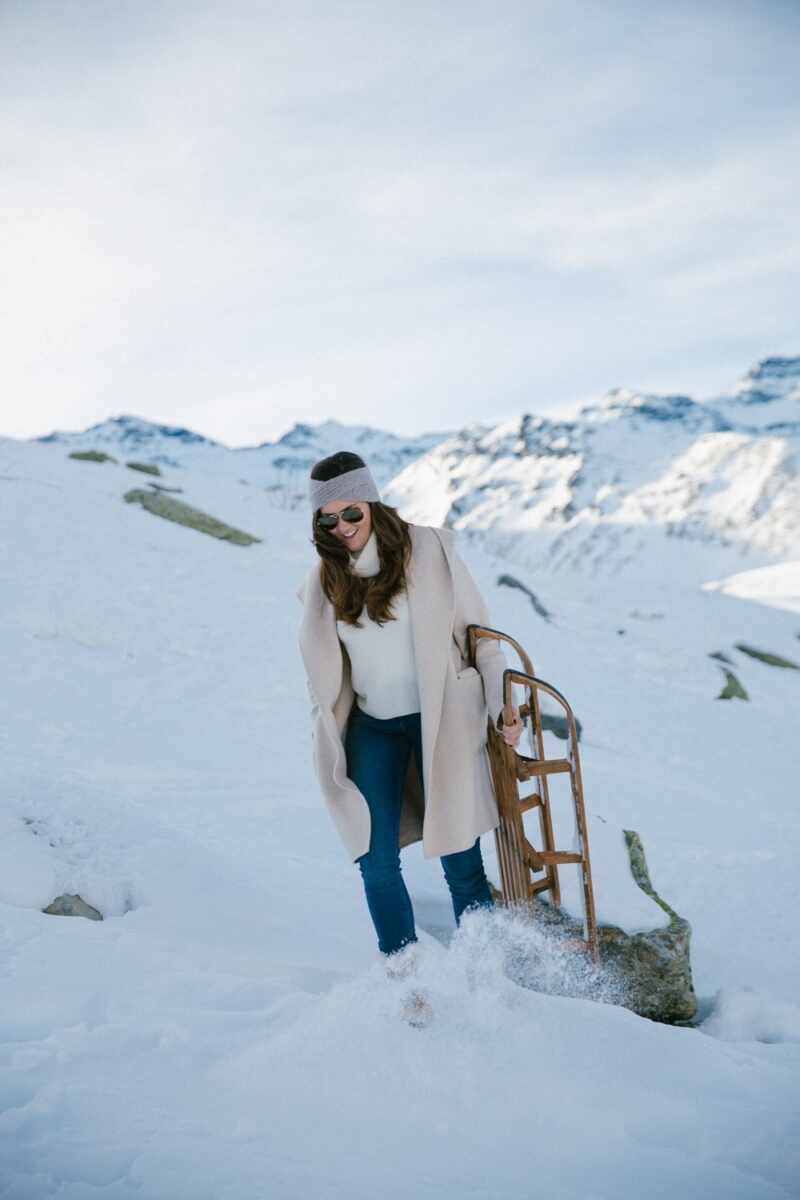 Hooded wrap coat (the softest I've ever come across)
White cashmere jumper // Skinny jeans (I just ordered these btw!)
Wheezing for breath like two old ladies, we reached the top of a promising looking hill and threw ourselves down it at speed!
Again and again, until our teeth hurt from smiling in the cold and our stomaches ached from laughing.
After a bite to eat and a quick change, we made it onto the first chairlift of the day.
Excited to see what adventures the day would bring.
Again, it felt as though we had the mountain to ourselves.
I've never felt quite so alone and free on the mountain before.
If you're thinking you might book a trip next year, I thoroughly recommend the week before Christmas in VT.
The snow isn't as good as it'll be later in the season, but almost every run will still be open and when you have it all to yourself like this…
…well it more than makes up for the lack of off-piste powder.
Having fallen in love with the deserted charm of Le Caribou, we went back again.
This time for a spot of lunch.
Cosied up in a wooden cabin, next to the crackling fire.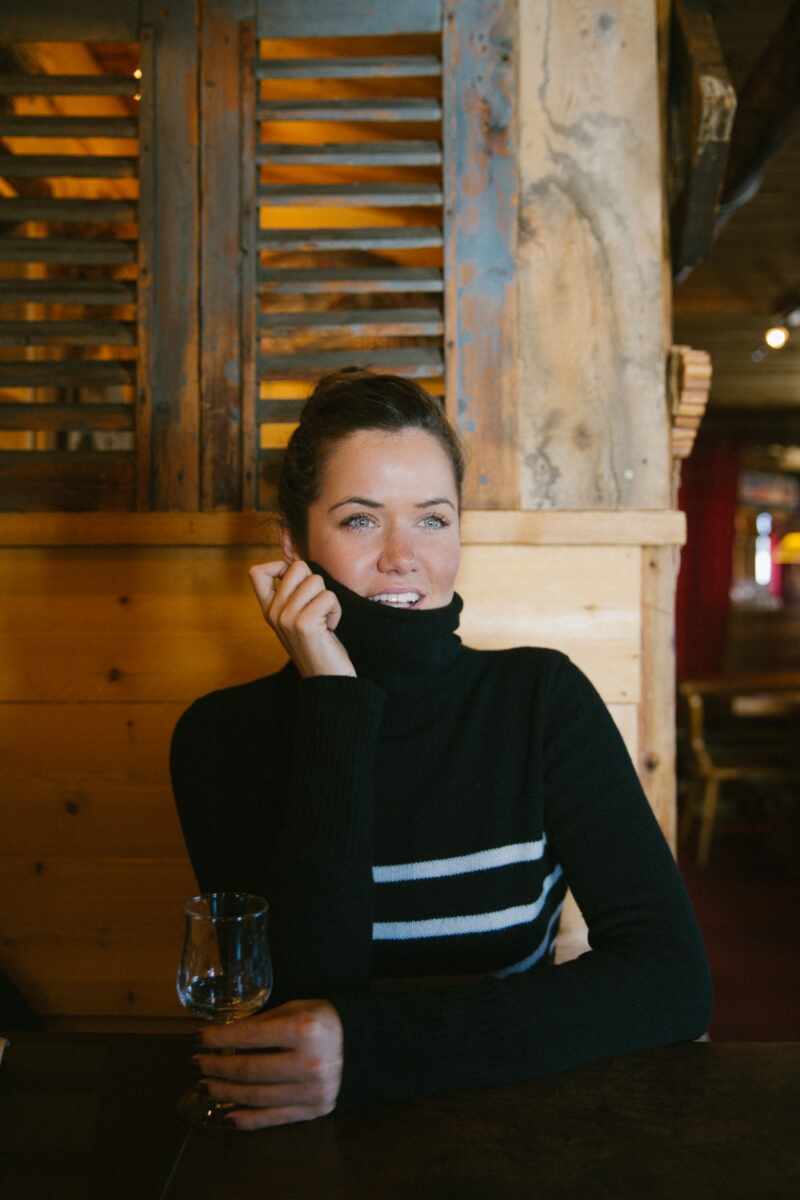 With huge, individual tartiflettes!
For those uninitiated in alpine ways, tartiflette is a fiendishly wonderful dish of layered potatoes, reblochon cheese, bacon and onions.
My vegetarian companion even makes an exception for tartiflette… it's that good!
Vive la France!
Aviators (with changeable lenses – mirrored today!)
Hooded faux fur jacket // Stripy cashmere jumper
I love a pair of retro ski pants, I'm almost certain they make you go faster!
I'll spare you any more ski-shots, though we did have a great deal of fun taking them on the new camera! (The one I mentioned here.)
Needless to say, if you're on the fence about booking a ski trip… do it!
Even if you're a beginner, the very best time to start is yesterday, failing that today will do fine.
One of my favourite quotes is by Earl Nightingale:
"Never give up on a dream just because of the time it will take to accomplish it. The time will pass anyway."
And with that in mind, I have some New Years resolutions to make…