If you enjoy a little rooftop tipple, lunch on the terrace, a pavement side cuppa, the breeze in your hair with a nice G'n'T, this post is for you.
Not a traditional top 10, because they're not in order of preference. Mostly because each place is pretty different, so it's not fair to compare them.
Each spot deserves a spot on your "To Do" list, and all for very different reasons.
The bank holiday is upon us! So let's get started, shall we?
1. Aqua Kyoto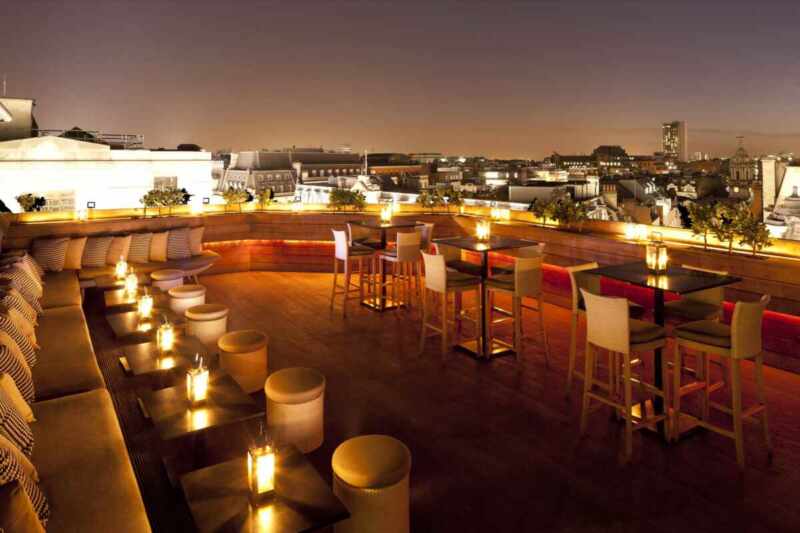 Where?
Smack bang in the middle of London, just off Oxford Street.
Why?
Cracking place for cocktails if you find yourself in central London. I've been on many a date here, and it remains a firm favourite. You get a great view of Regent Street, the cocktails are excellent and you can get a good lick of sunshine while you're there.
Wear?
A bit fancy, I doubt they allow ripped jeans. Girls can get away with anything from work attire to a full on cocktail dress and heels. Chaps probably need a shirt, cotton jacket wouldn't go amiss.
Website (Don't bother to book.)
2. The Boundary
Where?
East. Just off Liverpool St.
Why?
Roof terrace that'll knock your socks off. Exceptionally good food, great drinks, fairy lights, fragrant herb garden. Book dinner in the restaurant and start with drinks and nibbles outside. You'll love it.
Also bookable for private events, which would be rather dreamy.
Wear?
Smart casual.
Website. (Priority is given to hotel guests and dinner bookings, so worth giving them a buzz.)
3. The Ivy Garden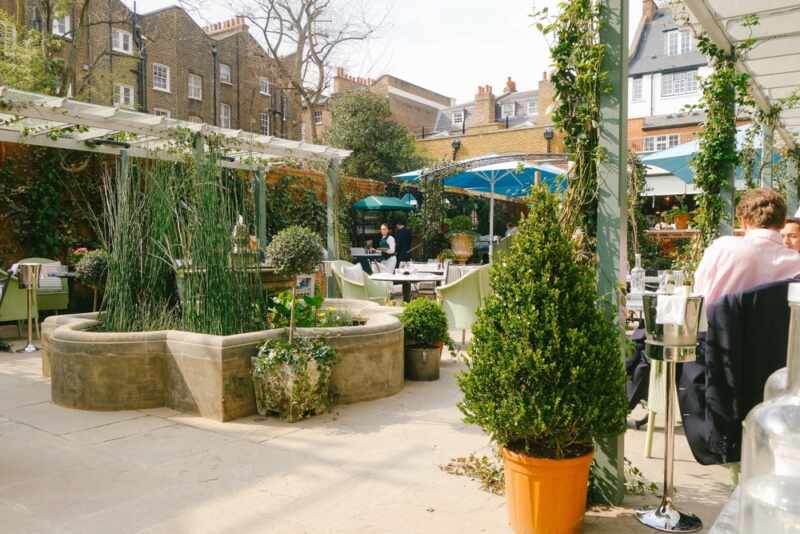 Where?
The Kings Road, Chelsea.
Why?
The holy trinity: eating, people watching, drinking.
Great food, great cocktails. Good for lunch in the sun, or sit by one of the outdoor fireplaces at dusk.
Wear?
Gents – red trousers, obvs.
Ladies- anything goes. Jeans and a crisp white shirt. Summer dress. Shorts. Leave the towering heels and bandage dress at home, it's more laid back that that.
Website (Booking recommended, essential at peak times.)
4. The Ship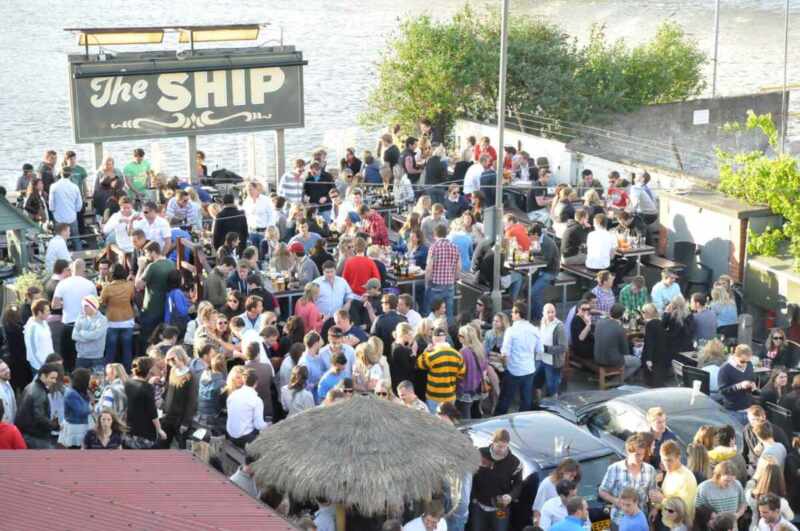 Where?
Wandsworth. West London, just south of the river.
Why?
A boozy weekend with a big group of friends. Loud, busy, laid back! If you want to let your hair down, get boozed and snog a banker in a rugby shirt, this one's for you.
Wear?
Super, super casual.
Website (Just turn up. Don't drive.)
5. Chiltern Firehouse
Where?
Marylebone, Central London.
Why?
White marble tables, leafy shade, simple food, great cocktails (ask for the Jammy Devil with gin), cheeky little sun trap, the best people watching in town.
A bit unreasonably pricey, but really can't be beaten for location, staff and surroundings.
Wear?
Smarten up a bit. Men will want a jacket in the evenings.
Website (Make sure you book.)
6. Sushi Samba
Where?
Liverpool Street, East.
Why?
Cocktails in the stars. The best view of London you could ask for. Very good sushi. Magical for a date, but works for friends or business meetings too.
Wear?
A bit fancy. Dress + heels, shirt and jacket.
Website (Book!)
7. The Rosewood Courtyard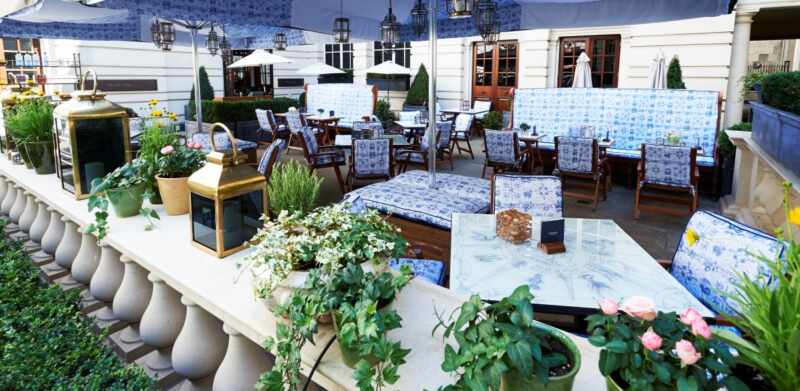 Where?
Holborn, Central.
Why?
A blue + white oasis in bustling central London. The courtyard of an unbelievably beautiful hotel, perfect for cocktails and nibbles. Not especially sunny, but gloriously breezy when it all gets a bit muggy.
Wear?
No ripped jeans or trainers.
Website (Book for peak times.)
8. River Cafe
Where?
Hammersmith, West.
Why?
Wonderful Italian restaurant by the river. A favourite for all London mum's birthdays as far as I can tell! Great, simple, seasonal food, good wine list, nice drop of sunshine. A winner all round.
Wear?
Smart casual.
Website (Make sure you book.)
9. Kensington Roof Gardens
Where?
Kensington!
Why?
Oasis in West London. Green, lush, way above the bustling streets and wonderfully sunny. Great for drinks, I've never had the food but hear good things.
A bit of a chameleon, it works as everything from a cocktail terrace, to a wedding venue, weekend nightclub and dinner spot.
Wear?
Smart casual, fancy on weekend evenings.
Website (Don't book for drinks, but anything else get in touch.)
10. Bonnie Gull
Where?
Exmouth Market, East-ish.
Why?
I wrote a post last summer about this place. Brilliant seafood and a set up that'll make you feel like you're in Cornwall. Have a seafood feast (yes fish 'n' chips counts as seafood!), wash it down with crisp white wine and finish off with soft serve ice-cream.
Properly dreamy.
Wear?
Whatever you want, very casual.
Website. (Book ahead.)
There we go! My Top 10 London venue for eating and drinking outside.
A bit of a different Londoner post, but I hope one you'll find handy! Feel free to Pin away to your London Pinterest boards, or follow mine here.
Now let's keep our fingers crossed for a spot of sunshine!